Embracing technology in a crisis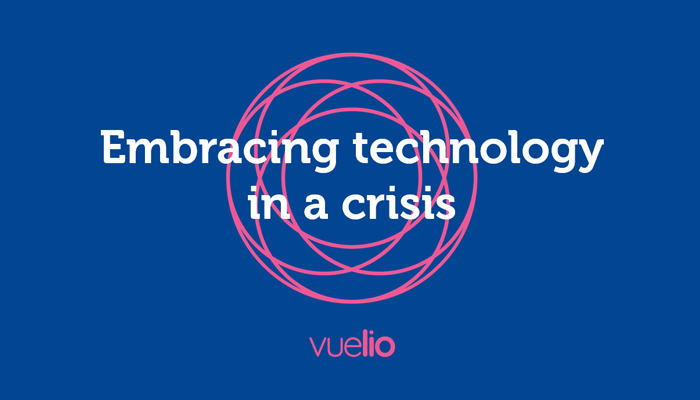 This morning our head of marketing, Jake O'Neill, took to the virtual stage at Government Event's Public Sector Crisis Comms Conference to talk about the importance of technology in both the strategy and delivery of crisis communications.
Chairing the event was Rachel Roberts, CEO and founder of spottydog Communications and CIPR President-elect 2021. Roberts opened the conference by discussing the importance of human relations in public relations and said that communicators need to keep at the forefront of their minds that what they say can affect people and make an impact on real lives, referencing the deaths of Dr David Kelly, Caroline Flack and Sophie Gradon, who were all thrust into the public eye.
Rachel also reminded the audience that comms needs to be the influencer in the organisation and make sure crises are handled with efficiency and consistency. She said the past 12 months has seen communications mark out their place in the boardroom and 'we now need to cement this place'.
Echoing Rachel's thoughts on keeping comms at the top table was Francis Ingham, director general of the PRCA. With the pandemic leaving plenty of legacies, some positive but many negative, Francis stated that a clear positive for the comms industry is that 'we've recognised a simple truth, when so many things have closed down or been taken away, we've had to rely on our ability to communicate.'
He said that reputation has been key to withstanding the ongoing crisis, as an organisation's most valuable asset is its reputation.
Francis highlighted the key takeaways for public sector comms from the pandemic:
Communications has found its seat at the top table and now needs to keep it.
The workplace has changed and this has had positive consequences for our industry, e.g. flexible working.
Collaborative working has been forced upon us and we're better for it.
Internal comms has truly found its proper place and is important to every organisation.
We've become more inclusive in our comms and we need to remain so.
Our experience from the last year has taught us a lot around m/disinformation and while there's still work to be done this will help us into the future.
The shift to digital media is accelerating.
With talk turning to the importance of upgrading digital skills in the industry, Jake's session was very timely.
Using the unique insights from the recent PRCA Crisis Comms Conference panel Vuelio moderated, combined with in-house knowledge of PR and comms technology, Jake shared the reasons why tech is fundamental to comms. He explained that 'technology underpins every aspect of how we engage with society and the core skills of a PR person rely on them being tech literate.'
As technology is fundamental to comms it's also fundamental to crisis comms.
We're now in an age of social media and, as such, a lot of things can look like a crisis when they are not. Giving the example of Jackie Weaver, Jake explained how this was not a crisis, rather it was an event, as everyone involved was aware of the video and the council members had uploaded it themselves.
Crises can come from multiple sources, not just social media, so it's important to make sure the technology is in place to monitor, respond and manage the different platforms a crisis may occur. Using technology in this way can help identify what is a crisis, what is being said and which communities and audiences are saying it.
When it comes to using technology to respond to a crisis, it's important to get the channel right. It's not always necessary to publish a statement when a direct message would be sufficient, but the time has passed where organisations can stay silent on an issue thanks to social media.
Jake concluded that one of the most important aspects of a crisis is to evaluate what has happened and how the comms function responded. Using technology to log and keep a record of messaging and communication with stakeholders is an excellent way to review each crisis as no two crises are the same. Data is key to understanding a crisis and with the right technology you should be able to feed these insights back into your crisis management plan.
Find out more about technology best practice in communications with Vuelio.
https://www.vuelio.com/uk/wp-content/uploads/2021/03/PS-crisis-comms-feature.png
400
700
Rebecca Potts
https://www.vuelio.com/uk/wp-content/uploads/2019/09/vuelio-logo.png
Rebecca Potts
2021-03-31 15:32:27
2021-03-31 15:33:58
Embracing technology in a crisis