An overview of the Pitch Perfect webinar with Janet Murray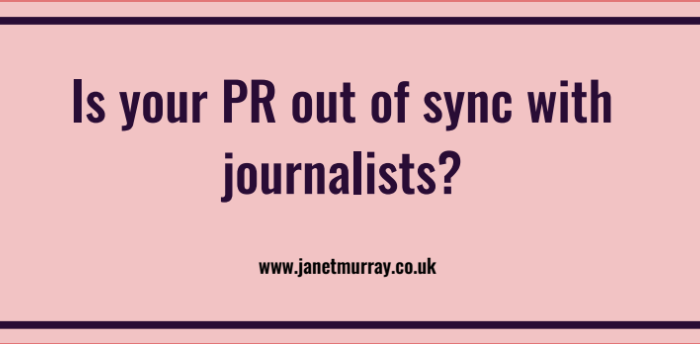 Janet Murray, PR coach, consultant and journalist,  was the guest speaker on today's Cision webinar, Pitch Perfect: Giving Journalists What They Want. The insightful webinar provided PR and comms professionals in attendance with straightforward, practical advice and tips geared to transform their pitching approach to journalists.
Janet, who is currently editing at the Guardian newsdesk, described how she gets hundreds of emails a day but of which no more than 4-5 of them are relevant. Why? because PRs are out of sync with what journalists really want.
'I'm desperate for good story ideas but of the many emails I get a day, I only actually read a few of them,' she said. This disconnect has prompted Janet to offer PR consultation and training sessions. 'I've been teaching people how to do PR in a different way, in a soulful way. In PR, you can sometimes forget that you're dealing with real people and their interests and time need to be respected.'
Citing good (and poor) examples of pitches, Janet demonstrated how a little bit of homework and research from PRs, help getting desired outcomes. 'Don't think of a plug for your company, think of how your information will be useful to the journalist, for the publication they write for,' she advised.
Janet went on to share best practices that have personally worked for her in pitching story ideas to editors before taking on the many questions that poured in from the audience.
While the recording of the webinar and a blog post answering all the questions raised by attendees will soon be available on our website, below is a look at some of the fantastic feedback and engagement the webinar generated.
Pitching is about pleasing the journalists and their audience. What do THEY want?@jan_murray @CisionUK #pr #press #media

— Emma Smith-Bodie (@SmithBodie) July 28, 2015
Fantastic tips from @jan_murray @CisionUK webinar e.g. 'the BBC homepage test – is your story newsworthy?' #PR #media #journalism

— Annabel (@annabelherrick) July 28, 2015
Darn good PR and journalism @CisionUK webinar with @guardian journalist @jan_murray. Short but sweet.

— Joe Baker (@BakerJoe21) July 28, 2015
Great to hear the other side of it and learn what journos are looking for! #PRgirl desire to please, show us how! @jan_murray @CisionUK

— Beth Osborne (@BethanRothwell) July 28, 2015
Thanks @jan_murray for some great tips in this morning's @CisionUK webinar! #PR #media

— Alex Latham (@AlexSLatham) July 28, 2015
fantastic PR advice from @jan_murray . Can't wait to get on the blog and learn more! Thank you to @CisionUK for a great webinar! #PR

— Joyte Brown (@JoyteBrown) July 28, 2015
@CisionUK @jan_murray Thanks for a very insightful webinar and for sharing some great tips – looking forward to practicing some #soulfulPR

— Esme Banks (@ESdotBANKS) July 28, 2015
Thank you so much @jan_murray @CisionUK – so glad I am not alone with my permanent #PRfailure face!

— EditorUltimateWedMag (@TinaReading) July 28, 2015
Really useful insight from @jan_murray on today's @CisionUK webinar on what journalists really want from PRs pic.twitter.com/GP50gBQbCV

— Ellie Box (@ellieb45) July 28, 2015
One of the most useful webinars I've attended thanks @jan_murray @CisionUK, so many tips crammed into 30 mins!

— Fiona (@fionamcr) July 28, 2015
https://www.vuelio.com/uk/wp-content/uploads/2015/07/Out-of-sync.png
344
768
Priyanka Dayal
https://www.vuelio.com/uk/wp-content/uploads/2019/09/vuelio-logo.png
Priyanka Dayal
2015-07-28 15:22:46
2015-07-28 15:22:46
An overview of the Pitch Perfect webinar with Janet Murray