Anatomy of a Campaign: Big Wave PR on Shop Safe, Shop Local
The need to swiftly switch-up and rethink campaigns has been an ongoing challenge for PR and comms agencies since the UK's first lockdown, but helping local councils to safely re-open the high street during the pandemic? For Big Wave PR, who were tasked by East Herts and North Herts District Council to do just that back in November, it's been 'the most challenging campaign we have ever worked on; whatever plans we create we have to change constantly.'
The Big Wave PR team take us through the Shop Safe, Shop Local campaign, the impact of Lockdowns 1 through 3 on their work and the importance of continuing to support the local high street.
Give us a brief overview of the Shop Safe, Shop Local campaign…
East Herts and North Herts District Council, like many other councils across the country, were awarded significant funds by the European Regional Development Fund (ERDF) and Her Majesty's Government (HMG) to Re-open the High Streets Safely. The funds were awarded due to the ongoing pandemic with an aim to keep the public safe while re-opening shops, bars and restaurants.
We've been working with the two councils since November on an overarching campaign to encourage residents to shop safe and shop local through the pandemic.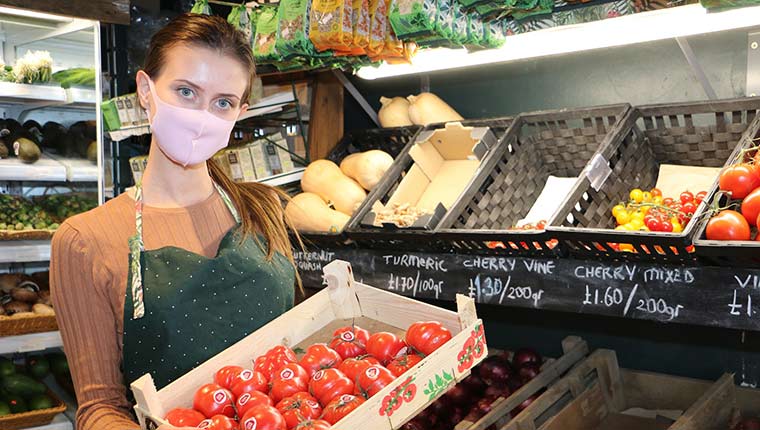 What was the original brief?
'To supply communications and public information activity to ensure that reopening of local economies can be managed successfully and safely'.
In a nutshell, the brief required a hardworking PR, social media and advertising campaign to ensure all business owners re-opened safely, while all members of the public were reminded of the latest public health advice.
What piqued your interest in it?
We're specialists in the public sector and have worked with a wide range of local councils, such as Chelmsford City Council and Essex County Council. East Herts and North Herts District Councils are just a stone's throw from our offices, so we knew we'd be able to provide specialist advice as well as hands-on support when required.
The pandemic has hit all business hard and we were keen to work on a large campaign that would really benefit our High Streets and support business, from small independents to larger chain stores.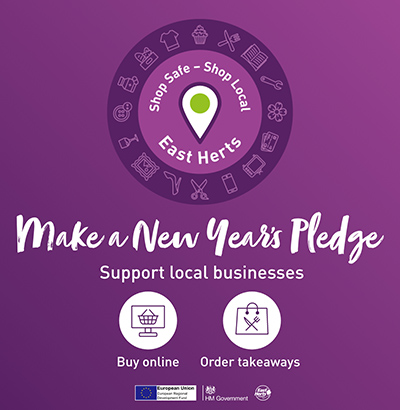 How did you win the pitch?
The pitch process was competitive and in-depth. We had to put together detailed proposals to show how we would engage with each member of the public, from students through to the retired, who may have been shielding for many months. We outlined a campaign with a multi-channel approach, including bought media opportunities with a local outreach across newspapers, broadcast and online. We also needed to develop a creative identity for the campaign and, in partnership with our associate design agency Phelan Barker, were able to put together a collection of proposed visuals, which really helped bring the campaign to life.
We made the shortlist of preferred agencies and finally went through for pitch presentations, which were all conducted via Zoom. We were very excited to learn we had become the chosen agency.
Which team members worked on this and which skills did they each bring?
Our MD Hilary Collins is our PR and campaign strategist, and she used her skills to breakdown community groups to create channels of communication that would directly fit each group. The team got together for collective inspiration to provide creative difference. Our creative director Carl Allen was keen to show a welcoming side to the High Street, albeit with retailers in masks, which became a common theme throughout our communications. The design team, headed by James Phelan, were amazing at creating a bespoke design solution, which joined the two councils together under a shared theme and clearly and very succinctly got over our Shop Safe, Shop Local message.
What were the main challenges you faced during the campaign?
This has been the most challenging campaign we have ever worked on; whatever plans we create we have to change constantly. The pandemic, and the Government's reaction to keep COVID-19 in check, means we're adapting and refining our messaging and scheduling on a weekly or even daily basis. On our first day of the contract, the UK was placed into the second lockdown.
Again, we were ready to launch a New Year pledge campaign and again, we were placed in another lockdown, so we had to reflect and quickly adapt to ensure our messaging was in-step with Government guidance.
What channels and stakeholders/influencers did you use to activate the campaign?
The campaign region covers nine towns, so it was vital we gained the support of each town council and BID (Business Improvement District). We undertook in-depth pre-campaign engagement to really understand and get to know each town's needs. We also worked alongside Hertfordshire County Council to understand what messaging was already out there on the High Street and to also reflect on its COVID-19 safety campaign public information designs. This engagement activity really helped shape the campaign, and ensured we developed marketing communications that looked 'in-keeping' and targeted the local issues.
What results, KPIs or coverage are you particularly proud of?
There's several aspects of this campaign we're proud of. First-up, we're strong believers in 'a picture tells a thousand words'. At the beginning of the campaign we commissioned our photographer to take stunning pictures of retailers going about their business, all masked-up, but all showing the passion they have for their business. We wanted to create a standout message, fresh communications that would turn heads and make a difference. The British spirit is alive and well on our High Streets and we wanted to demonstrate that, which our pictures show. These images have become the focal point for our content across social, online and advertising channels.
We're also really impressed with the KPIs we've achieved for our New Year Pledge campaign. We had planned a big New Year launch to encourage all to buy local, but once we heard the country was going into lockdown, we transformed all communications into a 'buy local and buy online' campaign. Although we're encouraging residents to support their High Street, it is always safety first.
For the revised launch we employed a range of digital outlets to get the message across and to target those in the community who were more adept at online shopping. We arranged media interviews with Councillors on radio, placed online news stories, bought homepage 'takeovers' on key media outlets, issued template social content to all town councils and BIDS to share on their own social channels and created online ads to push online traffic through to online shopping pages. The stats have proved very impressive.
What lessons from this will you take forward into future projects?
We've always thought of ourselves as flexible and can change our plans to meet the every-changing needs of our clients. But, this project has really taught us to be ultra-adaptable!
www.wearebigwavepr.co.uk www.phelanbarker.com
Do you have a campaign you would like to share? Take part in our Anatomy of a Campaign series – get in touch to find out more.
https://www.vuelio.com/uk/wp-content/uploads/2021/01/Shop-Safe-Shop-Local-Herts-Chemist.jpg
430
760
Phoebe-Jane Boyd
https://www.vuelio.com/uk/wp-content/uploads/2019/09/vuelio-logo.png
Phoebe-Jane Boyd
2021-01-20 11:02:30
2021-01-20 11:09:49
Anatomy of a Campaign: Big Wave PR on Shop Safe, Shop Local