Autumn Budget speculation 2018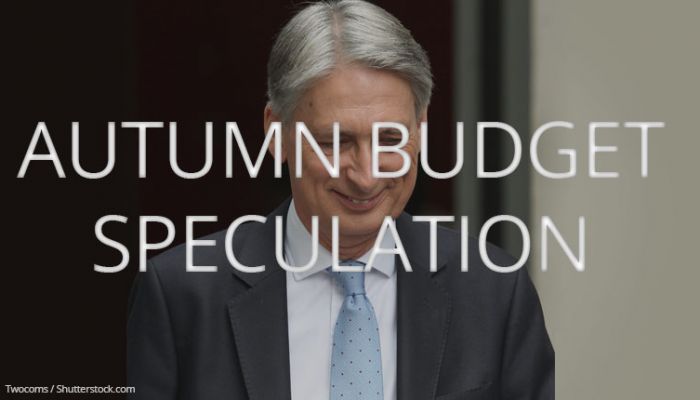 Next Monday (29 October) the Chancellor, Philip Hammond, will be in the House of Commons to deliver his autumn budget. With growing uncertainty over Brexit, all eyes will be on Hammond as he sets out future spending. In her conference speech, Theresa May announced that austerity is over, and this is the first chance to see whether the Government is going to come good on this declaration.
The Prime Minister set Hammond a challenge when she announced £20bn of additional NHS funding, as this is new money that the Government will have to find. This has led many to believe that tax rises could be on the way, although today's news that the Office for Budget Responsibility has been too pessimistic about tax receipts means that Hammond now has an extra £13bn a year to play with. It will be interesting to see how the public react to such increases as research has be done suggesting the public would be willing to pay more for the NHS. Until earlier this month, Hammond may have been looking at increasing fuel duty, however the Prime Minister announced that this would be frozen for the ninth year in a row. Similarly, he's coming under pressure from backbench Tories to cut a planned increase in beer duty.
What could be a more popular measure for Hammond to adopt is a focus on high earners. There has been rumours that anyone who earns above £150,000 may face the double hit of losing their annual pensions allowance and their annual exemption for capital gains tax. Other potential targets include the climate change levy paid on gas by businesses, which may rise to match taxation on electricity resulting in an extra £500m for the Government, and the personal allowance, which could be frozen.
'Fiscal Phil' may also be looking at some of the big tech companies to raise some money. In his party conference speech, he said, 'The global internet giants must contribute fairly to funding our public services'. One area that has been looked at is a tax on advertising revenues. The Digital Services Tax would be popular for the more traditional retailers as it would not focus on the high street. This is potentially one of the most interesting points of the budget as it shows how Hammond equips the Government to deal with the economy of the future. Another area of online activity that looks set to be targeted is gambling, with remote gaming duty likely to increase despite signs that the Treasury would like to delay this. This will plug the gap left by the reduction of the maximum stake for fixed-odds betting terminals to £2 announced by the Government over the summer.
Again, due to the actions of his boss, Hammond faces another challenge when he looks at housing. It would not go down well with the sector or the public if there is a lack of action around this, especially when you consider how seriously the Prime Minister has said she wants to take it. With foreign buyers possibly facing a higher rate of stamp duty, however, the effectiveness of this would be questioned. One measure that would be more popular would be the tax relief on capital gains if a landlord sells to a tenant who has been renting the property for three or more years. This would add an incentive to the supply of property while also helping people trying to get on the housing ladder.
Of course, it's impossible to write about politics at the moment and not mention Brexit. The Chancellor looks set to announce that departmental budgets will increase above inflation in next year's spending review, so long as Theresa May secures a deal with the EU. Given the threats to vote against some or all of the Budget from Tory Brexiteers and the DUP, Hammond may decide to leave more controversial tax changes until next year, when the UK has actually left the bloc. Even if the spending floodgates do open, don't expect to see a return to blanket public sector pay increases – its suggested that these will now be based on performance and location.
If you'd like to stay on top of the budget, but don't have time to go through every line, let Vuelio Political Services make it easy. Sign up to our free Budget summary. 
https://www.vuelio.com/uk/wp-content/uploads/2018/10/Autumn-budget-speculation.jpg
430
760
Daniel Loman
https://www.vuelio.com/uk/wp-content/uploads/2019/09/vuelio-logo.png
Daniel Loman
2018-10-23 11:31:13
2018-10-24 13:42:29
Autumn Budget speculation 2018