Baking Blogger Spotlight: Lucy Parissi, Supergolden Bakes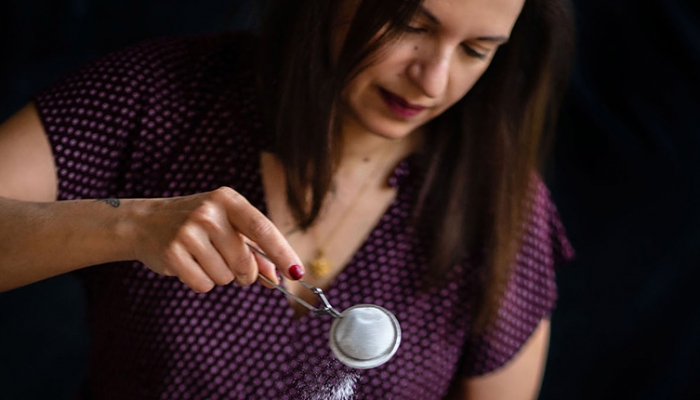 If you've been bitten by the baking bug and are in need of new recipes to try, Lucy Parissi has a blog bountiful with straightforward ideas for bakes.
Read on for what goes into the creation of a successful blog like Supergolden Bakes and whether it's possible to make something with Nutella that tastes bad (you may be surprised…).
What keeps you passionate about baking and blogging about it?
I have enjoyed baking since I was very young – it is what got me into blogging back in 2012. I find baking very therapeutic, but it is also creative and obviously enjoyable to sample and share the results. I don't think I will ever tire of trying new baking recipes or giving traditional recipes a new twist.
How have you had to change your approach to blogging, or your content, during the COVID-19 crisis?
I started baking a lot more! Initially I created recipes that dealt with certain ingredient shortages (no eggs/yeast) and I also got bitten by the sourdough bug!
Have you tried any of the recipes that have gone viral/been popular during lockdown?
I tried the viral Dalgona Coffee (whipped coffee) and it is worth the hype! I actually created a whipped coffee cocktail for my blog.
What's the worst bake you've ever attempted to make?
I recently tried a three ingredient Nutella cake during the early days of lockdown. It looked fantastic but didn't really taste good, which surprised me. I didn't share the recipe in the end as I wasn't happy with it.
Best tasting thing you've ever made?
This changes daily! The Biscoff Cheesecake and Chocolate Poke Cake I made recently have both gotten rave reviews.
For those who haven't yet started baking, which basic tools would you suggest they stock the kitchen up with?
A hand mixer is great for beginners and very budget friendly. But if you intend to do a lot of baking, then invest in a good stand mixer like the Kenwood kMix or KitchenAid. Then you can build up your collection of cake pans and tools as you get more proficient and try new recipes and techniques.
Favourite TV chefs?
I don't really watch that many food shows on TV! I like Nigella Lawson and Rick Stein, and enjoy the American Chef's Table series on Netflix, though.
How do you collaborate with brands and which kind of brands do you really like working with?
I get approached by a lot of brands. The ones I enjoy with the most are those who allow me to approach a campaign or brief creatively without being boxed in by too many guidelines. I have enjoyed long term partnerships with several brands/campaigns such as Lamb, Try it Love it, Thermapen, Amarula and Angostura Bitters.
For PRs looking to work with you and your blog/website, how would you prefer they approach you and with what kind of content?
I prefer to create recipes and videos for my site as opposed to just on Instagram. I always enjoy using ingredients in a creative way and prefer to create original recipes. Other than that, I am open to all ideas! I have worked with brands on a freelance basis to create recipes and photography for their exclusive use. I used to work as a designer and art director on magazines and cookbooks so working as a freelance photographer and recipe developer is something I relish.
What other blogs do you check out regularly (whether baking-related or not)?
To be honest, I actually don't have much time to read blogs regularly anymore! I keep up with new content on Instagram where I follow a lot of food bloggers from around the world. If a recipe or post catches my eye, I will hop on to read it. I recently discovered Lion's Bread when I got into sourdough baking.
https://www.vuelio.com/uk/wp-content/uploads/2020/09/Lucy-Parissi.jpg
430
760
Holly Hodges
https://www.vuelio.com/uk/wp-content/uploads/2019/09/vuelio-logo.png
Holly Hodges
2020-09-02 14:26:54
2020-09-02 14:26:54
Baking Blogger Spotlight: Lucy Parissi, Supergolden Bakes