Blogger Interview: Kimberly Duran, Swoon Worthy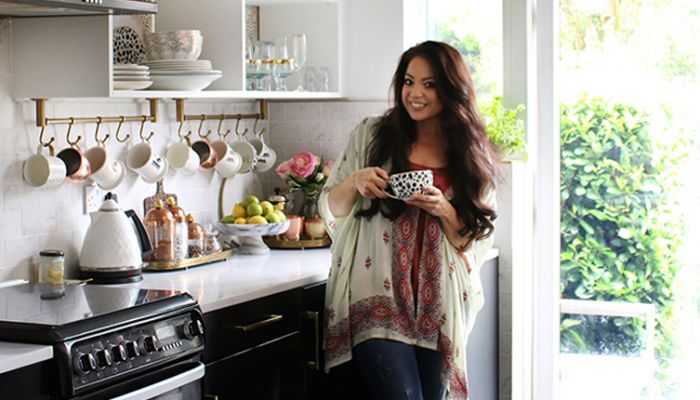 Kimberly Duran is the author of Swoon Worthy, which won the Best DIY & Interior Design Blog at the Vuelio Blog Awards 2017. A self-confessed maximalist, Kimberly loves colour and print and big bold designs. Swoon Worthy impressed judges with its visual style and professional approach to blogging.
We caught up with the best interior design blogger in the country to discuss moving house, winning awards and why PR pros and brands should never resort to 'cut and paste' jobs.
Why did you start your blog?
I have always been an avid reader of blogs, ever since the late 90s when they were still called weblogs (showing my age there!). Fast forward ten years or so and I started following a lot of home interiors blogs – the first one I remember discovering was called Young House Love, which is a very well-known blog in the US. It was a young couple who had done up their own house in a beautiful but attainable way. I was inspired by them, so when we moved into our home in 2010, I decided I wanted to try my hand at blogging as well.
I started by simply cataloguing the changes we were making on the house and I thought a few people would be interested and I would be able to meet likeminded individuals. But, to my surprise, my audience started to grow and soon from what was simply a hobby, it developed into a full-time career.
After seven years of blogging about my home, we have just sold it and will be moving into another so I'm excited to share the process of decorating a totally new project with my readers.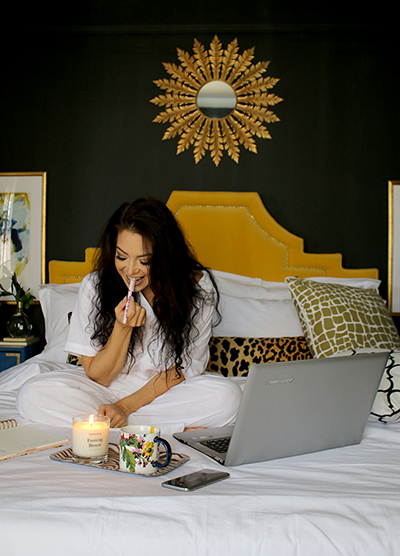 Congratulations! Is it exciting to start on a 'blank canvas'?
Massively exciting! My other half, Wayne, is an avid DIYer, so I think we make a very good team. He says I've got the vision and he's got the ability! I tend to do all the decorating: I come up with the design concepts and the sourcing but I also do all the painting, the wallpapering, putting up shelves and mirrors, and he does my 'hardcore DIY', as I like to call it – the heavy lifting: plastering, tiling, electrics and all that good stuff.
How do you feel about leaving your current house?
I don't think it's sunk in yet to be honest! I'm sure when we start to pack up it will hit me harder. This house has been our passion project, so leaving it behind knowing that I started my blog here and it is the reason Swoon Worthy became popular… it holds a lot of emotional ties! I think I'm more excited than sad, but ask again when the house is all packed up and I'll probably be crying in a ball in the corner thinking, 'What have we done?!'
And the new home will become the new focus for the blog?
The house is always the centrepiece of the blog. When I started, it was rare to see UK interiors bloggers who talked about their own homes. I saw a lot of bloggers that were more focused on what was happening in the design world, different shows they were attending or trends in design (I talk about that as well but just on a more personal level). I like to think Swoon Worthy was probably one of the first in this country that allowed readers into the blogger's home and made it a personal thing where people felt like they were along for the ride.
I think it was one of the things that made my blog stand out at the time – readers know the house, they know us – they even know our pets! Being able to really know the person behind the blog is a big part of my ethos.
How do you feel about having so much of you online?
I don't share everything, there is a part of our lives that is private and I'm protective of that in certain ways. Though I've never shied away from being open with people. On posts where I feel like maybe I'm sharing too much, I've had a positive response and amazing comments; my audience always surprises and humbles me in that respect. My readers are warm, lovely and understanding – I'm very lucky in that I seem to have attracted a wonderful bunch!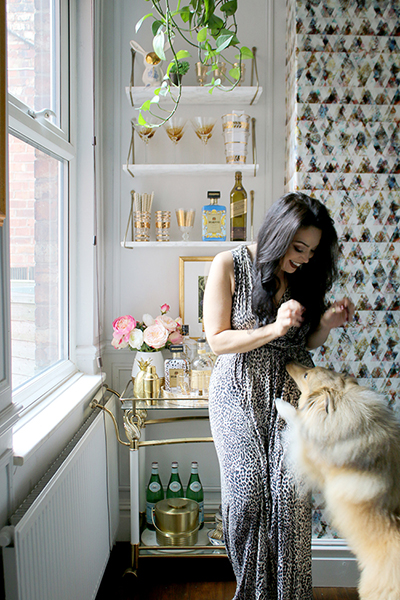 What about the interior blogging community, what's that like?
It's amazing how supportive the community is. Maybe it's because it's a more niche subject, but I don't see a lot of the pettiness, back stabbing or fierce competition I've seen in some other blogging circles.
Finding a group of likeminded people is so important when you're blogging because it can be a very lonely journey. Most of us who do it full time are sitting behind computer screens all day and it can feel isolating. Throughout my day I'm chatting and talking to people in my community non-stop, and I also get to see a lot of them at events and press trips. I've made good friends through blogging.
What does winning the Best DIY & Interiors Blog at the Vuelio Blog Awards mean to you?
It's an amazing accolade, especially as the judges are celebrated people in their own industries. To be a finalist is an honour but to win is mind blowing. And I love the Vuelio Blog Awards – getting dressed up and coming together for a day where bloggers are celebrated is fantastic!
I don't think the average person on the street understands how much work a blogger does and how many things you need to be very good at to be a successful blogger. So, having an industry that comes together and celebrates that, is absolutely amazing.
You have a great social presence, what platforms work best for you?
One of my biggest traffic drivers is, and probably always will be, Pinterest. It is so visually driven and you have a direct link from the image to your blog, so it's a great traffic driver for a visual subject. I also LOVE Instagram – I can't help myself. I know it's not the best for traffic, but it's good for driving awareness of my brand – although the algorithms are currently doing my head in! I've sort of lost my love for Facebook to be honest and Twitter is always good for networking but I don't spend a lot of time on it.
My focus has and always will be blog, so that's where I want people to land and all my social platforms are really only there to support the blog.
How do your social platforms work with collaborations?
Nowadays a lot of brands are focused on Instagram, so I'm seeing more collaborations where they want Instagram posts. Almost every collaboration will include social shares in some shape or form, maybe on one particular platform or sometimes across the board. I don't have a massive Instagram following compared to others, but since I hit the 10K point last year, the interest from brands has increased and I have seen more requests for collaborations on Instagram posts.
What's your preferred way to collaborate with PRs and brands?
I like to have an ongoing relationship with brands and continuous collaborations. My ideal scenario is having a brand that's a great fit for my blog so that if they have something in particular or new they'd like to promote, they'll think of me because they know my audience will respond well to it.
I particularly enjoy styling specific items – showing my audience how something might work in a lifestyle setting. I think my readers enjoy seeing things in my home and in my 'eclectic boho glam' style rather than just using promotional images from the brand, and I like doing those kinds of posts because they are just more personal and more creatively challenging.
What should brands know about you?
I have quite a recognisable style and what frustrates me is when a brand or PR will tell me they've 'been reading the blog and it's amazing', and then, say, offer me a Scandi-style cushion. If they had looked at my blog for 10 minutes they'd know that Scandi is about as far away from my style as possible! It's obvious to me that in those circumstances the brands or PRs haven't registered or taken notice of my aesthetic at all. Any collaboration has to reflect the Swoon Worthy look and feel because I know that my readers will know immediately if I'm showing off something I would never buy for my own home. I don't do any collaborations that aren't the right fit for me.
Beyond that, I do understand that outreach specialists don't have time to go through 750 blogs and know everything intimately! But just knowing perhaps that I'm American or knowing I'm in Manchester, not London, or they are aware I have pets but no kids – these are all little touches that tell me they've done their research.
I can always tell a 'cut and paste' jobs, so get to know me!
Get to know Kimberly; both she and Swoon Worthy are listed on the Vuelio Influencer Database along with thousands of other leading bloggers, journalists and editors. 
https://www.vuelio.com/uk/wp-content/uploads/2018/01/Kimberly-Duran-Swoon-Worthy.jpg
430
760
Jake O'Neill
https://www.vuelio.com/uk/wp-content/uploads/2023/09/vuelio-logo-200px.png
Jake O'Neill
2018-01-09 11:12:11
2019-09-10 15:26:36
Blogger Interview: Kimberly Duran, Swoon Worthy