Blogger Spotlight: Faya Nilsson, Fitness on Toast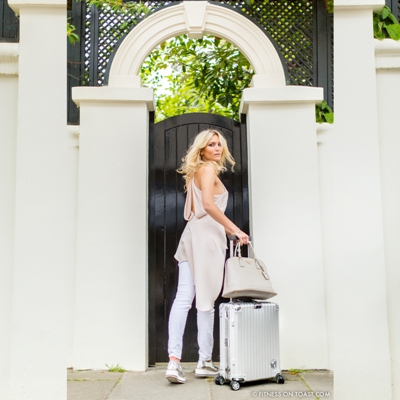 Blogger Spotlight with Faya Nilsson, author of one of the UK's top fitness blogs, Fitness on Toast. Faya spoke to us about active fitness, 'blogdoms,' compensation and sponsorship disclosure. 
What's new on Fitness on Toast? 
Active travel has become a big part of my blog since we last spoke at the end of 2013; An increasing number of clients, friends and family seem to want to stay in shape whilst on holiday, and even to use holiday as a chance to become a little more healthy. The 'active escape' is a proper, growing trend in today's health-aware world, and whilst I'm not talking about abstinent, monk-like Zen retreats, discerning travellers are after indulgence, with the optional facility to stay fit. I've coined and created the 'Active Escapes' category on my blog to help people indulge visually in a bit more detail :) 
http://fitnessontoast.com/tag/ActiveEscapes/
Give us an example of successful brand collaboration. What did you learn from it?  I recently collaborated with Triumph, the lingerie company, in their #FindTheOne campaign, and published a post about body confidence to accompany it (http://fitnessontoast.com/2015/06/17/body-confidence/). I had a host of quite touching emails from readers talking about their own struggles with body confidence, and it became clear that I'd touched on something that was quite private and important to many people. I tried to ensure that the treatment of the subject matter was positive and empowering, which helped generate some really engaged responses. That's exactly the sort of collaboration that I aim for.
How do you use social media to promote/share content? What are the challenges? I think that social media is the modern day word-of-mouth. I'll share content daily across multiple platforms, from Instagram, Twitter, Snapchat etc. Blog posts alone won't reach half the readership without the associated social distribution, so it's really important to me. I like to share material which I believe to be differentiated and impactful, and will try to avoid pointlessly posting / spamming, as our news feeds are generally full enough!
What advice would you give to a someone who wants to start a blog? It's a more serious undertaking than you might realise. Like a newborn child, it needs constant attention, feeding, changing, tending to, and craves newness. If you're not ready to give birth to your blog, you might want to think about wearing blogdoms.
How do you work with PRs? This has changed slightly since I joined The Unsigned Group's roster of bloggers. My agent there, Nicholas Douglas, is exceptionally efficient and limitlessly creative. Many PR agencies will email him directly, as per the contact info on my blog (http://fitnessontoast.com/6-contact/) ; others will still email me, and if its regarding an opportunity which organically fits with my ethos, I'll forward the outreach on to him. He and I work closely together around all projects and speak multiple times daily, so PRs should be comfortable to trust that the agency will do the job very professionally on my behalf.
Do you feel bloggers need to be compensated for the work they do? I feel bloggers should be compensated for the work they do. The quality of the reach of world class blog content is incomparable to a scattergun campaign in an expensive national. Also, running a serious blog is an extremely demanding full time job, if you choose it to be; it is a mini media-complex in itself, spanning investigative journalism, recipes, photographic production, movie direction & editing, modelling, social media promotion, consulting, daily networking meetings, and much more. 15 hour working days are the norm, sacrifices are made, and I no longer have much time to train clients (though I keep working with a select group of favourites who're more like friends now). 'Blogger' is my job title, 'blogging' is my profession, and it's my main source of income too. It's been a legitimate career for many Swedes for 15 years now; the UK is just starting to catch up in that mindset.
What do you feel about sponsorship disclosure? It's critical, and absolutely nothing to shy away from. Firstly the Advertising Standards Agency requires it, but secondly, it lends credibility to what you're trying to achieve. The only reason a blogger might be worried is in the instance whereby it's not an 'organic' collaboration; where something jars because its about payment before the message, and the readership would right become suspicious and mistrustful – that short-termist strategy won't work in my view. I have a page on disclosure freely visible on my blog (http://fitnessontoast.com/6-contact/disclosure/)
List three best practices PRs need to follow for better blogger outreach?
1) Relevance; is it actually relevant to the person's blog? 50% of my incoming emails could be eradicated based on this principle. I've clearly never featured supplements, for example.
2) Being Concise; whilst I've become adept at speed reading the epic prologues of many PR outreach emails, I have been suffering an overflowing inbox for months now, unable to truly conquer it – I will unfortunately miss things. If it can be said in a paragraph, its more likely to make me engage, and I'm sure I'm not unique for that.
3) Name; there's a serious and not-so-serious point here. My name is Faya; many PR outreach emails are addressed to Faye, Fay, Fayer, and even Fai.  On surprisingly regular occasions I've even had emails addressed to completely different bloggers, sent to me directly. I know if you're sending the same mail to hundreds of bloggers you might lose track, but it's worth triple checking, as nothing feels less exciting than mistakenly getting someone else's invitation.
What will be big in your blogosphere in the coming months?
Travel and training, as ever!
Editorial information on Faya, Fitness on Toast and thousands of other media/blogger contacts and outlets, can be found in the our Media Database.
https://www.vuelio.com/uk/wp-content/uploads/2015/07/Fitness-on-Toast1.jpg
400
400
Priyanka Dayal and Julie Hermans
https://www.vuelio.com/uk/wp-content/uploads/2019/09/vuelio-logo.png
Priyanka Dayal and Julie Hermans
2015-07-10 11:07:10
2015-07-28 14:45:53
Blogger Spotlight: Faya Nilsson, Fitness on Toast