Politicians take to Twitter to make and break news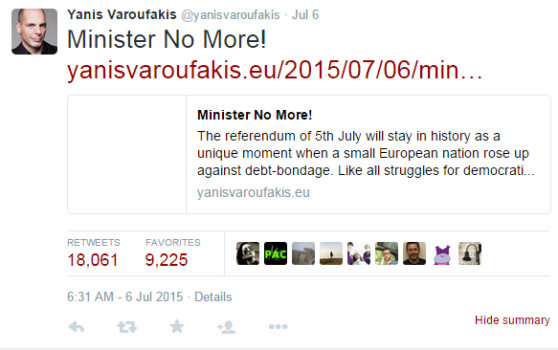 Move aside Justin Bieber, Twitter has become a hotbed for political news – good, bad and controversial.  Yanis Varoufakis, Greece finance minister and the face of the financial crisis, was the latest to stir up a storm on Twitter yesterday after tendering his resignation on the microblogging platform hours after the nation voted 'no' to austerity. In under 24 hours the 'Minister no More!' tweet generated over 18,000 retweets, 9,000 favourites and trended on Twitter and across news and social media sites .
Interestingly, it was not just the media that responded to Varoufakis' announcement,  Government representatives from countries around the world also took to Twitter to share their news and views on the outspoken finance minister and his brazen approach.
Belgian Fin Min on #Varoufakis resignation: "he complicated matters for himself. It wasn't nice when he called colleagues terrorists" (VRT)

— Pieter Cleppe (@pietercleppe) July 6, 2015
Varoufakis' tweet linked back to his blog where he explained in more detail the reason behind his decision.
While the shock resignation is still the subject of much debate and speculation, the self-publishing approach used by Varoufakis is not new and is in fact becoming a growing trend among politicians wanting to make a point (which in some cases have backfired on the politician).
From Narendra Modi's 'India has won' tweet that become the country's most shared-tweet within moments of his party's landslide victory in the elections last year, Emily Thornberry's 'Image from #Rochester' tweet that forced her to resign from Ed Miliband's shadow cabinet, or Hilary Clinton's 'I'm running for president,' tweet that kick started her 2016 presidential campaign earlier this year – it is clear that Twitter sits at the heart of making and breaking news today, for the media, public and politicians alike.
I'm running for president. Everyday Americans need a champion, and I want to be that champion. –H https://t.co/w8Hoe1pbtC

— Hillary Clinton (@HillaryClinton) April 12, 2015
https://www.vuelio.com/uk/wp-content/uploads/2015/07/Minister-No-More1.png
350
558
Priyanka Dayal
https://www.vuelio.com/uk/wp-content/uploads/2023/09/vuelio-logo-200px.png
Priyanka Dayal
2015-07-07 14:40:40
2015-07-28 14:58:36
Politicians take to Twitter to make and break news