Blogger Spotlight: Andrea Soranidis, Petite Cook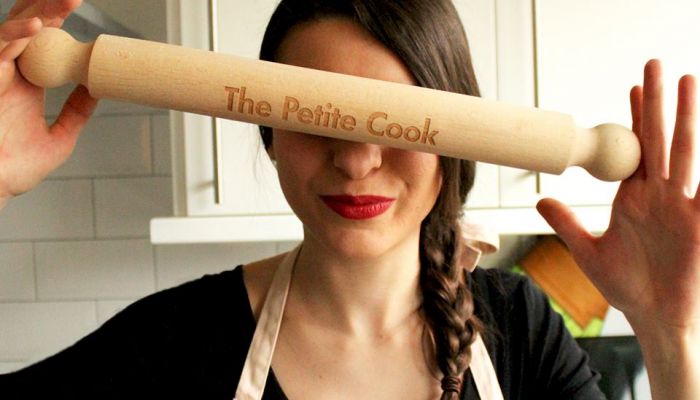 Blogger Spotlight with Andrea Soranidis, author of the cooking blog, Petite Cook. Andrea spoke to us about successful brand collaborations and working with PRs.
What's new on The Petite Cook? The Petite Cook is all about food, from learning traditional recipes I discover through my travels around the world, to healthy and allergy-friendly meals to make everyone around the table happy. I also love cooking with other talented homecooks and there's a whole section of the blog featuring my cooking experiences with Masterchef winners and contestants .
Give us an example of a successful brand collaboration. What did you learn from it? I've recently collaborated with a brand for a sponsored feature on my blog. I suggested to add some visual content and I worked day-and-night to edit one of their videos, but it did pay off at the end. The video went viral on social media and made the brand very very happy. So, the most important thing I learned is to step up, if you have a good idea and you know it could work well on your blog, don't be afraid to discuss it with the brand you're working with.
How do you use social media to promote/share content? What are the challenges? As a blogger, social media is a very powerful way to interact with my readers. I usually share glimpses of my life around the world as a foodie, food tips and news and of course a lot of recipes. I see my facebook page more like a community, so I put a lot of effort in researching content that I think is relevant to my fans. I share a lot of foodie news from other bloggers and media, so I don't only focus on the petite cook content. I've been focusing primarily on Facebook in the past years and just recently I ventured in other social media platforms like Instagram. It's a bit challenging trying to emerge now that Instagram is so popular. I still believe Facebook is the social media, so ultimately is where most of my efforts go.
What advice would you give to someone who wants to start a blog? Do it for yourself before anything else. Blogging should always start as a hobby and it should come out naturally. Don't worry about followers and traffic, they will both come eventually. Focus on great content that reflects your point of view and personality, try to update your blog regularly and find a blogger group to help and support you all along the way.
How do you work with marketers and PRs? PRs are often the bridge that brings together a brand and a blogger, so it's very important to establish a good relationship.In every collaboration I do, I try to understand and meet the goals each PR has in mind. Sometimes they want a specific recipe that will work well with a marketing campaign they have planned, or to reflect at the best the brand. Sometimes their goal is to raise awareness around the social media. It's part of my job to meet their needs and plasmate something that works well for The Petite Cook and my readers, and for the brand.
Do you feel bloggers need to be compensated for the work they do? Of course I do. Running a blog has its own expenses, and developing recipes and/or writing articles are time-consuming ( publishing a new recipe can take me up to 12h of work), so I feel we should be compensated as any other journalist or freelancer. It's also important to know that when you feature brands on your blog you're giving them virtually unlimited exposure, so an advertising fee should be considered in the budget too.
What do you feel about sponsorship disclosure? It's important to be honest with your readers, so if you receive compensation for collaborating and promoting a brand, then you should always disclose.

List three best practices PRs need to follow for better blogger outreach?
Do not assume we will be willing to work for free or for a chance to 

win a competition
Do not pretend blog articles after an event unless specified in the 

invite (and don't expect many bloggers to come if you do)
Do not ask in any circumstances for do-follow links, it's against any SEO and ethic policies. Just give up, no smart blogger will ever say yes.
What will be big in your blogosphere in the coming months? I'm working hard to improve my recipe video tutorials, and there will soon be a Video section on the blog. I'm also working on a new side of The Petite Cook where my readers will be able to see more of my travels and my foodie experiences. So,don't forget to follow The Petite Cook and stay tuned!
https://www.vuelio.com/uk/wp-content/uploads/2015/12/the-petite-cook.jpg
960
960
Jake O'Neill
https://www.vuelio.com/uk/wp-content/uploads/2019/09/vuelio-logo.png
Jake O'Neill
2015-12-15 10:54:58
2015-12-16 09:48:07
Blogger Spotlight: Andrea Soranidis, Petite Cook