Blogger Spotlight: Flickering Myth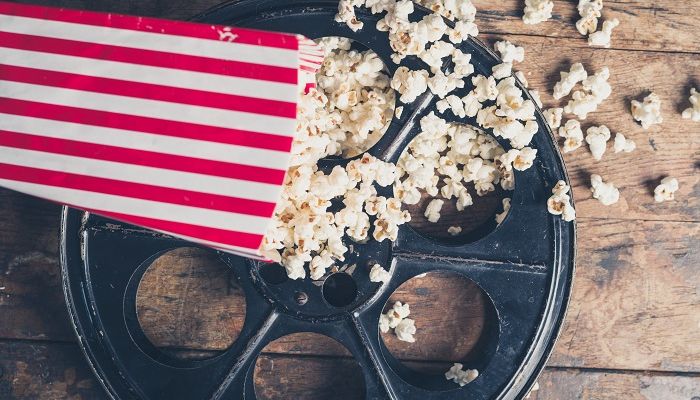 Describing themselves as the product of the cult classic 'Ghostbusters', the editorial team behind Flickering Myth are self-professed movie buffs. Specialising in 'geek culture', this blog has its own unique way of connecting with its loyal fanbase. First established in 2009 it has become one of the UK's leading entertainment blogs. In this spotlight Flickering Myth speaks to us about what sets them apart from other film blogs, why they don't measure success by traffic, winning praise from Quentin Tarantino, collaborating with PRs, and why 2016 will be the year of comic book movies.
What is new on Flickering Myth? Along with our usual movie, TV, video game and comic book coverage on the site, we plan on greatly expanding our audio and video content in 2016. We have revamped 'Flickering Myth TV' to include more regular content over on our YouTube channel, and have recently launched the Flickering Myth Podcast network; in addition to our own in-house movie, review and gaming shows, we have been joined by several external podcasts, including Gotham TV, Defenders TV and the Fantasticast.
Why should people read your blog? What makes it different? That's a difficult question, as there are many blogs out there, all producing similar content. I think what sets us apart from other film sites is our unique review system. All our reviews are given two scores out of 5 – one for 'film' and one for 'movie. The 'film' score is judging the piece as a film (writing, acting, cinematography, etc) while the 'movie' score judges it on how entertaining and fun it is. For example, Olympus Has Fallen is as dumb as a bag of rocks (2 stars for film) but really fun in that 'switch yourself off' kind of way (4 stars for movie). This gives Flickering Myth the option to broaden our film criticism to both cinephiles who watch this as an art form, and the Average Joe who wants to see what's on this weekend.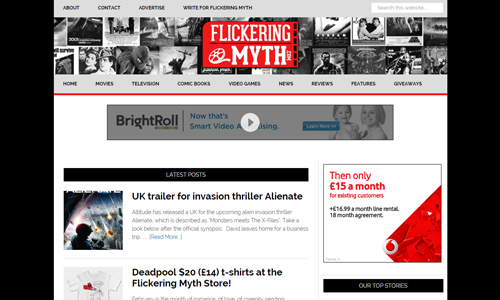 We also have varying opinion pieces from a great collection of staff writers. We don't dampen down anyone's views and we don't walk to one beat. We could post an article on day that trashes Deadpool and then another one the following day which claims it to be the best comic book movie ever made. We find this really builds conversation with our readers, and those who frequent the site get to know our individual styles, likes and dislikes. Lastly, we don't just have a stable of writers, we have a community of writers. We get together in real-life, and we discuss movies and films in our 'Writer's Room', where we share ideas and learn from each other. When a hot new trailer lands online, we often post 'reaction' pieces where we all come together like The Avengers to give our thoughts, which we find really strike up conversations amongst the comments section and across social media.
How do you measure the success of your website? I suppose that the success of any website is measured by traffic; however, there's not much point in having traffic if visitors aren't engaged by what they find. It's always nice to see comments, either on the site or on our social media pages and YouTube channel, and to know that people are reading and responding to our content.
What advice would you give to someone who wants to start a blog? In the words of Shia LaBeouf, "just do it!". A blog can be set up in a matter of minutes, and completely free, using sites like Blogger and WordPress. You need very little technical knowledge, if any. But setting up a blog is the easy part – where it gets difficult is producing regular, quality content, and getting yourself noticed among the thousands of other blogs online. That's where you need hard work, commitment, perseverance, and a bit of luck. So start the blog, learn as much as you can, and stick at it. Building an audience takes time and growth may be slow at first, but it will come in time.
How do you work with marketers and PRs? What can PRs do in working better with you? We work with a number of PR companies across the world of film, television, video games and comic books, sharing relevant news and press releases, producing reviews, etc. Presently, we are looking to increase our exclusive content, particularly for our aforementioned video and podcast productions. Several of the PR companies we work with have been a huge help with this so far, and it's definitely one of our main areas of focus for 2016. As for marketers, we're always open to collaborating on relevant campaigns, and will always strive to meet clients' needs and requirements.
How do you use social media to promote/share content? What are the challenges? All of our content is shared to Facebook and Twitter. We do have other social media pages, like Google+ and Instagram, but we have never used them as much as perhaps we should. Social media is also a great way of communicating with our readers, and vice versa. The main challenge is of course trying to ensure that we produce relevant, engaging content for our readership, on a regular basis.
What has been your blogging highlight? It's tough to pick one highlight. Getting to know our fantastic writing team has definitely been a highlight. It's always nice to get the recognition from PR companies and studios to put our name on a poster or DVD cover, as well as being trusted to get interviews, clips and reviews out to a wide audience. However, it was also very cool having Quentin Tarantino tell us that he was a fan of the site when we interviewed him last year.
What will be big in your blogosphere in the coming months? Superheroes! 2016 is shaping up to be a massive year for comic book movies, what with Deadpool shattering records, and Batman v Superman, Captain America: Civil War, X-Men: Apocalypse, Suicide Squad and Doctor Strange all set for release this year. We will certainly have our hands full providing our readers with as much coverage as possible. Looking beyond that, as I mentioned earlier, video content in particular is an area that is growing rapidly, and something we definitely have big plans for this year.
What does the Vuelio blog ranking mean for your blog? As I mentioned earlier, there are some fantastic blogs out there, and so it is great to be mentioned in such good company. It is definitely a reward for all of the hard work shown by the editors, writers, and everyone involved with Flickering Myth. So thank you!
https://www.vuelio.com/uk/wp-content/uploads/2016/04/FlickeringMyth1.jpg
525
700
Jake O'Neill
https://www.vuelio.com/uk/wp-content/uploads/2019/09/vuelio-logo.png
Jake O'Neill
2016-04-05 12:53:28
2016-04-05 12:54:59
Blogger Spotlight: Flickering Myth