Blogger Spotlight: Gemma Seager, Retro Chick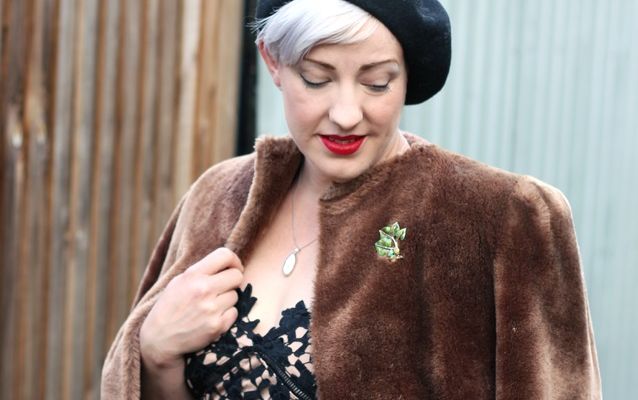 Retro Chick is a UK fashion and lifestyle website, authored by blogger Gemma Seager. Known for its quirky vintage twist, Retro Chick illustrates how beauty is not just for special occasions but is a lifestyle. In this spotlight, Gemma who appeared on our recent top twenty fashion ranking, chats to us about why she is inspired by retro style, why being relatable helps her to build a relationship with her audience, and the challenges of balancing sponsored content.
How would you describe your personal style? I would probably describe it as eclectic vintage with a modern twist. I love novelty prints and bold colours, but with a more classic, vintage-inspired silhouette and not a lot of fuss.
Why did you choose to blog about fashion? When I started my blog I was running an eBay shop selling vintage clothing and I initially started writing about fashion and style as way of promoting my shop. I soon discovered that I liked writing far more than going to the Post Office and made the blog my main focus.
Where do you see your blog in five years' time? I really don't know. It's probably terrible of me, but every time in the past I've tried to make plans nothing ever goes how I expect. It's one of the things I love about blogging is that it's so varied and can lead in so many directions.
Do you think that fashion bloggers have a big impact on their audiences' buying habits? I think they can do. With so many bloggers out there readers will gravitate to those that reflect their own style and interests, so as long as bloggers are true to their own style I don't think they can help but be a strong influence on their audience.
What trends do you think will be big this year? I really have no idea! I am a terrible trend predictor and always pick up on things just as everyone else is going off them!
Who are your favourite designers and brands? I mostly love vintage inspired styles and brands. Lena Hoschek is my favourite designer, she's an Austrian designer with a strong vintage inspired style. My favourite brands are Collectif, House of Foxy, Joanie Clothing and Heyday Vintage Style, all brands with a strong vintage inspired look that do great prints as well.
How did you build up a relationship with your audience? Social media has been a strong part of building a relationship with my audience. It's much easier to have a two-way conversation on Facebook, Twitter or Instagram than in the comments section of a blog post. I think being relatable in your blog posts and sharing your life with readers is a great way to start a conversation and build up a relationship with readers as well. People often feel like they know bloggers well, almost like personal friends.
What are the challenges of being a fashion blogger? Standing out and attracting readers in an over saturated market is a challenge. I have been blogging for a long time, so I have an established site and base of readers, but attracting new readers when there are so many blogs out there is definitely a challenge.
Another challenge is balancing sponsored and gifted content without making the site too promotional. As my blog is part of my business I need to make money from it, but I also need to balance that with not boring my readers or making them say "Huh?" by covering something they know full well I have no real interest in.
Do you feel pressured to stay on top of trends? Nope! I'm not really a trend driven blogger, so this isn't a problem for me. Trends pass me by as I stay focused on a specific look.
What have been your favourite PR and affiliate campaigns that you have worked on? And why? I love it when brands really understand that you know your readers best and are flexible about how you produce content and let you put your own spin on it. I've done some campaigns I've really enjoyed with clothing brands Chi Chi London and Joanie Clothing, but I also write about Cocktails a lot, so I love it when brands get in touch with cocktail related campaigns. I worked with Diageo this year on a cocktail post for a luxury gifting site and they were great about letting me set the tone for the content to make sure it fit my style and it was really great fun to work on.
What advice would you give to PRs who would like to work with you? I'm not necessarily a traditional trend driven fashion blog, but I understand how to best pitch a product or event to my audience. I love working on exciting and unusual campaigns that I can get passionate about. Being given plenty of notice of when a post needs to go live is good too. I can produce content on short notice, but it's far better to have enough time to produce quality images and content without having to rush. That way we both get the best out of the relationship.
Will you be working on any exciting projects this year? I am speaking at a blogging conference over the summer and I'm looking forward to that. I also have a couple of exciting trips coming up. For my personal projects, I plan to give the site a bit of an overhaul and a fresh new look, and I'll be working on making another personal project, Norwich Cocktail Week, even bigger and better this year.
https://www.vuelio.com/uk/wp-content/uploads/2017/03/Gemma-Seager-Retro-Chick.jpg
550
638
Jake O'Neill
https://www.vuelio.com/uk/wp-content/uploads/2019/09/vuelio-logo.png
Jake O'Neill
2017-03-06 13:48:49
2017-03-06 13:48:49
Blogger Spotlight: Gemma Seager, Retro Chick