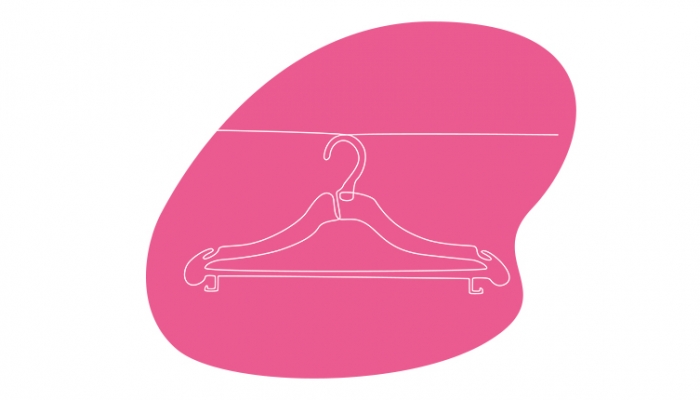 Last updated 15/02/2023
Vuelio uses a proprietary algorithm to create these rankings, based on topic-related content in blogs on its system – you can read more about the process here. Our research team actively seeks out new blogs and bloggers for inclusion, but if you think we've missed someone, please get in touch to let us know.
∼1 to 10∼
1. Inthefrow
In the front row once more is Inthefrow's Victoria Magrath, who has been sharing the best from the world of fashion since launching her blog in 2012. 11 years later, styles have certainly changed, but this blog's focus has stayed on what is worth investing in from the high street to the more high-fashion catwalk trends. Also covering Beauty, Lifestyle and Travel alongside the Fashion, Inthefrow finds the finest to match with your fit. Current trends to check out – winter coats, designer collaborations and smart bag buys.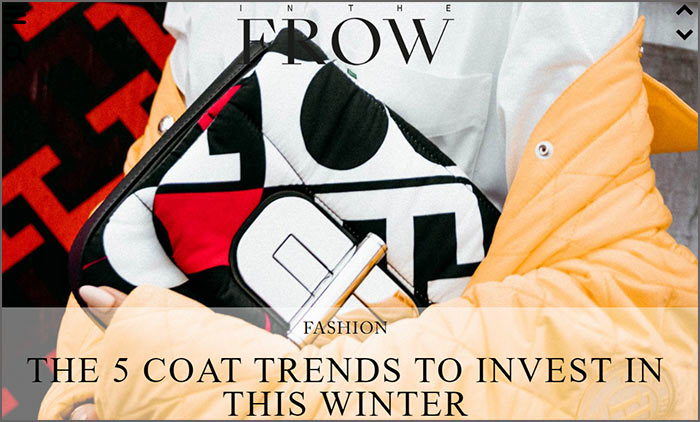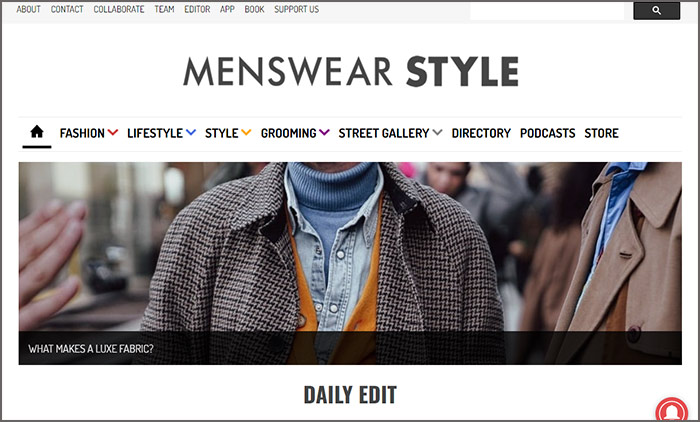 Another top fashion blog that just happened to launch in 2012 is Craig Landale's Menswear Style, sharing Lifestyle, Style and Grooming with its Fashion content. For those moving away from fast fashion and towards more environmentally-friendly finds, read up on how to make your footwear more sustainable. And for those who want to look like Stranger Things' Hopper on his days off, or the cast of Miami Vice (all style icons), take note from a recent post on how to properly style a Hawaiian shirt.
And now we go back even further to 2007, when Navaz Batliwalla launched her blog DISNEYROLLERGIRL. All these years later, fashionistas can benefit from Navaz's passion for fashion under channels including Shopping, Shoots and Video. Read what is coming up from Phoebe Philo, this season's Bottega Veneta campaign and some of the blogger's favourite artist looks. Want industrial insider insights? Here is where to find it.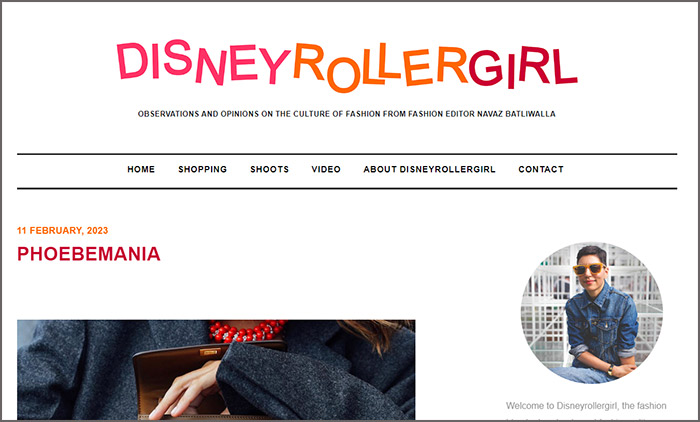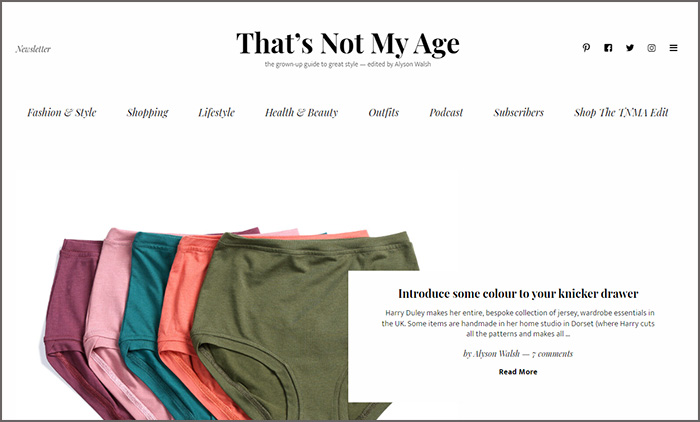 Moving up a spot in the ranking this year is Alyson Walsh's That's Not My Age, which offers its readers a 'grown-up guide to great style'. Find recommendations under the sections Fashion & Style, Shopping, Lifestyle, Health & Beauty and Outfits – even how to introduce some colour to your underwear drawer. With experience as a freelance journalist, former magazine fashion editor and author, Alyson started blogging in 2008 to celebrate women of all ages – whatever your age, find the best style staples out there, here.
Up from the eighth spot is Chris Beastall's Ape To Gentleman, which has evolved into a particularly popular fashion-focused blog since its launch in 2009. Always useful – explainer pieces for people who want to up their personal style, so check out recent posts on easy style hacks 'every man should know' for 'keeping your wardrobe on its A game' as well as the best winter coat styles for 2023. Not sure how to sort your peacoats from your parkas? Let Ape To Gentleman help.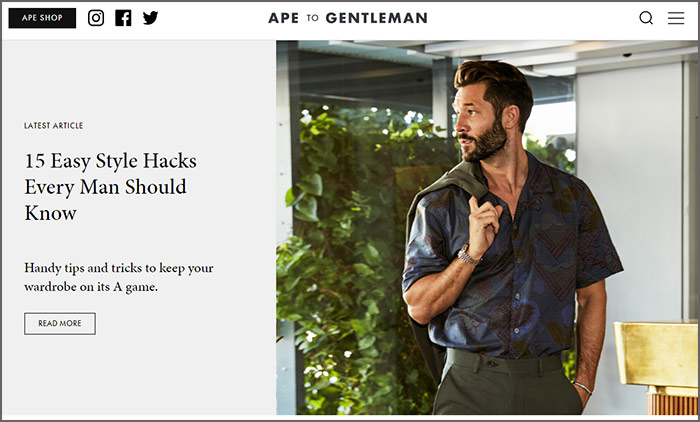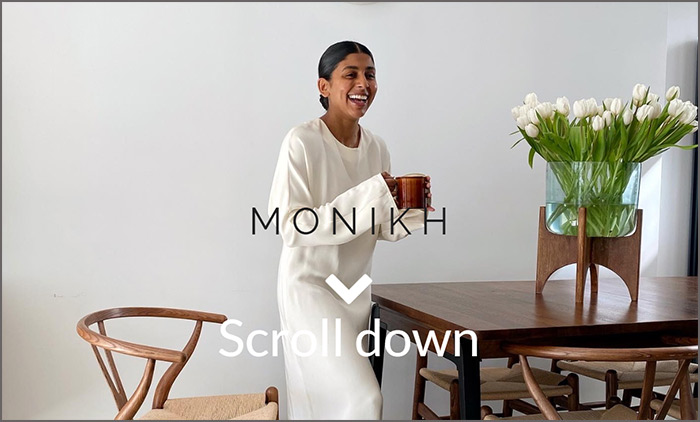 6. MONIKH
Another blog rising up the ranking this year is Monikh Dale's MONIKH. Here to help 'make sure you always have your fingers on that fashion pulse', this blog highlights the best fashion pieces to hit the internet each week so there is no need to spend hours searching for yourself. There are also surprises for what is trending right now and coming up – denim skirts are back for SS23 as are boilersuits. Both difficult to wear, but those brave enough can find inspiration and advice on getting it right from Monikh.
For straightforward and practical outfit ideas, skip the personal shopper or in-store try-ons and instead head to this blog's My Outfits section, grouped by what blogger Lorna Burford is wearing in Spring, Summer, Autumn and Winter. With the weather still chilly outside, take a look at Lorna's recommendations for camel coats and even the perfect winter fragrance for pairing perfection. Even those on a budget can bring more fashion into their lives – this blogger also offers advice for saving while you shop.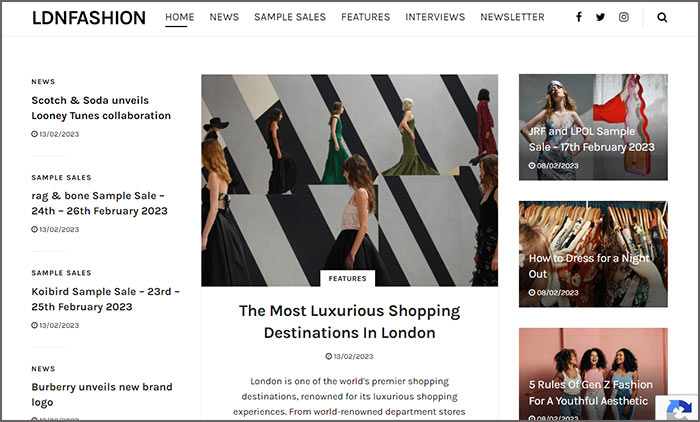 8. LDNfashion
Moving into the top ten this year is LDNfashion, which 'curates the very best in fashion content' including sample sales happening in the city, fashion news, features, interviews and much more. If you want to feel fancy as well as fashionable, check out this blog's pointers on the most luxurious shopping destinations in London. If you are after a more youthful aesthetic, find the five rules of Gen Z fashion. And for getting ready for a night on the town, take tips from the recent post on how to dress right for a night out.
With many of us considering 'kinder ways to live and dress', Curiously Conscious has solutions for changing up shopping and styling in favour of more sustainable choices. Blogger Besma covers sustainable fashion, cruelty-free beauty and low-impact living – read recent posts on how she is saving money while still being green in her approach this winter and key pieces she has been wearing this season. For more on how to add sustainable style into your own life, click through to her pick of 150+ sustainable brands to try.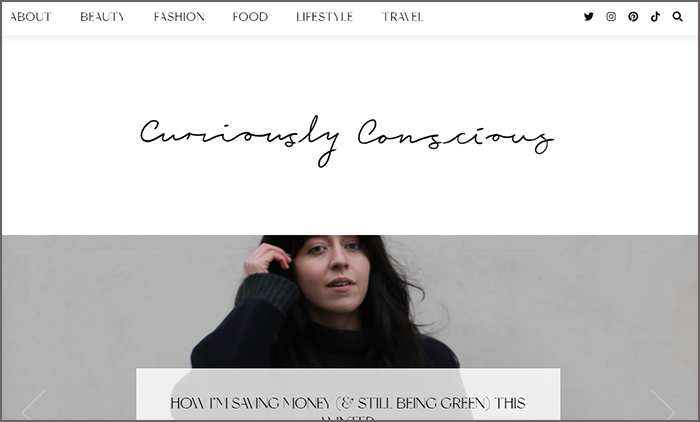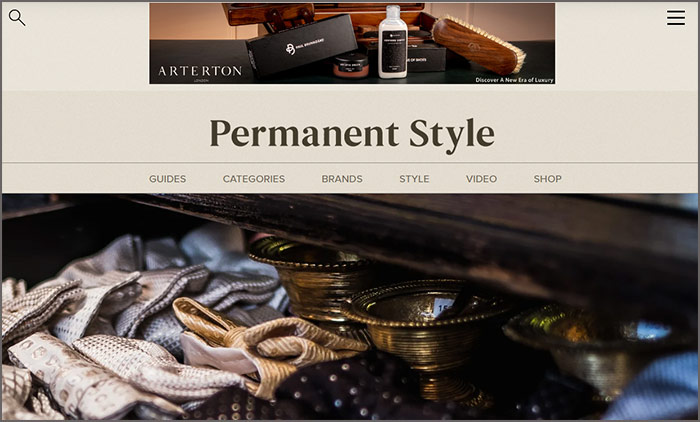 10. Permanent Style
Also rising up our fashion ranking is Permanent Style, where readers can find 'real journalism and intelligent advice on style and luxury clothing'. Founded by professional journalist and editor Simon Crompton in 2007, publications including GQ, Esquire and The Times have highlighted the blog as one of 'the best men's sites in the world'. See for yourself by exploring the blog's many categories, including Black Tie, Casual Clothing, Alterations and Care, right down to Socks and Underwear, too.
∼11 to 20∼
Check out more Fashion content, including interviews with fashion bloggers and journalists, on the Vuelio Blog.
Collaborating with bloggers requires mutual respect and understanding: respect their schedules; take time to read their content to learn their interests; and only contact them if/when they want to be contacted.
Vuelio's blog ranking methodology takes into consideration social sharing, topic-related content and post frequency. Profiles of these Fashion Blogs and their authors can be found in the Vuelio Media Database.
Through Vuelio's Social Media Index, you can find the UK's top blogs in a variety of sectors including beauty, travel, interior design and many more. Whether you are a blogger, PR professional or journalist, Vuelio's Social Media Index provides an accurate chart for your professional or personal interest.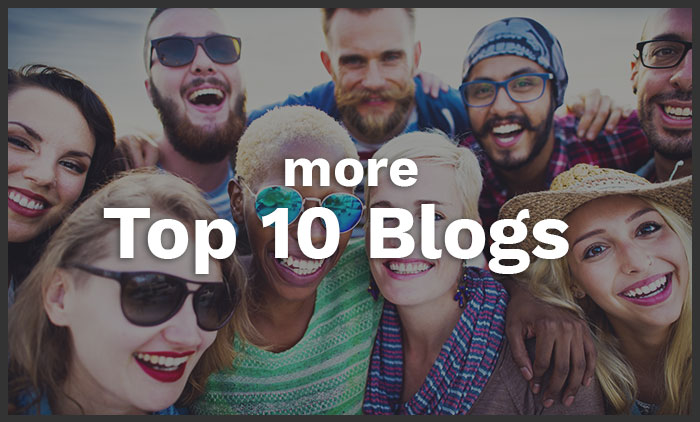 https://www.vuelio.com/uk/wp-content/uploads/2023/02/Top-20-fashion-blogs.jpg
430
760
Christina Pirilla
https://www.vuelio.com/uk/wp-content/uploads/2023/09/vuelio-logo-200px.png
Christina Pirilla
2023-02-15 09:40:46
2023-03-13 17:30:37
Fashion Blogs UK Top 20