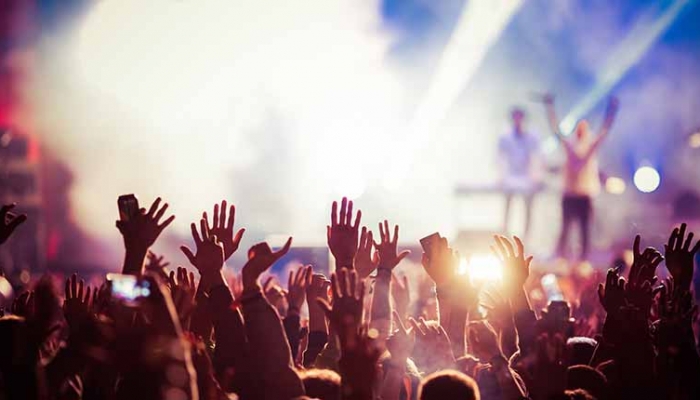 Last updated 15/01/2020
This urban pop culture website – and music blog ranking chart-topper – gets pretty loud: coverage of its mix of urban news, music, entertainment, celebrity interviews and reviews has featured on MTV, BBC 1 Xtra, Billboard and The Independent. Also noisy are its fans – The Grape Juice encourages its audience to be active listeners and 'roar back just as loud'. Now attracting people in the high thousands on a daily basis, the site has grown big since its official launch in February 2007.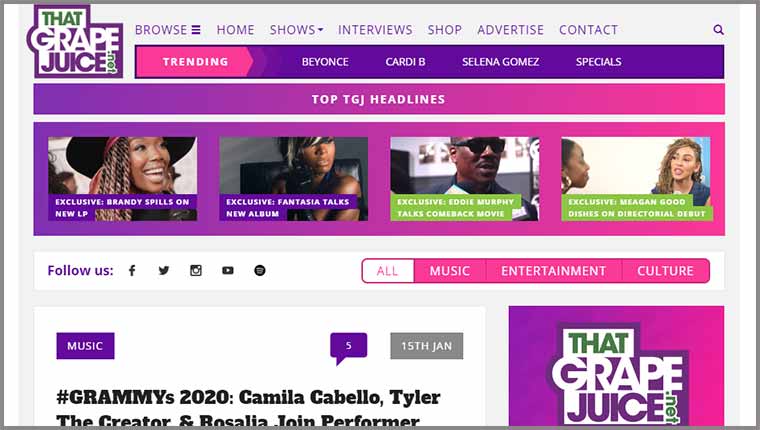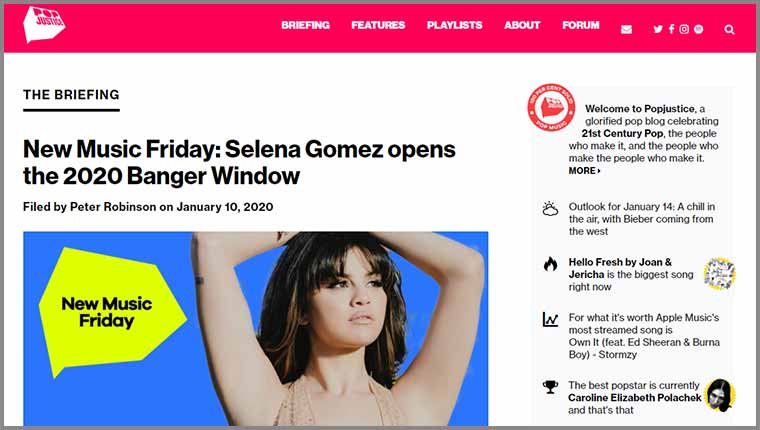 2. Popjustice
Certified hit Popjustice is clear about its vision and its subject, stating straight up that 'like pop itself, Popjustice is not as good as it used to be and precisely as good as it ever was depending on who you ask,' meaning it enjoys its pop 'with a capital P' and places less emphasis on the 'j' part of the title. Launched by music journalist Peter Robinson in May 2000 (Billie Piper had a number 1 single that month… a lot has changed), the website has been compared to Smash Hits in its heyday by Elle and 'The definite pop blog' by Shortlist.
3. A&R Factory
Music industry professionals looking for new independent music from across the world need to schlep across dingy bars and open mike nights no more – A&R Factory draws in record labels, radio stations, music PRs and management companies looking for the next Billie Piper (or, rather, this decade's equivalent). Artists wanting to be noticed without putting themselves through the judgement of Olly Murs and Meghan Trainor on The Voice and elsewhere can submit their music demo straight to the blog for sharing – better than sending stacks of cassettes through the post and easier to find new music you'll want to listen to.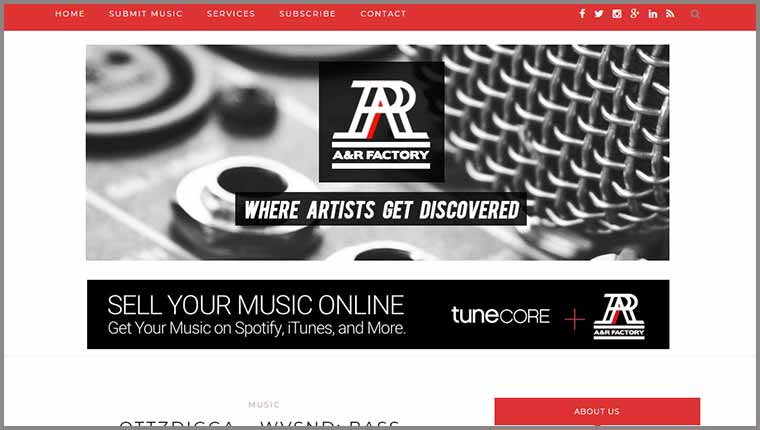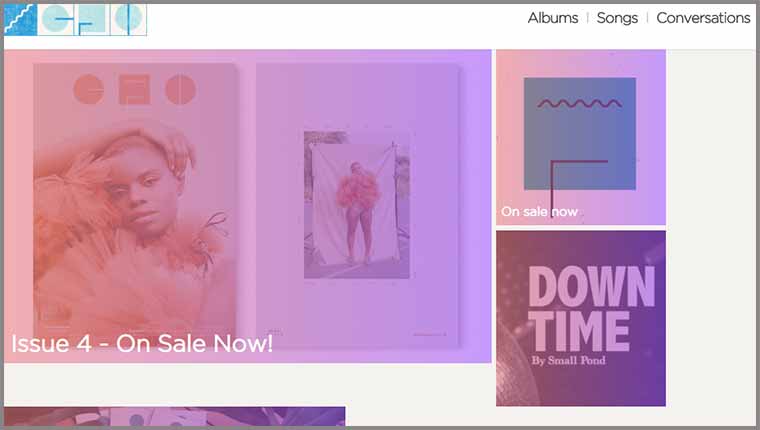 The blog for seasonal and independent music journal Gold Flake Paint covers the bits music lovers might miss in mainstream music magazines – recent pieces have centred on attending gigs as a woman on your own, as well as queerness in performance. New music recommendations also feature, as well as some dreamy photography and links to music videos from indie performers. Interviews with the artists will introduce you to the ones you might not have heard yet – meet someone new over in the Conversations tab.
5. UKF
Parented by YouTube channels UKF Dubstep and UKF Drum & Bass, the UKF is now a network of channels, podcasts and events celebrating bass music. Fans of the genre can find albums, mixes and playlists, as well as news, live streams and YouTube channels galore. Artists can also submit their demos to the team and maybe end up on the Explore tab alongside musicians like Skrillex, Hybrid Minds and Koven.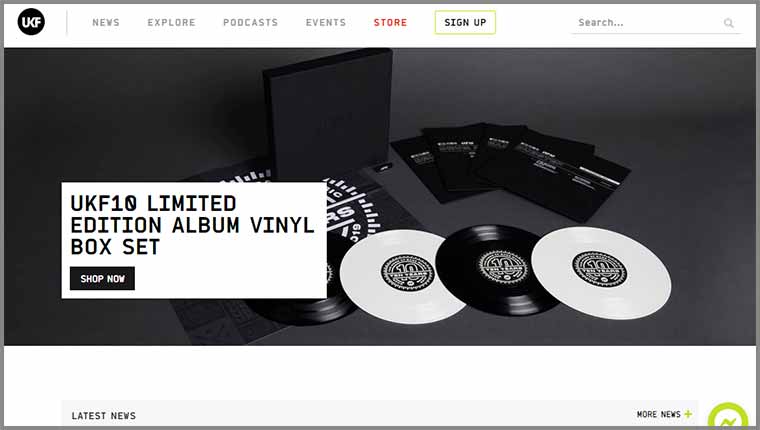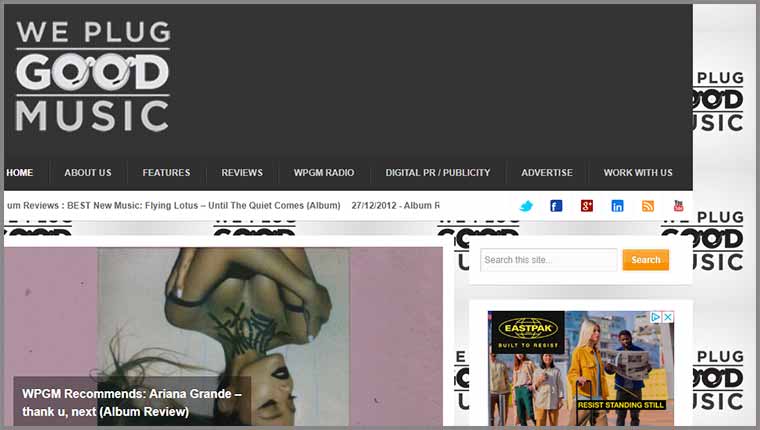 GOOD music only here, as this blog aims at showcasing the best in 'new and emerging music from all over the world'. With an established platform of 500,000 monthly visits at the last count, and many followers across social media on top of that, the site aims to be a 'trendsetter and tastemaker' promoting new music to readers and listeners across the globe. Find recommendations for new artists across the EP, album and live reviews sections and deeper pondering on what's happening in the music biz in the Features tab.
7. XS Noize
'Independent international consortium of opinionated music lovers' XS Noise has a 'tell it like it is' attitude to reviewing and reporting on music across a variety of music genres – all from its base in Northern Ireland. Its editorial team is made up of an assortment of age groups, countries and backgrounds, so no canned reviews here. The reviews section covers a variety of all-things-music as well – new albums, classic records, live performances, books and 'tracks of the day'. Looking for something really special? It also has an exclusive channel for things yet to be shared elsewhere.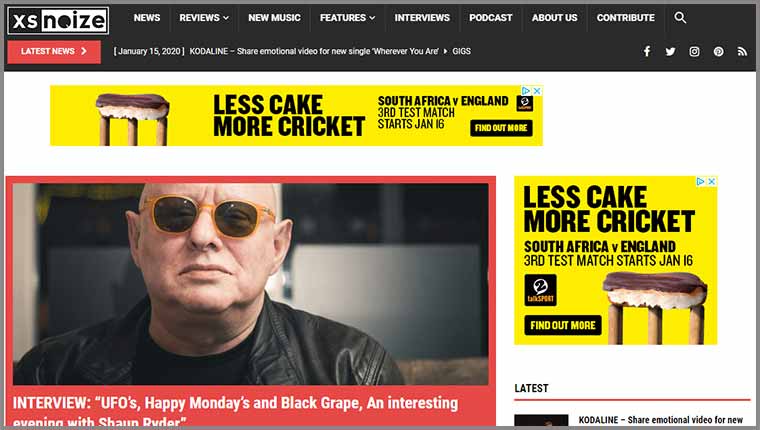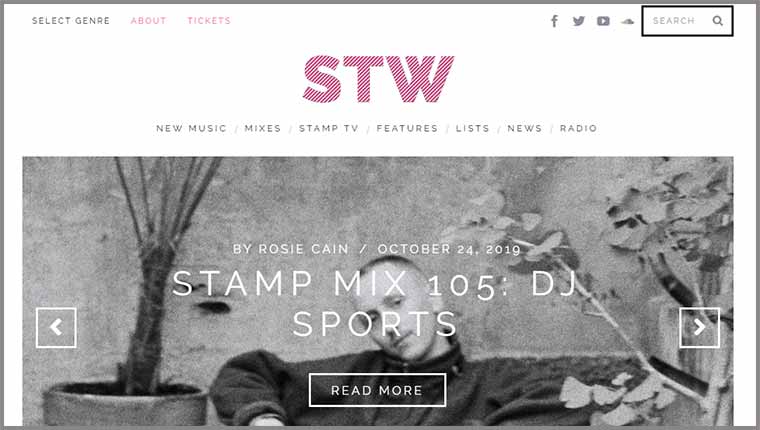 8. STW
Started in 2011 by two friends from London who were studying in Brighton and loved music from EVERYWHERE, Stamp The Wax now boasts a full team and long list of contributors writing about all genres of music (or at least, a very healthy selection to pick from). Different mediums are also covered – whether long reads or quick lists to peruse, radio shows and mixes to listen to and new videos to watch, there's something for almost every sense (except smell and touch – something to hit over the next decade or so, perhaps).
For both music lovers and those in the industry, the Playground blog brings together news, interviews, reviews, details of upcoming festivals and music mixes. Popular with UK readers but with a worldwide view, the blog features artists from across the globe. Recent artists interviewed on the blog include Moscow-based DJ and producer Mujuice and South African artist Reinhardt Buhr.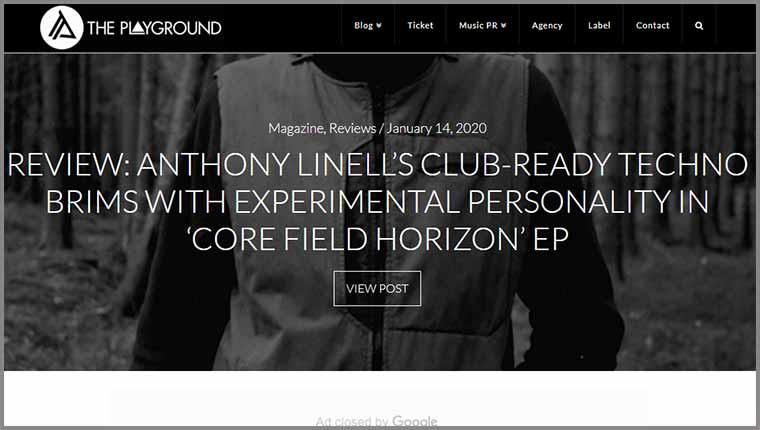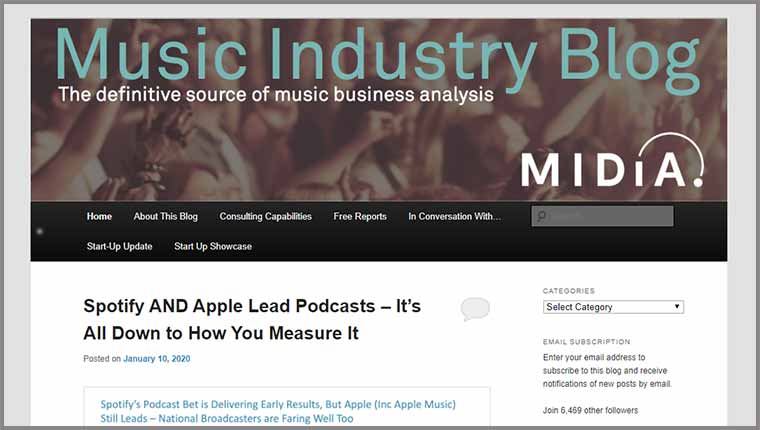 'This blog is a conversation, not a soap box' says the man behind the Music Industry Blog, Mark Mulligan. Conversating about the business of music, Mark analyses consumer behavior and the needs of the music industry in his regular opinion and insight pieces. Quoted across TV, radio, online and print, Mark brings his experience from 15 years in media and technology to the blog, which aims to be a 'definitive source of music business analysis'.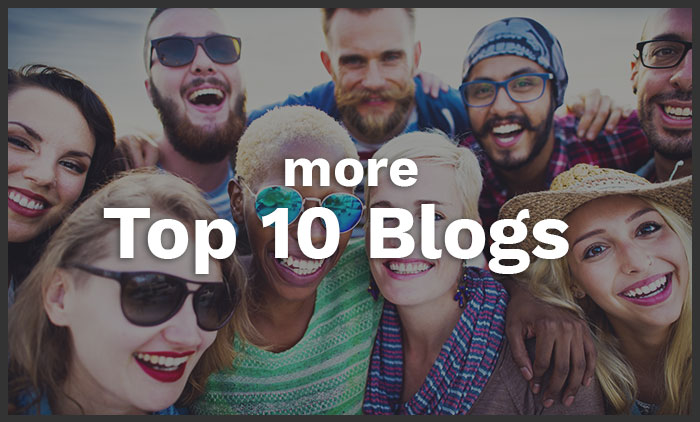 The fundamentals of working with bloggers are the same as with traditional journalists at traditional media outlets: respect their schedules; take time to read their material to learn their interests; and only contact them if/when they want to be contacted.
Vuelio's blog ranking methodology takes into consideration social sharing, topic-related content and post frequency. Profiles of these music blogs and their authors can be found in the Vuelio Media Database.
https://www.vuelio.com/uk/wp-content/uploads/2020/01/Top-10-UK-Music-Blogs.jpg
430
760
Holly Hodges
https://www.vuelio.com/uk/wp-content/uploads/2019/09/vuelio-logo.png
Holly Hodges
2020-01-15 11:30:20
2020-01-15 12:39:06
Top 10 UK Music Blogs