Blogger Spotlight: Peter Marshall, >REPhoto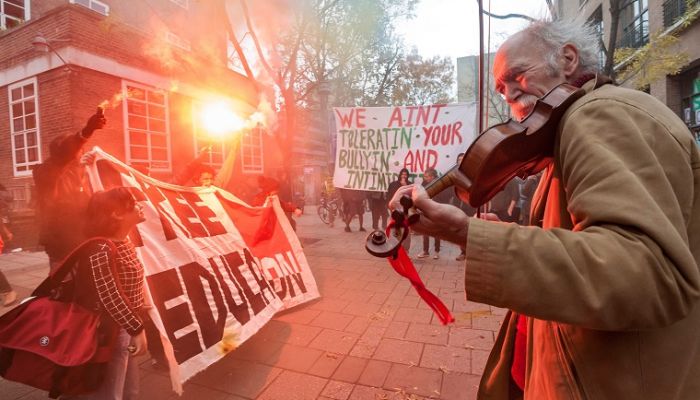 Capturing political movements and protests, Re: Photo takes a slightly different approach. With a more photo-journalist style, the blog, which recently featured on our top ten ranking, focuses on the power of community spirit and people coming together to campaign for social and political change. In this Spotlight Peter Marshall, the photographer behind >REPhoto chats to us about how he measures the success of his blog, how he likes to work with PRs, and how he uses social media to promote his content.  
Why should people read your blog? What makes it different? >Re:PHOTO is written by a busy photographer and looks at my own work and the problems I face, as well as commenting on the aspects of photography I find interesting and controversial. It's written very much for others like me with a deep interest in photography, and from an individual viewpoint. And people read it for my pictures.
How do you measure the success of your website? >Re:PHOTO gets around 100,000 page impressions a month, and photographers I meet often comment on things I've written, though there are very few comments on the blog. I get around 50-100 people signing up each day.
What advice would you give to someone who wants to start a blog? Think carefully whether you have anything worth saying, and realise a successful blog will take quite a lot of your time. Try to write at least one post every day if you want to get a regular readership.
How do you work with marketers and PRs? I came to >Re:PHOTO after spending seven years being paid to write and blog daily on a highly commercial website. I decided that this blog was to be entirely non-commercial, and I've so far kept to this for almost ten years. When I talk about equipment, it's mainly about stuff I actually have bought and use. I do sometimes write about shows I've seen and would consider reviewing books – but most I've done have been books I've liked enough to buy.
How do you use social media to promote and share content? What are the challenges? >Re:PHOTO runs without promotion. I occasionally mention a post to friends on Facebook, mainly those in which some of them feature.
What can PRs do in working better with you? I welcome invitations to photographic openings and events in London. I used to occasionally review photography books. I'm always interested in genuine innovations in photography.
What has been your blogging highlight? On my previous site, getting over a million hits in a day after writing about the photography of 9/11. On >Re:PHOTO I particularly enjoyed several years covering the Mois de La Photo in Paris. Perhaps I'll go again next April.
What will be big in your blogosphere in the coming months? >Re:PHOTO is mainly about my own photography, and much of that is of political protests and I think there will be no shortage of those in the coming months. But I'll also be bringing out a new website of my work on Hull, and possibly a new edition of my book on Hull to celebrate Hull being the UK 2017 City of Culture.
https://www.vuelio.com/uk/wp-content/uploads/2016/11/PeterMarshall.jpg
505
760
Merryn Williams
https://www.vuelio.com/uk/wp-content/uploads/2019/09/vuelio-logo.png
Merryn Williams
2016-11-24 14:15:15
2016-11-24 14:15:15
Blogger Spotlight: Peter Marshall, >REPhoto