Blurred Lines: editorial meets e-commerce
ELLE UK has launched an online store, while NET-A-PORTER unveiled a free weekly magazine back in February. There's no doubt that content and commerce are converging – although print is in decline, the boom in e-commerce represents a real opportunity for women's magazines to create a sustainable revenue stream. So what's driving the change and what does it mean for the industry?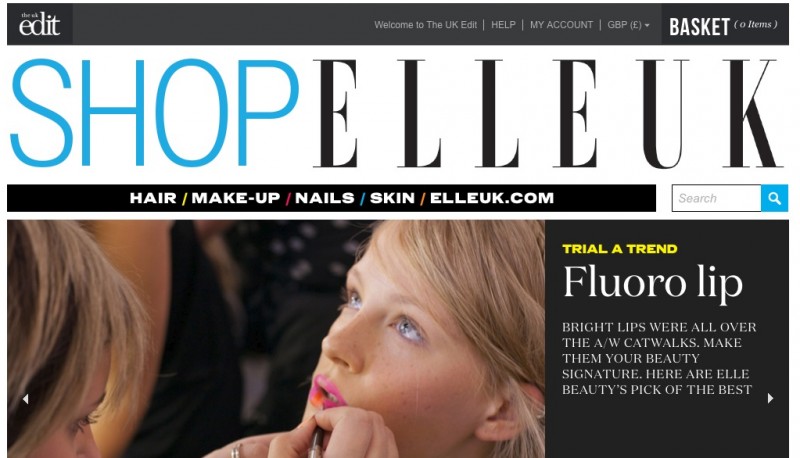 Commercial content
'Readers know and trust our brand to make edited recommendations for them – a shop is the next logical step to enable consumers to easily purchase this edit,' said ELLE's group publishing director, Meribeth Parker. The magazine has partnered with online retailer The Hut Group to launch the e-commerce venture, with over 4,000 products available, each selected by the magazine's beauty team, headed up by beauty director Sophie Beresiner. There's no denying that – to some extent – journalists have always acted as curators, and an etail venture is a way of harnessing their considerable expertise.
ELLE isn't the first women's media title to venture into the e-commerce arena. November 2012 saw Grazia combine commerce and content with the launch of a shoppable iPad magazine, allowing readers to 'Shop, Share and Save' a diverse range of products as featured in the magazine. 'We know our readers buy products recommended by Grazia and our iPad edition offers them the ease and simplicity of buying a product as soon as they see it in our pages,' explained publishing manager Lauren Holleyoake. And allowing readers to instantly share products across social networks extends Grazia's reach yet further.
Editorial e-commerce
While media titles are looking to e-commerce to monetise their content, adding an editorial element to their offering enables etailers to tell their story effectively. 'Retailers want more credibility, and so being able to have that content on their site gives them the interest factor that comes with editorial', said Jemima Kiss, head of technology at the Guardian. An authoritative blog, newsletter or magazine gives consumers another reason to click through to – and ultimately buy from an etailer.  Working in conjunction with buyers, the editorial team can create timely, relevant content that pushes the right products at the right time.
'Editorial is really important in establishing a brand's voice and identity. It helps to drive loyalty and really sets the tone of the site', said my-wardrobe's editor-in-chief Nicola Copping. However, it's important to remember that in this context, product – rather than content – is king. She added: 'The role of editorial is a supporting mechanism; it should draw the customer in, get them excited and tempt them'.
The editorial exodus
As print sales continue to disappoint, and the lines between e-commerce and editorial become increasingly blurred, there's opportunity for journalists too. 'I think there are some editors who have worked in the industry for a healthy amount of time and are now looking for fresh challenges outside of the purely editorial arena', said my-wardrobe's fashion director Carmen Borgonovo, who was previously at Harper's Bazaar. 'A move into etail gives them the opportunity to develop their commercial understanding of the industry and apply their skills to a new framework.'
She's by no means the first journalist to make the transition. There's been a wave of departures from traditional fashion publishers of late – NET-A-PORTER's magazine is overseen by Lucy Yeomans (ex-Harper's Bazaar), while Matches' fashion features editor is none other than ex-Vogue staffer Tilly Macalister Smith.
The combination of editorial and etail makes commercial sense, but publishers underestimate the relationship of trust that exists between reader and magazine at their peril. 'The area of curating content is one of massive growth, but how does the reader see and understand what they're being presented with?' said Jemima Kiss. And with Net-a-Porter launching a free print magazine later this year, the editorial/e-commerce conundrum looks set to become even more complicated.
Contacts for top fashion magazines, where editorial meets e-commerce, can be found in the CisionPoint Media Database. 
Phoebe-Jane Boyd
https://www.vuelio.com/uk/wp-content/uploads/2023/09/vuelio-logo-200px.png
Phoebe-Jane Boyd
2013-08-08 13:13:53
2013-08-08 13:13:53
Blurred Lines: editorial meets e-commerce