Speedy Spotlight: Skint in the City
Skint in the City is featured in this week's Media Updates and recently ranked in Cision's Top 10 UK Finance Blogs. Author Ashley Lennon shares her views on living well for less, guest posts and good PR.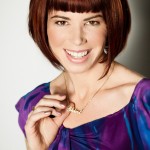 Why should people read your blog?
In these tough financial times, there's a greater need than ever to understand the knack of living well for less. Skint in the City reveals how you can live the high life, even when your budget's tighter than your skinny jeans. With a focus on style, socialising and travel, as well as personal finance tips and news on the latest bargains, Skint in the City helps people to live like they've a million dollars, on a less-than-average wage.

What's the biggest issue in your blogosphere?
Finding ways to make my site really stand out from other personal finance and lifestyle blogs. There are plenty of fantastic money-saving blogs, and Skint in the City's particular niche is where lifestyle and personal finance intersect; i.e. being smart with your cash to look and live stylishly, even when funds are low. I'm also just finishing off a book, which will be out later this year.

What's your favourite blog and why?
I love the American personal finance blog Budgets Are Sexy. The writer, J$, has such a strong voice and isn't afraid of baring his financial soul. Getting a sneak peek into his world, with all its financial ups and downs, is compelling. 
Also, Afford Anything always offers a really fresh perspective on how we think about and spend our money.
How often do you aim to post?
On average, twice a week. In between I also tweet, post on Facebook etc. with news of latest deals and tips.

How do you feel about guest posts?
I'm happy to offer them, as long as they feature something really fresh and beneficial to Skint's readers. That might be news of an exclusive deal, or the latest compelling research. I'm always on the lookout for new angles, specific to Skint and its readers. 

How does a good PR work with you?
They tailor their pitch to my site and come with fresh ideas that really appeal to my readers. I can't take another 'How to organise a party on a budget' post, for example, but might be tempted by survey results describing the percentage of people who 'recycle' gifts previously given to them when they attend friends' parties.

Giveaways and competitions always work well. Reviews can too as long as it's a product of direct interest to Skint's readers that fits with the theme of living stylishly when funds are low. There are many great PRs out there who are good at coming up with fresh angles and those are the ones I love to hear from.
What do PRs do that's bad?
Offering the same guest post content or infographic to 20 blogs at the same time, and omitting to say they're doing so. And offering content that's blatant advertising – it'll never make the grade. Happily, my experiences with PRs have been very positive on the whole.
Editorial information on Skint in the City and Ashley Lennon and thousands of other media outlets and contacts can be found in the CisionPoint Media Database.
Priyanka Dayal
https://www.vuelio.com/uk/wp-content/uploads/2023/09/vuelio-logo-200px.png
Priyanka Dayal
2013-08-08 14:17:29
2013-08-08 14:17:29
Speedy Spotlight: Skint in the City