Bringing London Fashion Week to a charity shop near you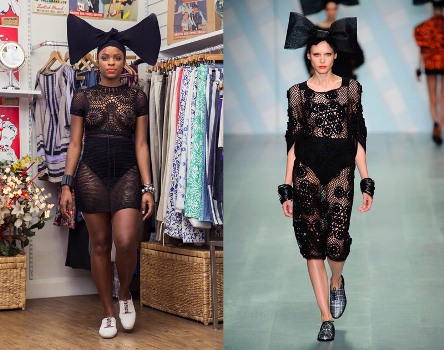 On Saturday Emma Slade Edmondson, stylist and author of the blog Back of the Wardrobe, recreated the looks coming off the London Fashion Week catwalk in real time, using only the items she found in the British Red Cross' Westminster charity store on Buckingham Palace Road, London.
Emma spoke to Cision about the project titled Charity Fashion Live now three years running, how the idea came about and what other bloggers can  learn from it.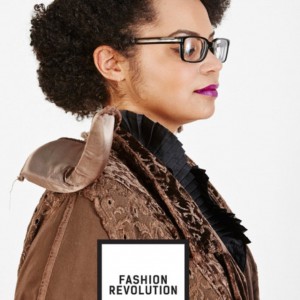 The idea behind Charity Fashion Live: The idea for Charity Fashion Live came to me while I was still working in advertising but planning my escape to running my style consultancy full time. During those days I did styling on the side of a very hectic day job that often left me feeling drained and without creative headspace.
I was in my friend's kitchen one morning munching on a salmon bagel and thinking about the up and coming London Fashion Week when I had the idea for Charity Fashion Live. We were two weeks away from Fashion Week at the time and it seemed like an impossible task to manage in such a short space of time, but we pulled it off and although the project has come a long way since the first event and film (where we worked with Trinity Hospice in 2012 for SS13) I still occasionally like to have a sneaky watch of it. I still love it.
How does Charity fashion Live tie in with your blog Back of the Wardrobe: I wanted to do something with Back of the Wardrobe around LFW but I wanted it to be true to Back of the Wardrobe's ethos, which is about thoughtful fashion, experimenting with and loving your clothes. I also thought it would be interesting to see if we, like the fast fashion brands, could leverage the biggest fashion event of the year to talk about something really positive and accessible and to hero a sustainable fashion retailer and humanitarian organization like The British Red Cross.
It just all made sense.
How has the project evolved: Each year we've tried to go bigger and better, involving more and more super talented people. This year for example we had 19-year-old Rosalind Jana on board – an accomplished writer, blogger, model from the Models 1 agency as well as the winner of an Observer Ethical Award. Ros agreed to get on the #CharityFashionLive catwalk for me! And if you're now feeling like a bit of an underachiever, try not to worry it's the Ros effect!
We also had the amazing fashion and fitness photographer Claire Pepper on board as well as director and cameraman Darren O' Mahoney, and production specialist Roisin who's skilled at managing everything from holograms musicians to will.i.am on set! All experts in their field. Because building a talented and relentlessly enthusiastic team around you is crucial and so rewarding for everyone – from charity, to blogger, to audience.
The objective: With Charity Fashion Live the idea is really to produce something that's engaging enough to appeal to the younger, more connected audience that perhaps are not already being spoken to in their language by some of these charitable organisations. Once you have people watching a project such as the Charity Fashion Live, it's then that you can start talking about some of the gritty or hard hitting topics like sustainability through charity chic, the environment and fast fashion, that perhaps people aren't initially as open to talking about.
Advice to bloggers on collaborations: The one piece of advice I'd say is key for bloggers is to think about your combined audience. Find out what your collaborating party wants to achieve, what their audience want to see or hear and who you're trying to attract before you start putting it out there. Then dream up a big idea – something you'd want to watch or read. Make sure it's truly compelling, that you believe in it. Don't put anything out there for the sake of it!
The outfits that were reproduced will now be auctioned on eBay to raise money for the Red Cross
Editorial information on Emma Slade Edmondson, Back of the Wardrobe and thousands of other media contacts and outlets, can be found in the CisionPoint Media Database.
https://www.vuelio.com/uk/wp-content/uploads/2014/09/Emma-Slade.jpg
350
444
Priyanka Dayal
https://www.vuelio.com/uk/wp-content/uploads/2023/09/vuelio-logo-200px.png
Priyanka Dayal
2014-09-16 15:10:11
2014-09-16 15:10:11
Bringing London Fashion Week to a charity shop near you