Budget dominated by Coronavirus was well received on social media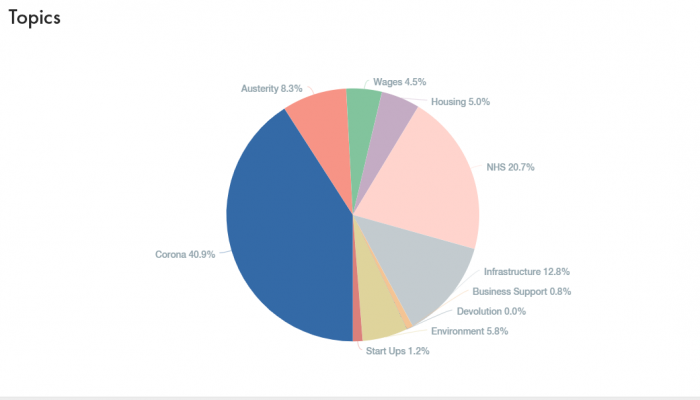 Much of the media commentary in response to the Budget statement has been positive for Rishi Sunak, barely four weeks after he was appointed as Chancellor.
At 39 he is the youngest Chancellor since George Osborne took office in 2010 and has degrees from Oxford and Stanford Universities, as well as business experience at Goldman Sachs and in several hedge funds.
His experience in Government however has been relatively brief, having only been appointed as a junior MHCLG minister in January 2018, before joining Boris Johnson's cabinet in July 2019 as Chief Secretary to the Treasury. He received his unexpected promotion following Sajid Javid's shock resignation last month.
After the relatively dull and uneventful delivery of Philip Hammond, the last Chancellor to deliver a Budget speech in 2018, Rishi Sunak offered some genuine enthusiasm. Daily Mail reporter Andrew Pierce tweeted in response to the speech: 'A star is born' describing it as a 'commanding performance' by Sunak, whilst referring to him as 'a PM in waiting'.
Torsten Bell, chief exec of the Resolution Foundation tweeted: 'British politics in 2020: A Conservative Chancellor outlining plans for a bigger state than under Tony Blair and more borrowing than Gordon Brown'.
This concern about the amount of borrowing announced in the small print of the Budget to fund new commitments rather than higher taxation, was picked up by several political journalists including the political editor of The Guardian, Heather Stewart:
'Don't underestimate how big a moment this is – Sunak says he'll invest an extra £175bn over next 5 years, which he says OBR calculates will add 0.5pp to GDP growth. The Tories are embracing the benefits of borrowing to invest. You could say Labour has, "won the argument".'
BBC political editor Laura Kuenssberg noted an increase in research and development spending: 'Very significant increase in govt spending on R + D, up to £22bn – and govt will change the way science is funded too – introducing UK version of ARPA – one of long held dreams of PM's adviser Dominic Cummings'
Vuelio's sister company Pulsar conducted some social media listening in the week leading up to and including the Budget, tracking the Twitter traffic of 50 leading political journalists. Unsurprisingly this showed that Coronavirus dominated both the social media conversation over the last week and the Budget itself, with 40.9% of the Twitter traffic.
The NHS featured second in the list of topics with 20.7% of the conversation and infrastructure, another topic which dominated the Budget as the Government set out its levelling up agenda was the third most popular topic with 12.8%.

An additional Pulsar graph showed that positive tweets by the top 50 political journalists being tracked outnumbered negative and neutral ones.
However, the media response was not uncritical, with The Guardian's Kate Proctor questioning whether Rishi Sunak's claim that the Conservatives were now 'the party of public services' was evidence of amnesia from the Government which had itself introduced austerity and appeared to have had 'a re-think on borrowing'. She also noted the package of announcements aimed at moving the civil service out of its London base with 22,000 jobs heading out of London and a devolution deal for West Yorkshire including a £4.2bn funding settlement.
The Sun's Tom Newton Dunn summarised the Budget by saying the 'rabbit out of the hat' announcement that all Chancellors seek to deliver was most likely the 'business rate holiday' for small businesses. He added that most other major decisions had been 'delayed as a result' of the coronavirus, especially setting any new fiscal rules. Therefore, he noted there was 'no reason for Javid to resign after all'.
Vuelio's Budget analysis, summary and stakeholder response document is available to read and download here.
https://www.vuelio.com/uk/wp-content/uploads/2020/03/Pulsar-Budget-2020-edited.png
605
1069
Sam Webber
https://www.vuelio.com/uk/wp-content/uploads/2019/09/vuelio-logo.png
Sam Webber
2020-03-13 14:02:33
2020-03-13 14:17:14
Budget dominated by Coronavirus was well received on social media