Government promises all the tools every UK Citizen needs to get through this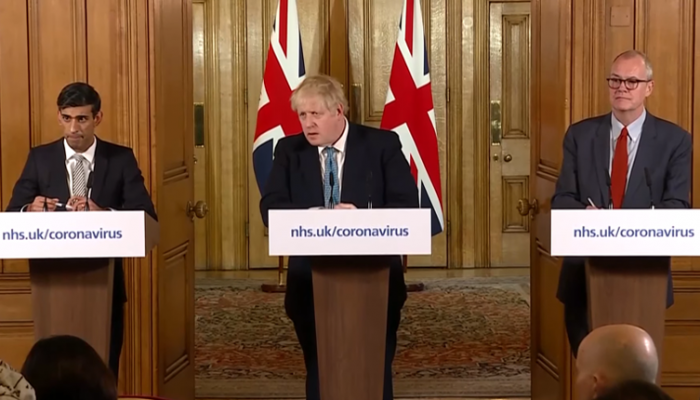 Vuelio's Sam Webber assesses the latest Government response to the Coronavirus pandemic, including a new fiscal stimulus and school closures.
The Coronavirus pandemic has now affected every aspect of Government and public life in a way that this country has not experienced since the Second World War.
The Chancellor's comprehensive Budget, announced last week, has already had to be updated and overhauled with a far more generous package of measures to safeguard businesses and families. After pressure from MPs representing tourist destinations and from key cultural institutions like small attractions, pubs and restaurants that are set to be particularly affected, the Chancellor increased measures offered to this sector: 'I announced last week that for businesses in the retail, hospitality and leisure sectors, with a rateable value of less than £51,000, they will pay no business rates this year.
'Today, I can go further and provide those businesses with an additional cash grant of up to £25,000 per business – to help bridge through this period. Additionally, I also am today extending the business rates holiday to all businesses in those sectors, irrespective of their rateable value.
'That means every single shop, pub, theatre, music venue, restaurant – and any other business in the retail, hospitality or leisure sector – will pay no business rates whatsoever for 12 months, and if they have a rateable value of less than £51,000, they can now get a cash grant as well.
'I also announced last week that we would be providing £3,000 cash grants to the 700,000 of our smallest businesses. In light of the new circumstances, and to support their cash flow, today I can increase those grants to £10,000.'
Hinting at additional measures for other sectors of the economy he added:
'Some sectors are facing particularly acute challenges. In the coming days, my colleague the Secretary of State for Transport and I will discuss a potential support package for specifically airlines and airports.'
For those affected by COVID-19 who will lose income and not be able to pay their monthly mortgage, the Chancellor also offered support: 'Following discussions with industry today, I can announce that for those in difficulty due to coronavirus, mortgage lenders will offer at least a three month mortgage holiday – so that people will not have to pay a penny towards their mortgage while they get back on their feet.'
While he was immediately criticised because this statement offered nothing to those in rented accommodation, they have now been offered additional protections too.
Robert Jenrick, the Secretary of State for Housing, Communities and Local Government said: 'The Government is clear – no renter who has lost income due to coronavirus will be forced out of their home, nor will any landlord face unmanageable debts.'
His detailed statement includes a promise that: 'Emergency legislation will be taken forward as an urgent priority so that landlords will not be able to start proceedings to evict tenants for at least a three-month period. As a result of these measures, no renters in private or social accommodation needs to be concerned about the threat of eviction.'
An announcement from Education Secretary Gavin Williamson on Wednesday also confirmed what many parents had been expecting: 'After schools shut their gates on Friday afternoon, they will remain closed until further notice except for children of key workers and vulnerable children, as part of the country's ongoing response to coronavirus.'
While this has serious implications for those studying for exams that will now not be taking place in the usual way, the Government is clear it will do whatever is necessary to ensure no students are adversely affected by these challenging conditions.
Finally, the Government has set up a new structure of four implementation committees focusing on health, public sector preparedness, economy and international response to deal with the crisis.
Healthcare: chaired by the Health Secretary to focus on the preparedness of the NHS, notably ensuring capacity in the critical care system for those worst affected
General Public Sector: chaired by the Chancellor of the Duchy of Lancaster to look at preparedness across the rest of the public and critical national infrastructure, excluding the NHS
Economic and Business: chaired by the Chancellor, with the Business Secretary as deputy chair, to consider economic and business impact and response, including supply chain resilience. It will also coordinate roundtables with key sectors to be chaired by relevant Secretaries of State
International: chaired by the Foreign Secretary, to consider our international response to the crisis through the G7, G20 and other mechanisms, including like-minded groups, and the UK five-point plan
This shows that as well as relying heavily on the advice from his Chief Medical Officer and Chief Scientific Adviser, the Prime Minister is receiving support from his Cabinet colleagues Matt Hancock, Michael Gove, Rishi Sunak, Alok Sharma and Dominic Raab and all their respective teams of civil servants to feed into the UK's holistic approach to defeating this virus.
As Rishi Sunak said this week: 'I want to reassure every British citizen, this Government will give you all the tools you need to get through this.'
https://www.vuelio.com/uk/wp-content/uploads/2020/03/Rishi-Boris-Press-Conf.png
430
760
Sam Webber
https://www.vuelio.com/uk/wp-content/uploads/2019/09/vuelio-logo.png
Sam Webber
2020-03-19 12:27:11
2020-03-19 12:27:11
Government promises all the tools every UK Citizen needs to get through this