Can Arianna Huffington Save Uber and Silicon Valley?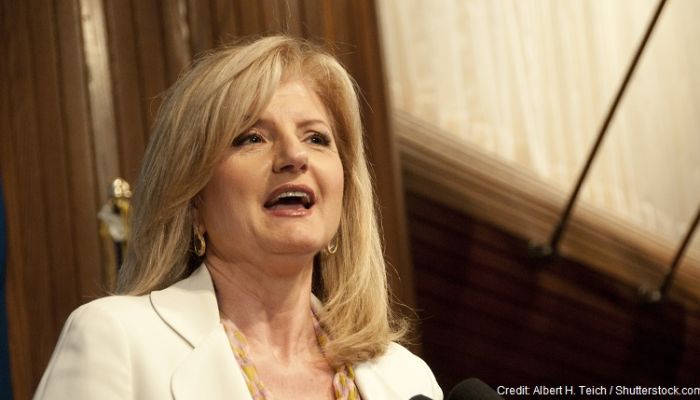 Uber may have disrupted the way we get from A to B but there is nothing new about the way the company allegedly conducted its everyday business operations.
Allegations of sexism and high profile executive departures have rocked the car sharing (taxi) app business to its roots and threatened to distract the media away from the fact that they offer a really cool service.
So the news that Arianna Huffington has been parachuted into the organisation to lead its PR strategy must be more than welcomed by investors.
What better remedy to a poisonous, sexist environment than one of the world's most successful women?
But Huffington doesn't just want cure Uber – she wants to take on the whole of Silicon Valley.
Speaking to journalists, Huffington said: 'The goal should be not just to fix Uber but to fix the systemic culture of Silicon Valley. Otherwise, every year we will produce new reports asking, why aren't women advancing?
'There is such an incredible emphasis everywhere in the valley on top performers, and just because they deliver in a narrow sense, they're forgiven again and again. And even if their behaviour leads to them being let go, it's largely done quietly and they're quickly rehired by another company, where the behaviour continues.'
And you'd be foolish to bet against Huffington.
Her experience in disrupting old school business practices is legendary. She completely shook-up the, let's be honest, stagnant, male-dominated and often toxic media landscape with The Huffington Post. So she will feel perfectly at home in an equally disruptive business like Uber.
Part of Huffington's appeal is her personal brand is as big as the brands she represents. Anything she does for Uber and the wider Silicon Valley community will carry the weight of her reputation – which she won't want to tarnish with quick, ill-thought-out wins or sleazy business practices.
Does the PR industry need more people like Huffington? Share your comments below:
https://www.vuelio.com/uk/wp-content/uploads/2017/07/Arianna-Huffington.jpg
429
760
Jake O'Neill
https://www.vuelio.com/uk/wp-content/uploads/2019/09/vuelio-logo.png
Jake O'Neill
2017-07-10 08:47:04
2017-07-10 08:47:04
Can Arianna Huffington Save Uber and Silicon Valley?