Cision Breakfast Club: Beauty and the Tech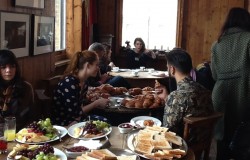 This morning an audience of PRs were joined by The Daily Telegraph's consumer tech editor Matt Warman and British Beauty Blogger Jane Cunningham for breakfast at the Frontline Club. With pitching tips and content advice, the guests discussed the differences between traditional and new media.
For Matt, technology is increasingly a subject that people feel they should know about even if they've not invested in a particular product or device. Companies like Apple and Google are part of mainstream news and Matt's job is no longer about being The Telegraph's geek but instead translating why tech stories are important to a general audience.
Writing for The Daily Telegraph gives Matt a good response from PRs and other contacts; both speakers agreeing that traditional print media still seems to be a high priority for PRs. Jane also writes for the Metro and finds it frustrating when PRs focus on this as opposed to her primary interest which is blogging.
Jane doesn't write for brands and instead gives honest opinions about the products on offer. This integrity is important to both Jane and Matt and they consider themselves to have a duty to the reader. Matt said that there was no financial advantage of writing content for hits but there is a long-term advantage of being honest and consistent. An advertiser is buying into the integrity of the outlet and in that respect blogging and traditional print media are no different.
Throughout the discussion the pair also managed to discuss dodgy French hotels, mental piles, Twitter comments, email attachments and getting the look of the stars of TOWIE.

Editorial information on Matt Warman, Jane Cunningham and their respective outlets can be found on the CisionPoint Media Database.  
https://www.vuelio.com/uk/wp-content/uploads/2023/09/vuelio-logo-200px.png
0
0
Priyanka Dayal
https://www.vuelio.com/uk/wp-content/uploads/2023/09/vuelio-logo-200px.png
Priyanka Dayal
2013-03-05 15:10:00
2013-03-05 15:10:00
Cision Breakfast Club: Beauty and the Tech