Cision Reads: Attenzi – a social business story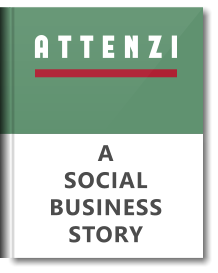 Philip Sheldrake's latest book Attenzi – a social business story has turned the concept of a business book on its head. Instead of instructional advice and inspirational sound bites, Philip has opted to tell the story of fictional company 'Attenzi' becoming a social business, through the eyes of its CEO Eli Appel.
Available online, the relatively short novel intends to 'help readers explore what social business means for their organization, marketplace, communities and career'. The book has received positive reviews, with readers praising the concept as much as the message.
London Calling's Andrew Grill said:
'I really like the approach Philip has taken, and he has even woven in some personal pain and introspection from the main character Eli as he deals with his divorce, and how proud he is of his socially savvy teenage daughter, Rachel.
'Importantly, the book is not a how-to and it does not suggest sites and platforms to use. Instead, it spends quality time building on the realisation by Eli that his business must change rapidly to stay ahead of the curve.'
Top PR blogger Neville Hobson reviewed the novel in a podcast and explored what power a work of fiction can have in empowering people. He said:
'Philip has done well in presenting business themes and topics that anyone really could grasp without getting lost or losing interest.
'As Eli notes early on in the story, 'social business'  is the kind of buzz word or buzz phrase you hear about at conferences yet have little belief that even those who bandy the words around have much real idea of what they mean to businesses.
'I think Attenzi will make you really think about social business, probably in a way you might not have if you've thought about those two words before.'
Attenzi – a social business story is a new take on much discussed topic, giving a reader the chance to view it in a new light. Philip Sheldrake previously spoke to Cision's Jay Krall about social business and influence, the recording of which can be downloaded for free.  
Attenzi – a social business story is available for free online. Profiles of Neville Hobson and Andrew Grill, their respective blogs and thousands of other media contacts and outlets can be found in the CisionPoint Media Database.
https://www.vuelio.com/uk/wp-content/uploads/2019/09/vuelio-logo.png
0
0
Priyanka Dayal
https://www.vuelio.com/uk/wp-content/uploads/2019/09/vuelio-logo.png
Priyanka Dayal
2013-06-10 08:00:17
2013-06-10 08:00:17
Cision Reads: Attenzi – a social business story