COVID-19: Weekly Economy Summary – 15 April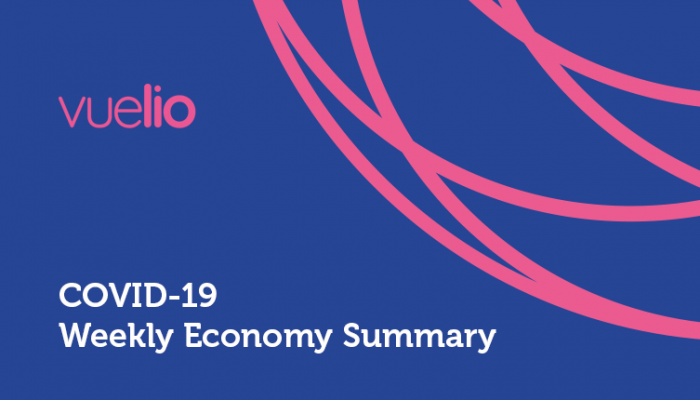 The Economy Summary is part of our Weekly COVID-19 Bulletin, sent every Thursday. You can sign up to receive your copy here.
GDP 
UK gross domestic product (GDP) is estimated to have grown by 0.4% in February 2021, as Government restrictions affecting economic activity remained broadly unchanged. February's GDP is 7.8% below the levels seen in February 2020, compared with 3.1% below the initial recovery peak in October 2020. Latest estimates show that January's GDP fell by 2.2%, an upward revision from negative 2.9%.  
The latest National Institute of Economic and Social Research (NIESR) tracker suggests that GDP is likely to have fallen by around 1.5% in the first quarter of this year. Assuming that the vaccination and re-opening programmes continue to run to schedule, NIESR estimate growth to be 4.6% in Q2, driven by pent-up demand and a return towards pre-Covid levels in the hospitality and retail sectors. 
Their month-on-month forecast for March, when many children returned to school, is for growth of 1.8%. April is then forecast to see growth of 2.2%, driven by the partial re-opening of pubs and restaurants. 
Rory Macqueen, Principal Economist – Macroeconomic Modelling and Forecasting at NIESR, said: 'Despite little change in restrictions, a return to growth in February and upward revisions to January GDP mean that the contraction in the first quarter will be much smaller than anticipated. Clearly much of the economy has adapted to cope with Covid-19 restrictions. If the vaccine programme and lifting of restrictions continue on schedule, this provides a firm basis for continuing growth in the second quarter and 2021 overall. The third wave in Europe and the success of other countries in vaccinating their populations will also have relevance for the recovery of the UK, as an open economy.'
Economic impact 
A new report from the Resolution Foundation think tank finds that young people have experienced a 'sharp rise' in unemployment during the pandemic, with the increase fastest among recent education leavers and young Black people.
The report attributes the rise to disproportionate employment in sectors such as hospitality and leisure which have been worst hit by the pandemic, adding that the unemployment rate for 18-24 year-olds rose 18% between April-June and July-September of last year. Those who recently left education face a 40% increase in unemployment, as the think tank warns of a double hit on 18-24 year-olds of both losing their jobs and being unable to find work in the first place. The Resolution Foundation calls on the Government to do more to protect young people from the impact of long-term unemployment by expanding and extending its Kickstart youth jobs scheme. 
Recovery 
On the day that non-essential shops and other businesses in England reopened for the first time since January, studies suggested that the bounceback in the economy could be broader and faster than previously expected. According to analysis by YouGov and the Centre for Economics and Business Research (CEBR), consumer confidence has risen to its highest level since August 2018.
The CEBR has predicted that savers will unlock more than a quarter of £192bn in lockdown rainy-day funds this year, adding £50bn to consumer spending. About £314m is expected to be spent in the newly reopened hospitality sector in this week alone, it said, while figures from the Post Office showed that Britons withdrew £590m in cash in March, the highest monthly figure since September. 
Deloitte's survey of bosses at some of the UK's biggest public companies found that the potential spending boom was helping to fuel record levels of optimism among chief financial officers in charge of companies' purse strings. Respondents said they now expected a 'strong recovery in profits over the next 12 months, with profit expectations back to the previous high seen in mid-2014 at the top of the economic cycle'. 
Among smaller firms, the Federation of Small Businesses (FSB) said it had found the greatest level of optimism among its members since 2014. Just over half (58%) of the 1,700 companies questioned expect their performance to improve this quarter, while 31% expect it to worsen. The FSB's small business index has risen to +27.3 for the first quarter of 2021, a marked improvement on the -49.3 score at the end of last year. 
Former Bank of England Governor warns of post-pandemic inflation 
Mervyn King, who served as Governor of the Bank of England between 2003 and 2013, has warned of rising inflation as Covid-19 restrictions are eased. Speaking at the Royal Economic Society's annual conference, Lord King said that central banks and finance ministries across the world are becoming overly dependent on stimulus as a means to support economic recovery from the coronavirus pandemic.
This analysis contrasts with views expressed by most members of the Bank's Monetary Policy Committee, but it chimes with projections made by the Bank of England's chief economist Andy Haldane, who has previously warned of cost of living pressures as lockdown measures are relaxed. 
King said he believed Governments should focus on providing targeted assistance for workers and businesses that have suffered most during the crisis using the tax and benefits system rather than stoking overall demand by pumping billions into fresh stimulus programmes. He suggested that heavily indebted firms should be allowed to collapse in order to boost growth and optimise Britain's post-pandemic recovery, stating that there is 'no argument for a dramatic set of expansionary policies'.
https://www.vuelio.com/uk/wp-content/uploads/2021/01/Weekly-Economy-Summary.png
430
760
Ingrid Marin
https://www.vuelio.com/uk/wp-content/uploads/2019/09/vuelio-logo.png
Ingrid Marin
2021-04-15 15:05:32
2021-04-15 15:05:32
COVID-19: Weekly Economy Summary – 15 April