COVID-19: Weekly Economy Summary – 28 January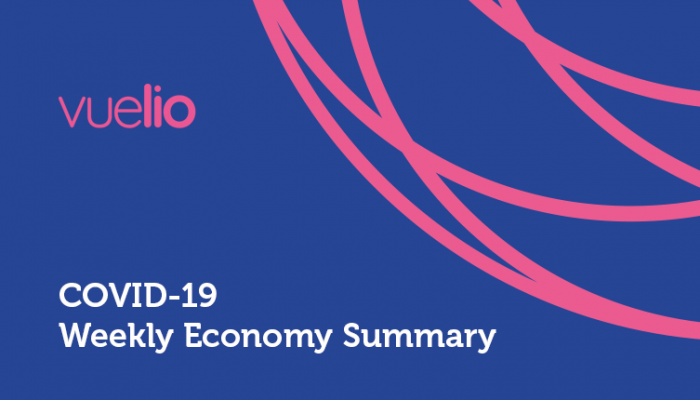 The Economy Summary is part of our Weekly COVID-19 Bulletin, sent every Thursday. You can sign up to receive your copy here.
Recent Office for National Statistics (ONS) data shows that the UK unemployment rate, in the three months to November 2020, was estimated at 5%, 1.2 percentage points higher than a year earlier and 0.6 percentage points higher than the previous quarter. While youth unemployment has stopped rising, young people are bearing the brunt of the UK's pandemic-induced economic crisis, with 18-24 year-olds accounting for almost half (46%) of the employment fall since the crisis began.
While the Government's £2bn Kickstart jobs scheme was introduced to ameliorate the impact of the pandemic on young people, data from the Department for Work and Pensions showed that fewer than 2,000 young people have so far started new roles under the scheme. However, the programme, which launched in September, did create 120,000 temporary jobs to date. Chancellor Rishi Sunak said that coronavirus restrictions were making it harder for more young people to get started but he expected the number to rise once restrictions are lifted. Anticipating a rise in numbers, the Government has made it simpler for smaller firms to benefit from joining the scheme by removing the limit requiring they create a minimum of 30 vacancies to apply directly. This means that any business will be able to directly access the Department for Work and Pensions scheme without the need of Kickstart gateways.
Despite unemployment rising, a recent British Chambers of Commerce and Totaljobs survey of business recruitment intentions revealed that there was a 'modest' increase in the number of businesses attempting to recruit during Q4 compared to the previous quarter, though the figures are still below pre-pandemic levels. Firms in the public, voluntary and construction sectors were most likely to recruit, with hotels and catering firms the least likely.
During this week's Treasury oral questions, the Chancellor recognised the significant impact of Covid-19 and stressed that the Treasury will review all its economic measures supporting businesses and jobs at the upcoming Budget in March.
Ex-Prime Minster Gordon Brown called for emergency measures to support businesses in the Budget after new research from the LSE warned almost 1m UK companies – employing 2.5m people – were at risk of failure in the next three months. Using data published by the Office for National Statistics, LSE found that the UK's micro businesses, with less than ten employees, were particularly at risk of going under. Brown commented: 'Governments cannot afford to be behind the curve – especially in a crisis. They have to be at least two steps ahead'.
According to analysis of a Bank of England survey by the Labour Party, the Chancellor's 'out of touch' plan for economic recovery is set to 'unravel' because only 3% of UK households plan to spend the savings built up during 2021. Citing comments on savings and spending made by Rishi Sunak last month, Labour says the Chancellor 'is wrong to pin his hopes solely on a consumer boom to get Britain on the path to recovery', and calls on the Government to take urgent action to build confidence in the economy ahead of a series of 'cliff edges' including the deadline for applications to the Self-Employed Income Support Scheme and withdrawal of the £20 Universal Credit uplift.
There has also been much talk this week about those who are still not covered by the Chancellors economic measures. According to a report by the Institute for Fiscal Studies, over 1.5m self-employed workers who do not qualify for support through the Self-Employment Income Support Scheme could be supported at modest cost to the Government. The report says ministers have 'actively chosen to exclude these people' from the scheme, and the think tank argues that the Government could help the 1.3m people who receive less than 50% of their income through self-employment and another 225,000 people who have profits more than £50,000. Extending SEISS grants to those with income between £50,000 and £100,000 would cost £1.3bn per quarter with a payment of £7,500 per person, while extending the scheme to people with less than 50% of their income from self-employment would cost between £500m and £800m per quarter.
https://www.vuelio.com/uk/wp-content/uploads/2021/01/Weekly-Economy-Summary.png
430
760
Ingrid Marin
https://www.vuelio.com/uk/wp-content/uploads/2019/09/vuelio-logo.png
Ingrid Marin
2021-01-28 11:10:15
2021-01-28 11:10:15
COVID-19: Weekly Economy Summary – 28 January