Covid-19: Weekly Health Summary – 11 February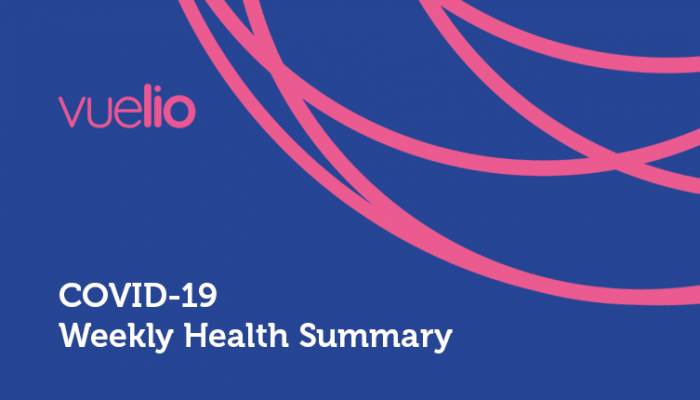 The Health Summary is part of our Weekly COVID-19 Bulletin, sent every Thursday. You can sign up to receive your copy here.
Efforts to roll out the Covid-19 vaccine have continued, with the latest figures showing that 13,058,298 have had their first dose.
Close to meeting the Government's 15 February target of offering the vaccine to everyone 70 and over, to all frontline NHS and care staff, to older care home residents and to all those who are clinically extremely vulnerable, the Prime Minister Boris Johnson called for everyone who hasn't had a vaccine, but is eligible, to book a appointment and take up the offer.
He also said that, if we can keep the pace and supplies of vaccines up, the Government hopes to reach everyone in cohorts one to nine, which would include all those over 50, by the end of April. He said that it is vital that the public takes up their offer of a vaccine 'to save lives, prevent serious illness, and so the whole country can take another step on a long and hard road back to normality.'
New measures have been brought in at the border to increase the country's security against new variants of concern arriving from abroad. As well as having to take a predeparture test, and quarantine for 10 days upon arrival, all international arrivals, will soon be required by law to take further PCR tests on day two and day eight of that quarantine.
From Monday, those arriving from 'red list' countries will have to stay in an assigned hotel room for 10 days from the time of arrival and carry out their quarantine there. The new measures have come with strict enforcement plans, including a £5,000 fixed penalty notice, rising to £10,000, for arrivals who fail to quarantine in a designated hotel, and for anyone who lies on a passenger locator form and tries to conceal that they've been in red-list country in the 10 days before arrival will face a prison sentence of up to 10 years.
Announcing the new measures, Health and Social Care Secretary said: 'Our fight against this virus has many fronts. And just as we're attacking this virus through our vaccination programme, which is protecting more people each day, we're buttressing our defences through these vital measures so we can protect the progress that we've worked together so hard to accomplish.'
Office for National Statistics figures published this week showed that the number of deaths registered in England and Wales in the week ending 29 January was 18,448; this was 228 fewer deaths than in the previous week. The number of deaths was 44.6% above the five-year average.
Responding to the figures, Dr Layla McCay, director at the NHS Confederation, said: 'These figures are a clear reminder of the heavy human cost of the Covid-19 crisis. This is still a very real emergency, with more than 112,000 lives tragically lost to the virus across the UK, and nearly 30,000 people in hospital with Covid-19 – more than at the height of the first peak last spring.'
Nuffield Trust said the figures show the 'harsh reality of the second wave', adding: 'It is striking how long and widespread the impact of the second wave has been. In all regions, the number of deaths recorded has been above the five-year average for 12 weeks running. The lasting impact on families and carers after this long period cannot be underestimated.'
Finally, a report by the Public Accounts Committee on supply and procurement of Personal Protective Equipment (PPE) published this week argued that front line health workers were left 'risking lives to provide treatment and care'. It said that an 'inadequate' pandemic plan and equipment stockpile left frontline workers having to care for people with Covid-19 or suspected Covid-19 without sufficient PPE to protect themselves from infection.
Surveys by staff representative organisations showed at least 30% of participating care workers, doctors and nurses reported having insufficient PPE, even in high-risk settings. PPE from central government was sometimes not usable and the Government's emergency helplines referred them to suppliers that did not have PPE.
The British Medical Association (BMA) has welcomed the Committee's recommendation that the Government improve its approach to managing and distributing stocks of PPE. BMA council chair Chaand Nagpaul said: 'The Government needs to listen to the experiences of doctors, of all health and social care workers, understand the life-threatening risks they had to take to care for their patients and then, do everything possible to make sure no healthcare worker is ever put at risk in this way again.'
NHS Providers said the Committee report highlights the difficulty in accessing PPE supply in the early pandemic stages: 'PPE supplies are now much improved, including in social care settings, where the situation was worst. UK manufacturing efforts have been successful, and it is important that these continue to ensure sustainability of future supplies.' It argued that ensuring staff have the right equipment to do their jobs safely is an 'absolute priority'.
https://www.vuelio.com/uk/wp-content/uploads/2021/01/Weekly-Health-Summary-1.png
430
760
Imogen Brown
https://www.vuelio.com/uk/wp-content/uploads/2019/09/vuelio-logo.png
Imogen Brown
2021-02-11 12:37:03
2021-02-11 12:37:03
Covid-19: Weekly Health Summary – 11 February