Covid-19: Weekly Health Summary – 13 May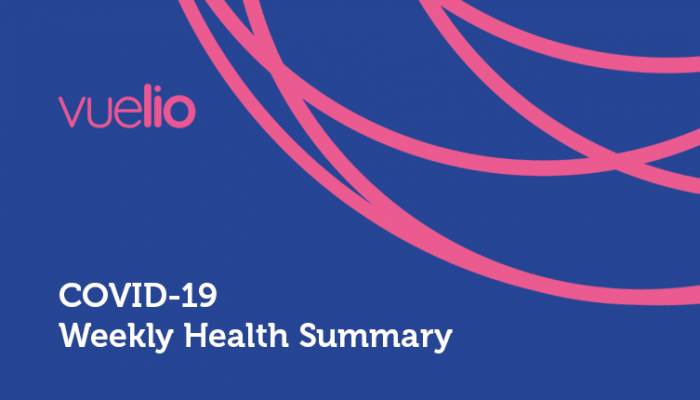 The Health Summary is part of our Weekly COVID-19 Bulletin, sent every Thursday. You can sign up to receive your copy here.
Covid-19 spread 
On Monday the UK COVID-19 alert level moved from level 4 to level 3 in reflection of Covid-19 case numbers, deaths and hospital pressures have fallen consistently. In a joint statement, the UK Chief Medical Officers warned that despite the drop in level, Covid-19 is still circulating and 'we all need to continue to be vigilant.  
This comes as findings from the Imperial College London and Ipsos MORI show infections have halved since the last REACT-1 study in March, with only 1 in 1,000 people infected. The main findings from the eleventh round of the REACT study show that between March and May national prevalence has dropped by 50% from 0.20% to 0.10% The data showed that the vaccination rollout continues to impact positively on prevalence. The study found a divergence between the prevalence of infections and hospitalisations and deaths, suggesting infections may have led to fewer hospitalisations and deaths since the start of the vaccination rollout.  
Care backlog 
NHS England has announced a new £160 million accelerator initiative to tackle waiting lists, by increasing the number of tests and treatments and by developing a blueprint for elective recovery. This comes as waiting list figures published this week show that there are currently 5 million patients are waiting to start elective treatment.  
NHS Providers has called the new initiative is important, Chief Executive Chris Hopson. He said: 'Trust leaders are telling us that, in the places with the biggest challenge, getting through the backlog could, on current trajectories, take between three to five years. We know this is unacceptable and that the NHS needs to develop a bold, radical, plan to go a lot faster, with appropriate extra funding from the government.' 
Nuffield Trust's Deputy Director of Research Dr Sarah Scobie has said: 'It is now very clear that the NHS will need much greater support from the government to aid the service and exhausted staff to work through a frightening level of postponed care…New funding announced by NHS England to support pilot areas to innovate and identify ways to speed up efforts to tackle the backlog of care is welcome. But additional staff and resources will not be easy to find given the NHS will need to prioritise urgent care, remain responsive to hospitalisations for Covid and continue to roll out the vaccination programme across the population.' 
Mental health 
On Monday the Government announced £17 million for mental health funding in schools and colleges to help them recover from the challenges of the pandemic. Up to 7,800 schools and colleges in England will be offered funding worth £9.5 million to train a senior mental health lead from their staff in the next academic year, part of the Government's commitment to offering this training to all state schools and colleges by 2025. Funding also includes a new £7 million Wellbeing for Education Recovery programme, which provides free expert training, support and resources for staff dealing with children and young people experiencing additional pressures from the last year – including trauma, anxiety, or grief. 
Announcing the new funding, Minister for Mental Health, Nadine Dorries, said: 'It is essential that children and young people can access the support they need and this extra funding further cements our commitment to their wellbeing, equipping them with the tools to look after their mental health'. 
Research from the Centre for Mental Health published this week found that 10 million people, including 1.5 million children and young people, in England will need support for their mental health as a direct result of the pandemic over the next three to five years. Based on an analysis of over 200 high-quality studies from around the world, the report identifies key groups of people who face an especially high risk of poor mental health as a result of the pandemic. These groups include people who have survived severe Covid-19 illness (especially those treated in intensive care), those working in health and care services during the pandemic, people economically impacted by the pandemic, and those who have been bereaved.
https://www.vuelio.com/uk/wp-content/uploads/2021/01/Weekly-Health-Summary-1.png
430
760
Imogen Brown
https://www.vuelio.com/uk/wp-content/uploads/2023/09/vuelio-logo-200px.png
Imogen Brown
2021-05-13 16:03:07
2021-05-13 16:03:07
Covid-19: Weekly Health Summary – 13 May