Covid-19: Weekly Health Summary – 6 May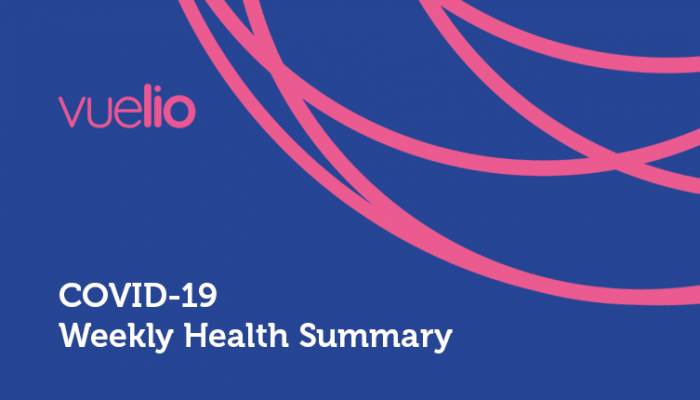 The Health Summary is part of our Weekly COVID-19 Bulletin, sent every Thursday. You can sign up to receive your copy here.
Vaccine rollout  
The Covid-19 vaccine rollout reached 50 million administered doses this week. More than 34 million people have had at least one jab while 15 million have had both doses of the vaccine. Data from Public Health England (PHE)'s real-world study shows the vaccines are already having a significant impact in the UK, reducing hospitalisations and saving more than 10,000 lives in England alone by the end of March. The Government remains on track to offer a jab to all adults by the end of July. Vaccines Minister Nadhim Zahawi said: 'The UK's vaccination programme has been a huge success so far with more than 50 million doses administered – a fantastic achievement. We have one of the highest uptake rates in the world and over 15 million people have now received 2 doses and maximum protection from this dreadful virus.' NHS Providers have said that the 50 million figure is a 'remarkable achievement', but have urged everyone to carry on following social contact rules as 'we still have a long way to go before we reach our next big milestone of offering all adults their first jab by the end of July.' 
The Government has announced a new testing centre to fast-track Covid-19 variant vaccines. The Government will invest £29.3 million through the Vaccines Taskforce in Public Health England's new testing facilities at Porton Down, to assess the effectiveness of existing and new vaccines against variants of concern. Health Secretary Matt Hancock has said that the labs will help 'future-proof country from the threat of new variants'.  
Female health and care staff 
NHS Confederation has published a survey which shows that the physical and mental wellbeing of female health and care staff in England significantly worsened as a result of working through the COVID-19 pandemic with a marked deterioration since last summer. The poll was carried out by the NHS Confederation's Health and Care Women Leaders Network in February and March in the aftermath of the deadly peak of the virus in January. It found that more than 80 percent of female respondents who completed the new survey – including nurses, doctors, managers, admin staff, and allied health professionals – reported their job had a greater negative impact than usual on their emotional wellbeing as a result of the pandemic, up from 72 percent last summer. The results also showed 65 percent reported a negative impact on their physical health – a 13-percentage-point jump from the last survey. 
Rebecca Smith, managing director of NHS Employers, which is part of the NHS Confederation, said: 'These findings again highlight the burdens faced by the female health and care workforce as a result of working through the COVID-19 crisis… We now need additional investment from Government, coupled with the existing and ongoing direct support by health and care organisations, to make sure the female workforce is properly looked after. As we come out of this crisis we must continue to do all we can to protect and support our staff.' 
Mental health  
Data from the Office for National Statistics (ONS) found 1 in 5 adults experienced some form of depression in early 2021, between January and March. This is an increase since November 2020 and more than double that observed before the coronavirus pandemic. Younger adults and disabled adults were more likely to experience some depression, whilst women aged 16-29 were more likely to experience depressive symptoms than men of the same age. Mind, the mental health charity, has said: 'We cannot underestimate the impact that the pandemic has had on the nation's mental health – whether that's bereavement, the devastating loss of life, the impact of lockdown, or the impact of the latest economic recession which may have affected our jobs and livelihoods.' 
https://www.vuelio.com/uk/wp-content/uploads/2021/01/Weekly-Health-Summary-1.png
430
760
Imogen Brown
https://www.vuelio.com/uk/wp-content/uploads/2019/09/vuelio-logo.png
Imogen Brown
2021-05-06 16:41:16
2021-05-06 16:41:16
Covid-19: Weekly Health Summary – 6 May