Covid-19: Weekly Health Summary – 29 April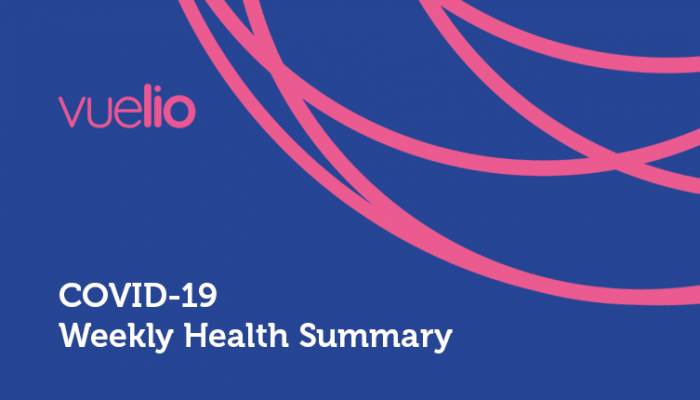 The Health Summary is part of our Weekly COVID-19 Bulletin, sent every Thursday. You can sign up to receive your copy here.
Labour calls for NHS rescue plan  
New analysis from the Labour Party has revealed the huge increase in waiting lists over the past 12-months, with hundreds of thousands of people waiting more than the 18-week maximum for treatment and thousands more waiting over a year. Over 366,194 patients are waiting more than a year for treatment. In January 2020, the number waiting over a year was just 1,643. Overall, the number of people waiting more than a year for treatment now compared to before the pandemic hit has risen over 200 per cent. The Party has called for an NHS rescue plan that would see patient care prioritised in the recovery from the Covid pandemic, it includes a quarterly plan on the actions being taken to bring down waiting lists, increased planning on staff and equipment, and a strengthening of the NHS constitution to eliminate waits over 52-weeks and offer a cast-iron guarantee. 
NHS Providers have called Labour's analysis 'concerning'. It said: 'Trust leaders are deeply worried about the size of waiting lists, not just for operations and diagnostic testing but for all types of care including mental health services. Despite how quickly trusts are working to deliver for all patients, there are signs that tackling the backlog could take between three to five years on current trajectories.' 
Covid-19 vaccine roll-out 
42 and 43-year-olds were invited to get their Covid-19 jab this week as Health Secretary Matt Hancock praised the continuing vaccine roll-out. Speaking to the Downing Street press conference, Hancock highlighted that uptake of the first dose among the over 50s is 'phenomenally high', at over 95%. The effectiveness of the vaccine is also strong with Office for National Statistics showing that 7 in 10 adults have protective Covid-19 antibodies.   
Additionally, encouraging data from Public Health England published this week shows that one dose of the COVID-19 vaccine reduces household transmission by up to half. It highlights that those who become infected 3 weeks after receiving one dose of the Pfizer-BioNTech or AstraZeneca vaccine were between 38% and 49% less likely to pass the virus on to their household contacts than those who were unvaccinated. 
Moreover, it has been confirmed that the Government's Vaccines Taskforce has purchased an additional 60 million doses of the Pfizer/BioNTech vaccine. The extra doses have been secured to help support the booster Covid-19 vaccination programme beginning from Autumn. It is expected that the booster programme will be to protect the most vulnerable ahead of winter.  
NHS Confederation's Chief Executive Danny Mortimer has said that the news on the vaccine rollout gives us 'another source of hope and offers reassurance'. However, he said that we must not overestimate public protection against the virus and the tragic scenes in India show that 'no country can be an island in tackling the pandemic', as Covid-19 variants still spread.  
Social care reform  
An open letter, from 26 signatories including Care England, Age UK and the NHS Confederation, to the Prime Minister has called for a 1948 moment for adult social care to establish a long-term and sustainable future that will be to the benefit of all citizens and the economy. It highlighted that social care has been on the front line of the COVID-19 pandemic with a tragic number of deaths in care homes, over 30,000, and staff, nearly 900. It says that the social care sector is 'on its knees' following the pandemic, and is in desperate need of reform.  
Likewise, health and care think tanks, Health Foundation, The King's Fund and Nuffield Trust have sent a joint letter to The Times which calls for social care reform proposals to be brought forward in the Queen's Speech. It says that social care reform requires a long- term strategy and investment. The underpaid workforce must also be fairly rewarded, expanded and supported to develop new skills whilst thousands of overstretched care providers will also need stable funding.  
Health inequality in Wales 
 36 organisations from across health, social care, transport, and housing, including the Academy of Medical Royal Colleges in Wales, Shelter Cymru, the British Medical Association have signed up to a joint paper that calls for urgent Welsh Government action on health inequalities. This comes just a week before the Senedd election on May 6th. It argues that the incredible hardship inflicted by the COVID-19 pandemic has not been equally felt by individuals, families, and communities across Wales. The paper calls on the next Welsh Government to (1) publish an ambitious cross-government strategy and delivery plan to tackle inequalities, (2) invest in long-term prevention across all sectors, especially housing, education, health, energy, and transport, and (3) work in partnership with people and communities to change lives for the better. 
https://www.vuelio.com/uk/wp-content/uploads/2021/01/Weekly-Health-Summary-1.png
430
760
Imogen Brown
https://www.vuelio.com/uk/wp-content/uploads/2023/09/vuelio-logo-200px.png
Imogen Brown
2021-04-29 14:27:26
2021-04-29 14:34:43
Covid-19: Weekly Health Summary – 29 April