COVID-19: Weekly Economy Summary – 22 April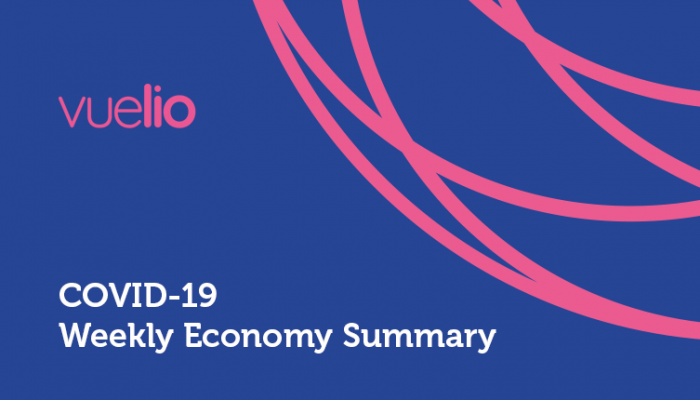 The Economy Summary is part of our Weekly COVID-19 Bulletin, sent every Thursday. You can sign up to receive your copy here.
Unemployment 
Headline indicators for the UK labour market for December 2020 to February 2021 show employment was 75.1%, unemployment was 4.9% and economic inactivity was 20.9%. The UK unemployment rate was estimated at 4.9%, 0.9 percentage points higher than a year earlier but 0.1 percentage points lower than the previous quarter. The redundancy rate for the latest quarter was estimated at 7.3 people per thousand employees, which is down from the record high of 14.2 people per thousand employees in the previous quarter (September to November 2020). 
Employment among 18- to 24-year-olds continued to fall, dropping by 5.1 percentage points on the quarter, while there was also a further rise in young people moving into economic inactivity, meaning they stopped looking for work. Payroll data shows the number of young workers has fallen by almost 500,000 since January 2020, accounting for three-fifths of all employee jobs lost. The number of job vacancies increased by 16% between February and March, suggesting that the labour market is starting to thaw as some parts of the economy recover.                                                             
While the latest data hints at some green shoots of recovery, the Resolution Foundation warns that the UK faces a huge task in getting the economy back to normal – such as closing its 6.2 million 'Covid employment gap'. This gap includes the 827,000 fall in payrolled employment since the pandemic started (between February 2020 and March 2021), an estimated 600,000 fall in self-employment over this same period, and the 4.7 million employees who were fully or partially furloughed in March, according to separate ONS data. 
Concerns over Inflation Rise  
UK inflation jumped in March, driven by the higher cost of petrol and clothes in a signal that prices are moving to an upward trajectory as the economy recovers from the coronavirus pandemic. The Office for National Statistics (ONS) said the consumer prices index rose to 0.7% last month, up from 0.4% in February. 
The British Chambers of Commerce published new research which shows a rising number of firms expecting their prices to increase significantly in the coming months. The figures also document growing concern among businesses over rising inflation. The survey shows that two in five businesses (38%) expect to see their prices increase in the next three months, an increase from 25% in the previous quarter, while the balance of manufacturing firms expecting the price of their goods to increase over the next three months rose sharply to its highest level since Q4 2017. The figures also demonstrate that nearly 1 in 3 (30%) businesses cite inflation as a cause of concern in the coming months, up from 1 in 4 (25%) in the previous quarter. 
Income shocks 
UK households are far more likely to have experienced a severe income shock during the coronavirus pandemic than their French or German counterparts, and are subsequently more likely to have taken on additional debt as a result, according to research by the Resolution Foundation think tank. In households where at least one person has fallen out of work, the report says that 41% have suffered a severe income fall of at least 25%, compared to 20% in France and 28% in Germany. One in three (33%) UK households have reported having to cut back on their spending compared to 23% in France and 21% in Germany, concluding that the financial resilience of UK households must be addressed in order to offer them greater protection in the face of a future economic crisis. 
Unlocking of the economy 
Data published by the ONS provides an indication of the extent to which some economic activity is resuming following the reopening of non-essential retail and outdoor hospitality. On 17 April, UK seated diner reservations were at 60% of the level of the equivalent Saturday in 2019, while retail footfall increased by 31 percentage points in the week to 17 April, compared to the previous week. Other growing measures included credit and debit card purchases of delayable good and the proportion of those leaving the home who had shopped for items other than food or medicine. In contrast, there was a slight decrease in the proportion of the workforce on furlough.   
Further ONS data shows that 77% of businesses are currently trading, up from 71% in January, and 9% intend to restart in the next fortnight. The proportion of businesses with lower turnover than normally expected is at its lowest since records began in June 2020. However, over half of businesses classified as 'other service activities' (including hairdressing and beauty treatment) have three months' cash reserves or less. 
https://www.vuelio.com/uk/wp-content/uploads/2021/01/Weekly-Economy-Summary.png
430
760
Ingrid Marin
https://www.vuelio.com/uk/wp-content/uploads/2023/09/vuelio-logo-200px.png
Ingrid Marin
2021-04-22 15:42:53
2021-04-22 15:42:53
COVID-19: Weekly Economy Summary – 22 April