Covid-19: Weekly Health Summary – 22 April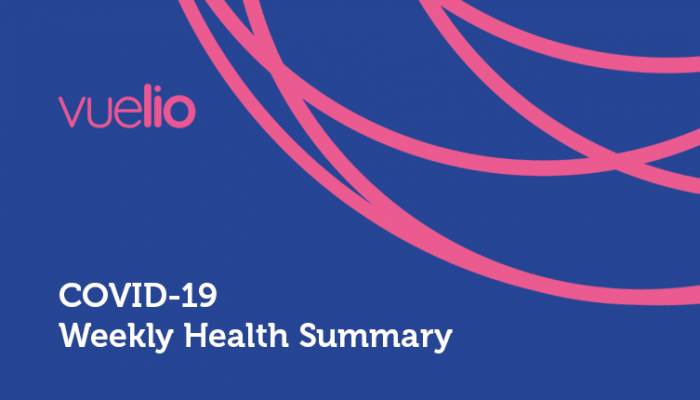 The Health Summary is part of our Weekly COVID-19 Bulletin, sent every Thursday. You can sign up to receive your copy here.
Pandemic response
The Covid-19 vaccine rollout has continued with momentum this week. On Monday the Government confirmed that 1 in 5 adults have received both doses of the vaccine after more than 10 million people received their second dose. Announcing the news, Prime Minister Boris Johnson said: 'Vaccines offer us the best possible protection from the virus, so it is fantastic that 10 million people have now received their second dose. This is another remarkable milestone in our vaccination programme, which has already saved thousands of lives.' 
Antivirals Taskforce 
On Tuesday, the Government launched a Antivirals Taskforce to roll out innovative Covid-19 treatments this autumn. The taskforce will search for the most promising novel antiviral medicines that can be taken at home. It will support the development of the antivirals through clinical trials to ensure they can be rapidly rolled out to patients as early as autumn. It is aimed that the Taskforce will be a vital tool to combat any future increase in infections and limit the impact of new variants, especially over the flu season later this year.  
Sir Patrick Vallance, Government Chief Scientific Adviser, said: 'Antivirals in tablet form are another key tool for the response. They could help protect those not protected by or ineligible for vaccines. They could also be another layer of defence in the face of new variants of concern. The taskforce will help ensure the most promising antivirals are available for deployment as quickly as possible.' 
The Pharmacy Collect service 
90% of community pharmacies in England now offer free, rapid tests for home use. This follows the launch of the 'Pharmacy Collect' service, which provides an additional route to regular testing, making it as easy as possible for people without Covid-19 symptoms to access testing twice a week. It is hoped that testing will form a crucial part of the pandemic response as society reopens from lockdown.  
Pandemic Preparedness Partnership launched 
The Government launched a new Pandemic Preparedness Partnership (PPP) this week to protect against future diseases and prevent another global pandemic. The PPP will advise the UK G7 Presidency on how to meet the Prime Minister's ambition to slash the time to develop and deploy high quality vaccines for new diseases from 300 to 100 days. The Partnership will also provide recommendations for therapeutics and diagnostics, looking at greater global co-operation on research and development, manufacturing, clinical trials, and data-sharing. 
£16m of funding to Coalition for Epidemic Preparedness Innovations (CEPI) will support global vaccine supply and development. CEPI's work to coordinate research, development, and manufacturing of vaccines will aid efforts to have millions of doses of vaccine available for emergency use 100 days from a variant of concern being identified. 
Healthcare backlog in the NHS 
NHS Providers have laid out a 'bold transformative approach' to address the 'concerning' backlog in the health service following the pandemic. Their approach is based on 5 elements: increase physical and workforce capacity, build capacity, improve NHS efficiency and productivity gains, reconfigure hospitals to deal with future waves of COVID-19 and winter pressures and rapidly adopt new ways of treating patients. Chief Executive Chris Hopson said: 'Early work by trust leaders shows there is a huge backlog to clear. Trust leaders are going as fast as they can in tackling the most urgent cancer, surgery, and other cases. They are only too aware of the impact of delays. The scale of the backlog ahead is very worrying.' 
This comes as research published by the Royal College of Physicians last week showed that 59% of their members think it will take at least 18 months for the NHS to recover from the pandemic with 69% of doctors reporting feeling exhausted and 31% demoralised. 
In a Westminster Hall debate this week the Minister for Health Edward Argar said that the Government and NHS are working very hard to reduce the backlog in elective care, which now stands at 4.7million. The Government has laid out additional funding for the NHS, including £6.6 billion to support the recovery over the next 6 months. 
https://www.vuelio.com/uk/wp-content/uploads/2021/01/Weekly-Health-Summary-1.png
430
760
Imogen Brown
https://www.vuelio.com/uk/wp-content/uploads/2019/09/vuelio-logo.png
Imogen Brown
2021-04-22 15:40:22
2021-04-22 15:40:22
Covid-19: Weekly Health Summary – 22 April