Cut for time: extra answers from the How to build a charity brand webinar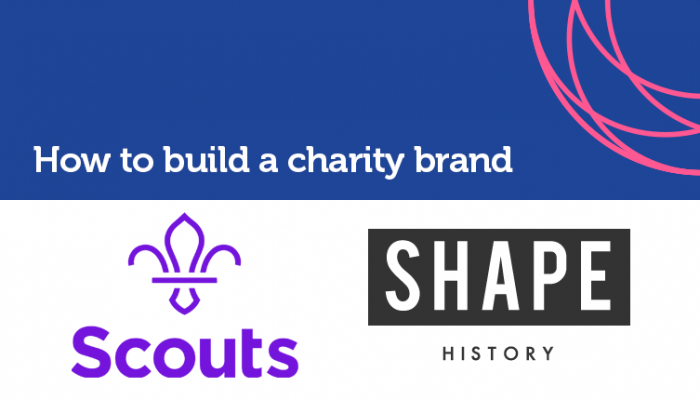 Our recent webinar How to build a charity brand included discussion on communicating with stakeholders while building relationships with supporters. Expertise came from Scouts' director of communications and marketing David Hamilton and brand and ambassador manager Chris James, as well as Shape History's co-managing director Lauren Kay-Lambert.
We ran out of time to answer all of the questions that came in during our chat with the experts – but Lauren and Chris have very kindly answered the additional questions regarding research, best practice and rebranding for further reach, below.
How much research has to be done to get branding right? Is it possible to use only data and information we already have?
Lauren Kay-Lambert: It's important you gain a good understanding and honest insight from multiple stakeholders, both internally and externally from beneficiaries/donors. Existing data, especially around user journeys/Google analytics to see where traffic is coming from will definitely be beneficial.
Chris James: This depends entirely on what data you already have. We'd recommend that you consult widely with internal and external stakeholders and give people scope to give you frank and honest opinions.
How could a volunteer-run community group use this best practice to increase its impact on people and its reach on social media?
Lauren: The key is to get your volunteers and end beneficiaries involved – speak to the people you're trying to reach on social media and ask them what type of content they'd like to see. Also, don't feel as though you need to be present on every single social media platform – assess what brings you the best return and engagement.
Chris: The key is understanding your audiences and what they need from you. Test different ideas and approaches and then use these insights to increase your engagement and reach.
How can a smaller charity without the reach and recognition of a big charity undertake a full rebrand to improve its effectiveness?
Lauren: Still use the same process, but don't spend a huge budget on an agency to do the design work. I suggest hiring a freelance designer (go onto The Dots/use Major Players, etc.) to find someone who will be cheaper. I'd suggest focusing on the 'Understand' phase and nailing down your verbal identity.
Chris: You don't need a huge budget for a rebrand. However, you do need huge buy in. Start by building the case for a rebrand – why do you need to do it? What's not working? Who are you not reaching? It may be that you need a refresh rather than a full rebrand. Before looking at colours, fonts and logos, the key is identifying your key benefit – answering the question 'why do we exist?' Run some informal workshops where stakeholders get a chance to answer these questions. The key is taking people with you – a rebrand that is foisted on an organisation, charity or company will not succeed.
How do you measure your relevance?
Chris: We regularly track our perception across a range of key audiences – across relevance, trust and other factors. We work with research partners to do this.
Can you explain more about 'self-service culture'?
Chris: Self-service is simply about providing your members or customers with the tools and resources to speak confidently about your brand, whether online, in print or in person. We provide a free online hub with templates, videos and other assets members can use with minimum expenses and expertise.
When you establish a charity, how do you choose right types (trustee, foundation… etc.)?
Chris: We'd recommend seeking specialist advice and research widely on this, as it depends on what you're setting out to achieve.
How much did the Scouts rebrand cost from start to finish (budgets are always tight in our sector, and so often we see these great examples of what can be done, but they are way out of our reach)?
Chris: We were fortunate in that a number of partners were willing to work with us at significantly reduced rates or free of charge. For that reason we agreed that we would keep the arrangement confidential so it would not affect their wider business. We recommend that you have honest and open conversation with potential partners and you also have the option of doing this in house – although external perspectives are invaluable.
Watch the How to build a charity webinar here. Want more expertise from charity brands? Check out advice from Tiny Tickers and The Wildlife Trusts on creating successful PR campaigns on shoestring budgets.
https://www.vuelio.com/uk/wp-content/uploads/2020/03/Cut-for-time.png
430
760
Phoebe-Jane Boyd
https://www.vuelio.com/uk/wp-content/uploads/2019/09/vuelio-logo.png
Phoebe-Jane Boyd
2020-03-04 15:01:14
2020-03-05 15:46:53
Cut for time: extra answers from the How to build a charity brand webinar