Cycling Blogger Spotlight: Pete Linsley, road|Theory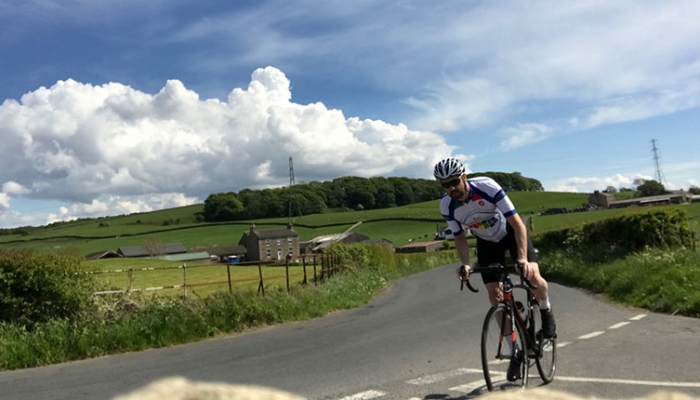 Cycling has a lot of benefits aside from keeping fit – road|Theory's Pete Linsley has met rabbits and geese, cycling legends and some freak weather conditions along the way. He's also racked up over six hundred blog posts about the subject he loves, and published a couple of books for good measure.
If you're planning to get on your bike this weekend, check out Pete's top places to cycle outside of self-isolation and some sartorial tips for what to wear while you're out there…
How did you originally get started with writing about cycling?
I started the blog back in 2013 as a kind of creative outlet; I'd always fancied myself as a writer without ever having knuckled down to learn the craft.
When Bradley Wiggins won the Tour de France in 2012 it felt like cycling here in the UK morphed from a niche weekend pastime into something more like a cultural movement, and I just saw stories everywhere. Every bike ride a mini-adventure, every pro race an epic, and loads of cool kit and personalities.
I started idly writing and here I am seven years later with six hundred blog posts to my name and a couple of books out there in the world.
What's your favourite thing to post about and why?
I love it all. I love developing my voice and pride myself on an ability to write 500 entertaining words about any cycling related topic you care to imagine.
If pushed, I guess it's those unexpected occurrences that happen mid-ride and become blog posts that I really enjoy. I've had encounters with wildlife (peacocks, rabbits, geese), shared a random mid-ride cup of tea with British cycling legend (and Tour de Franc stage winner) Brian Robinson, and survived more weather-related adventures than I'd care to remember.
How have you had to change your approach to blogging during the COVID-19 crisis?
I've made a point of not getting preachy about how cyclists should or shouldn't behave. The rules and guidance on social distancing are out there for all to follow, and I'm not sure people like me adding an extra layer of judgement is really necessary. I consider my website an escape from the grim realities of the pandemic as much as possible.
However, during then current crisis much of my subject matter has briefly disappeared. As I ride my bike alone through near deserted towns and villages the world has definitely become lighter on blog-worthy incident… and there has been no pro cycling to dissect.
It's fair to say, like everyone else, I've been in reflective mood.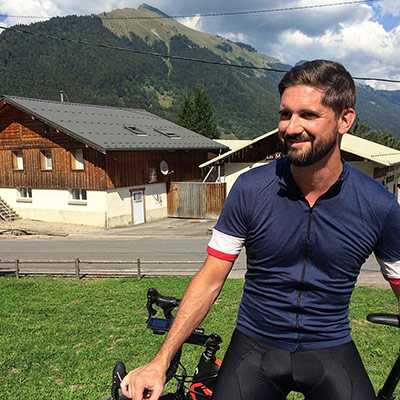 What kit/equipment would you recommend people put together and take with them when cycling while social-distancing?
Be prepared for the fact that nowhere is open: no mid-ride café, and few open shops for that emergency energy drink or ice-cream. I've even ridden with a thermos of freshly brewed espresso coffee tucked into my bottle cage on occasion, to recreate the on-the-road caffeine hit that so often keeps me going!
As for additional equipment – face masks, other hygiene products, for example. Cyclists are a self-reliant bunch and will make their own decisions. I think we each come to our conclusions about how to protect ourselves.
Do you think the Tour De France still be able to go ahead without any issues this year?
I'd say it's hard to predict how le Tour will pan out. A 'behind closed doors' edition was mooted early on, which is immediately unworkable. You just can't prevent people gathering roadside to watch the race roll by – it's unenforceable.
Beyond the fans, the race is usually accompanied by an entire infrastructure of thousands of staff, journalists, TV people, and other logistics – how such an operation can operate safely in a pandemic context is, right now, impossible to imagine.
I think the Tour will go ahead in some form or other, but it might well be compromised.
Can you remember your first ever bike?
Of course. Raleigh Burner BMX, in red with yellow flames down the side! I even had trousers to match – flames 'n' all! My career as a cyclist peaked with that bike (and those pants!).
If you could cycle anywhere right now, where would it be?
The French Alps, maybe nipping across the border to Italy from time to time.
I love the adventure and commitment required to ride in the really big mountains – the landscape is just vast – and I am a sucker for riding on roads that form the myth and legend of pro cycling. In fact, one of the great things about the sport comes from sharing the terrain with, and judging yourself against, the superstars of the sport.
Riding up Alpe d'Huez or Mont Ventoux is the cycling equivalent of playing football at Anfield or Old Trafford. Given the chance I'd spend most of my life doing just that.
How do you collaborate with brands and which kind of brands do you really like working with?
I'm open to all kinds of cycling related projects: promoting the cycling culture and experience within different areas and regions, reviewing and promoting kit and emerging technology within the industry, but most of all working with brands who have an ethos rooted in the positive impact cycling can have on individuals, and on society in general.
I love to do my bit to promote the utter joy of the bike!
For PRs looking to work with you and your blog/website, how would you prefer they approach you and with what kind of content?
An email approach will get a near-immediate response, and from there I'm always happy to chat/Skype/Zoom on whatever happens to be the preferred platform at a given moment!
Kit review and product promotion has become something of a staple on my site, and the more popular kit reviews are among my most visited all-time pages. In addition, I'm always happy to write more general 'brand introduction' type pieces where I feel there is an engaging back story.
My most memorable blogging experiences have involved travel and telling stories about cycling destinations and cultures; I am always open to the invited discovery of a hidden gem of the cycling world.
Ultimately, if a project is cycling related and I feel I can add my 'voice' in some creative way, then I'm all ears.
What other blogs do you check out regularly (whether cycling-related or not)?
For pro cycling, INRNG.com has no parallel. With its insight and knowledge, the site is a constant source of information and inspiration. For real life, day to day cycling, I'm a fan of thewashingmachinepost, which is quirky, eclectic, and original. Away from cycling, I'm hooked on The Red Hand Files by legendary Aussie musician and writer Nick Cave – a true artist.
https://www.vuelio.com/uk/wp-content/uploads/2020/06/Pete-Linsley-roadTHEORY.jpg
430
760
Holly Hodges
https://www.vuelio.com/uk/wp-content/uploads/2023/09/vuelio-logo-200px.png
Holly Hodges
2020-06-12 14:59:45
2020-06-12 14:59:45
Cycling Blogger Spotlight: Pete Linsley, road|Theory