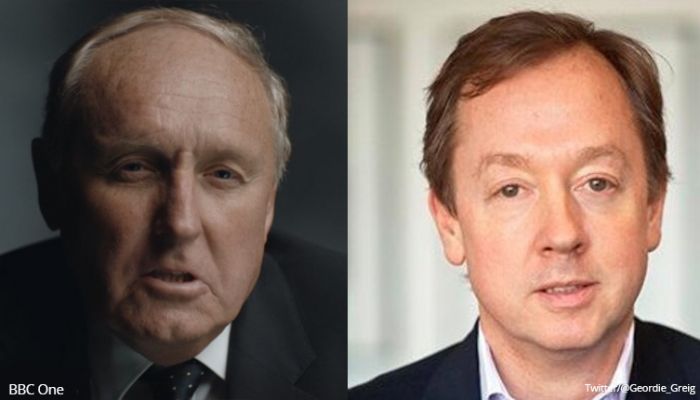 Paul Dacre has reportedly edited his last edition of the Daily Mail, months before his supposed November departure date. The Press Gazette also reports that Geordie Greig will take over earlier than planned in the role, becoming editor on 1 September.
Press Gazette questions whether Dacre will be given the official Fleet Street banging out, as some mail staff are calling his low-key departure a 'soft exit'.
The change of editors has created a big question mark over the future editorial direction of the Daily Mail – the paper is one of the most vehemently pro-Brexit nationals, which is completely at odds with Greig's remain stance.
Greig, who has already left his role of editor at the Mail on Sunday, received a custom front page from colleagues, which carried the headline: 'You lot Remoan here. I'm heading for the Grexit!', as well as the strapline: 'Remainer-in-chief Geodie Greig's farewell to his troops as he rides to the dark side.'
The Guardian reports that Grieg will 'only gradually tone down the strident pro-Brexit agenda espoused by his predecessor'. Grieg apparently fears alienating readers, who have, for some 26 years, hungrily consumed Dacre's idiosyncratic editorial line. There's also concern about the wider political situation, which remains uncertain, and Greig will be wary of heavily supporting a political position when it could all change overnight.
The Guardian also reports that during Greig's leaving drinks, he praised his Mail on Sunday colleagues' efforts as 'tireless and fearless', 'imaginative and persevering' and 'collegic'. The Guardian suggests the last point is an emphasis on teamwork that has never been associated with Dacre and his hierarchical management style.
To help support his slow and steady editorial transition, Greig has brought a number of staff from the Mail on Sunday with him: Gerard Greaves and Tobyn Andreae as his new deputies; Ruth Sunderland as financial editor; and Simon Walters – the Mail on Sunday's political editor – as his assistant editor. Walters is considered to be closely attuned to Greig's thinking and will be used to assert the new editorial line.
Whatever Greig does to the paper, he's likely to have Dacre breathing down his neck now that the latter has ascended to become chairman and editor in chief of publisher DMG Media. Though Dacre won't be directly involved in day-to-day decisions (especially now he has sold his remaining shares in the company), if readership figures start to slip, Dacre will be in a strong position to oppose Grieg's changes.
https://www.vuelio.com/uk/wp-content/uploads/2018/08/Dacre-Greig.jpg
430
760
Jake O'Neill
https://www.vuelio.com/uk/wp-content/uploads/2019/09/vuelio-logo.png
Jake O'Neill
2018-08-14 13:58:25
2018-08-14 13:58:25
Dacre out, Greig in