Public trust in the media dips; immoral behaviour and lack of regulation blamed, finds Edelman's Trust Barometer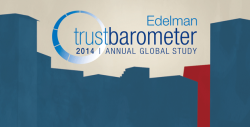 The UK's public confidence in businesses remained stable, while trust in media and the government has dipped. 
According to the 2014  edition of global PR agency Edelman's Trust Barometer, faith in the media, which had staged a comeback from an all-time low of 22% around the time of the phone-hacking scandal, to register 47% in 2013, dropped back to 41% in the latest figures. More than 60% of those who said they trust the media less now than they did last year, ascribed their opinion to either immoral behaviour or a lack of regulation.
Meanwhile, confidence in the government among Britons reflected a similar decrease as it fell from 47% to 42% this year. Half the Britishers surveyed expressed less belief in the UK government doing 'the right thing' this year and blamed poor performance. A similar proportion (52%) credit Britain's business community, not its politicians, for recent improvements in the economy. Only 25% of respondents thought government was responsible for any recovery.
Trust in business remained stable, with 56% of the population saying they believed companies would 'behave correctly.' 
According to Edelman, despite recent optimism and rhetoric about an upturn, consumers are not confident about their own standard of living in 2014, with just 12%t expecting to be better off, while more than in eight in ten (82%) said they will have the same or a lower standard of living. Meanwhile, the cost of living is second (41%) of those issues that the public think will impact trust in government over the next 12 months, behind immigration at 50%.
In a survey of 27 countries, the Edelman Trust Barometer, showed a record 14-point gap between trust in government and business. Its findings show many countries share the UK view and expect the business community to work for social good and to participate in shaping debates over regulation and policy.
Priyanka Dayal
https://www.vuelio.com/uk/wp-content/uploads/2019/09/vuelio-logo.png
Priyanka Dayal
2014-01-22 13:08:31
2014-01-22 13:08:31
Public trust in the media dips; immoral behaviour and lack of regulation blamed, finds Edelman's Trust Barometer