Equestrian blog interview: Sophie Tunnah, Team Tunnah Equestrian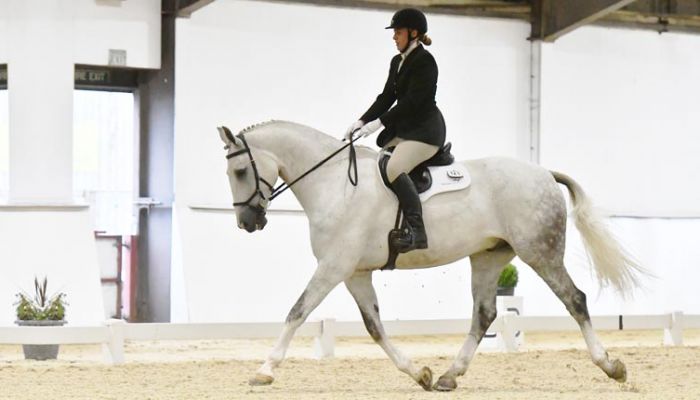 Sophie Tunnah is an equestrian blogger from Northumberland. On her equestrian lifestyle blog, Team Tunnah Equestrian, she shares stories and adventures from training sessions, competition reports, her favourite products and every day equestrian yard life.
We spoke to Sophie about how she first got into blogging, balancing blogging with her day job, the inspiration for content, setting up an Equestrian bloggers' Facebook Group and how she works with brands and PRs.
How did you get into blogging?
My first post went live in October 2012, when I started my blog as a way to document our competition performance from the past 2012 Eventing season. I found writing my blog posts gave me a really good way to reflect on the positives and the negatives, so I could focus on what we needed to include in our training plans.
Even though I started my blog seven years ago, I still very much stick to these principles – sharing our stories, adventure and our journey. I've added various elements throughout the years, such as product reviews and informative posts about general equestrian topics, but all my posts remain personable and relatable to my experiences.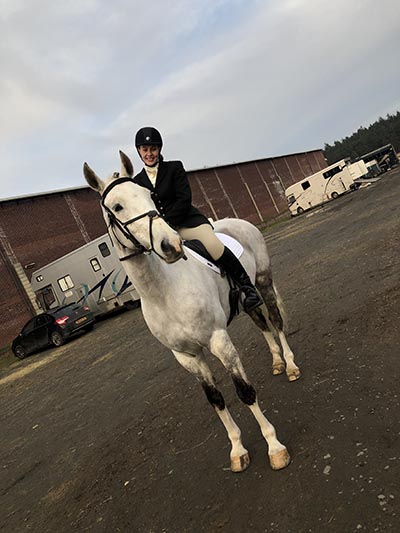 How does your professional experience heading up a global digital marketing team for an international travel brand influence your role as a blogger?
Firstly, I LOVE horses, and I have since as long as I can remember. But over the last 15 years, digital marketing and technology has captured my curiosity too. My blog simply enables me to bring these two passions together.
I'm not as hands on with the projects in my team as I used to be. My blog gives me that hands on touch again. But it doesn't only play to my own needs, my professional experience and knowledge means that I'm able to keep on the pulse of industry updates and innovations to keep my blog in tip top condition.
When collaborating with brands, my professional side can be a huge advantage as I'm able to view the conversation from both my own blogger seat, but also crucially from the seat of a brand. It's enabled me to ask questions such as what is the brand looking for from this collaboration, what value are they looking for and how can I better understand their objectives to create a great collaboration pack for them?
I also saw that while there were many blogger support groups on Facebook, there was nothing specifically for equestrian bloggers, like there is for travel, beauty, lifestyle, etc. So in March 2017, I setup the first of its kind group, dedicated to equestrian bloggers to create a place we could all unite, share tips, ideas and knowledge to all help each other become stronger. Hand in hand came my Blogger's Corner section with posts all about how to get more from your blog and the top tips in a digital space to help any kind of bloggers.
I also offer digital marketing consultancy services, on a part time basis, for brands looking for some extra support, insight or recommendations.
What do you enjoy the most about being an equestrian blogger? What are the main challenges you face?
I love being part of such a supportive community. The equestrian world is known for being competitive and quite nasty at times, however, when I explored the equestrian blogging world, I found it quite the opposite. Everyone is supportive, friendly and prepared to help each other. There's many different interests, disciplines and opinions, but everyone still seems to come together to create a community that I really enjoy being a part of!
My challenges… Well, as my blog is part time, time always has a part to play, but all that means is that I have to prioritise well and make sure I'm organised when it comes to planning my blog's content and developments. My next biggest challenge is the ever-changing social media landscape. It can sometimes feel you just start to understand and make it work, before it changes again. But this is a challenge I don't dislike. It stops you doing the same thing over and over, and all the updates are orientated around better user experience and I want my content to be what they want to enjoy.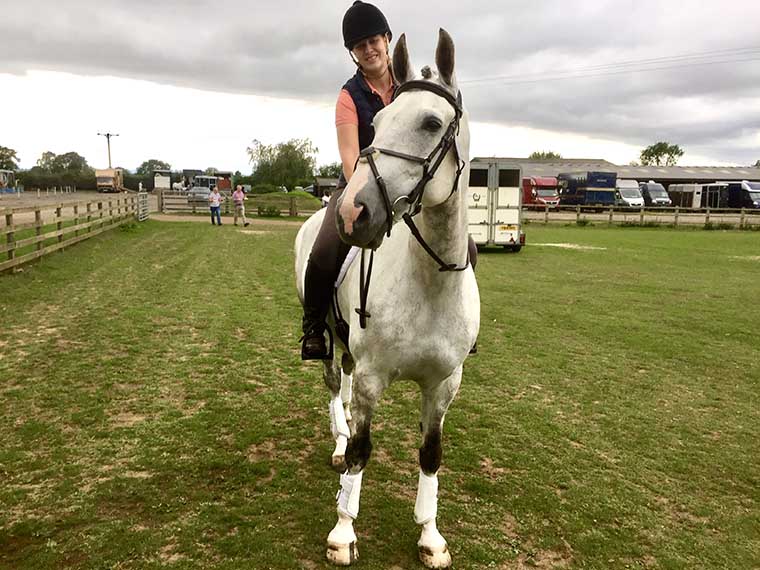 How do you decide what content to focus on?
By our adventures and what we've been up to! Training updates and competition reports are easy to do when we've been out for the day.
I recently started looking into Search Console more, looking at what keywords my blog had the most impressions for, but didn't have strong rankings for. I then ran these keywords through a keyword idea generator to spin off post title ideas to help strengthen our rankings. I also realised that my SEO presence for a key phrase wasn't as I wanted – equestrian blogger. As such, I've created 10-15 post titles to write about over the coming months to strengthen this term directly. I did the same thing for dressage, showjumping and eventing. I've looked back at those Search Console keywords for specific products, topics or services, and what pages rank for them so that I can freshen these up.
Are there any particular trends you are noticing?
I think the word influencer took over the word blogger a year or so ago. The size and scale of what a brand is looking for is what then seems to make the selection of who to work with.
As influencers have become a trend across the digital marketing world, it's leading to a somewhat saturated place and I've seen instances (equestrian and not) where bloggers/influencers jump from brand to brand depending on what they've been gifted.
I am pleased to see a lot of brands 'waking up' to how to select their influencers, especially in the equestrian world, which seems a little further behind industries such as fashion, beauty and travel. It's not about how many followers you have, but about how many people you can reach AND engage. Brands seem to be able adapt themselves to a sliding scale with the blogger, rather than simply not working with a smaller account in favour of one with one million followers but only a few hundred likes on their content.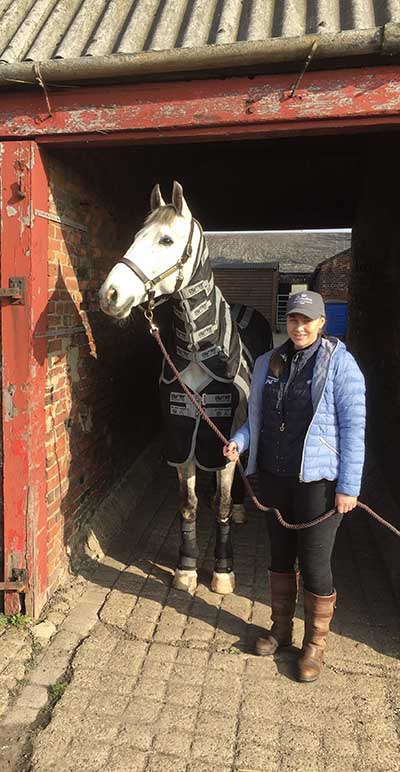 What are the best collaborations you've worked on?
My best, and favourite, collaboration is with Boudica Equestrian. I was welcomed as their brand ambassador in September 2018 to aid their growth – they are a small start-up and offer personalised online shopping experiences. Laura, who owns the company, was open to my blog due to its real and personable tone and was looking for someone to get behind her business and be dedicated to it growing. It's aligned totally with my principles and I really enjoy working with her. We will have been collaborating for a year this month, and I really hope it continues for many more years!
Do you accept press releases?
I do, providing they can fit in my content and don't conflict with existing brand collaborations.
An example of one I accepted is about top tips for winter stabling as it was timely and genuinely offered tips for when your horse is spending less time in the field over the winter. I also accepted a press release about an eventing event taking place as I felt my audience had an interest in this equestrian discipline.
Examples that I haven't accepted are specific equestrian clothing item releases as this would conflict would Boudica, but prior to that, I didn't use or wear them; unproven feeding advice and guidelines as I don't want to publishing any information that could cause problems if incorrect; and very generic equestrian brand press releases as there is no link to them and me.
Do you have a good relationship with PRs? What advice would you give to PR professionals who want to get in touch with you?
The ones I have worked with in the past, I would say I have a good relationship with and always ask to be sent equestrian information for any future opportunities. I enjoy PRs that are interested in making the right connections for the brands that they are representing, which most of them do, but there are some blanket or cold contacts I've had that clearly haven't even read my blog. That's frustrating!
If any PR wanted to get in touch, please do so! I have no fixed way of working, and so can always offer bespoke solutions depending on the brand's objectives and desired outcomes. I find this means that every opportunity presented to me actually creates a unique solution proposal back to the PR or brand.
What are your future plans for your blog?
In August I underwent a full redesign, so I don't think there's any major design work on the cards, but I am looking to build my social media presence to drive more traffic to my blog and create awareness for it. One of the focus areas will be to research and strategise for my Pinterest profile as we go into 2020. I also want to build an increased search presence in the organic results, and while this isn't something I can just do and forget about, I'm planning loads of posts in September to the end of the year to give me a good starting point.
I hope that by building on the foundations that I've already set, I can also expand the portfolio of brands that I work with and, who knows, it may enable me to learn new things and discover new products and services. This includes outdoor and countryside as well as fitness, to broaden my content and experiences of an all-round equestrian lifestyle; being in the countryside and being fit to take to the saddle!
https://www.vuelio.com/uk/wp-content/uploads/2019/09/Sophie-Tunnah.jpg
430
760
Vuelio UK
https://www.vuelio.com/uk/wp-content/uploads/2019/09/vuelio-logo.png
Vuelio UK
2019-09-10 14:26:51
2020-09-08 11:07:12
Equestrian blog interview: Sophie Tunnah, Team Tunnah Equestrian