Exploring the LGBTQ blogging community with Bread Skalka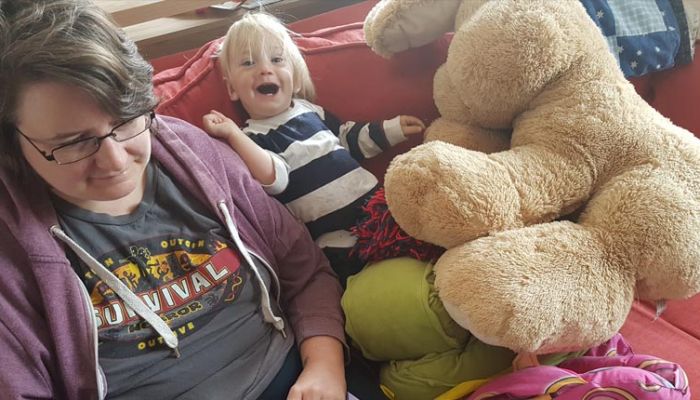 Bread Skalka is behind Queer Little Family, the blog that was recently ranked in the Top 10 UK LGBT+ Blogs in the UK. Writing about life as a parent as well as other topics spanning LGBT+ and mental health. We caught up with Bread to talk about the LGBTQ blogging community, the LGBT Action Plan and working on campaigns she believes in.
What makes your blog unique?
We believe in stories over stuff so there aren't many reviews or product placement. We don't do a lot of brand stuff. We prefer real life and can be painfully honest at times and I think that makes us a little different. I'm an old school blogger in an influencers world, which can be a little difficult but I make it work. I want to inform and entertain, which is always a hard line to walk, but I think I manage it.
What's the LGBT+ blogging community like to be part of?
It's small and we tend to make up parts of other communities, like parenting blog communities or writing groups, and find each other that way. I work hard to include as many LGBTQ bloggers and writers on my blog and social media as possible. I want to highlight my peers as well as myself.
What's the biggest issue facing the LGBT+ community today?
Getting past tolerance and into true equality. At least in the UK. In many places, we're tolerated but that's not enough. You tolerate things that annoy you, and we're not an annoyance. The recent Stonewall survey conducted last year (which I definitely took part in) really shows how far we still have to go to get the equality we deserve. I think we really need to work on the suicide and self-harm risk to our LGBTQ youth. I used to self-harm and have attempted suicide and I actually have been pretty privileged in terms of family acceptance and suffering, from microaggressions to blatant homophobia.
Where is the best Pride event?
My favourite was Pride on The Prom in Aberystwyth a few years ago, which I'm hoping will come back in the future. Cardiff Pride is pretty good. Because of my anxiety and social phobia, I tend to avoid large crowds but as my mental health improves I hope to attend more in the future with my family.
What do you make of Theresa May's LGBT Action Plan?
I'll believe it when I see it. Theresa May doesn't have the best history when it comes to LGBTQ issues and neither do the Conservatives. If she makes conversion therapy illegal that would be a good start because I couldn't believe how many LGBTQ people had been offered it and had to go through it. An action plan is nice but we need the action now.
What one thing should PRs know about you?
I'm not your typical blogger. I like working with smaller business, Welsh and LGBTQ ones in particular, and charities too. I'm also interested in things my son can experience as he is my main driving force for the blog and for my life.
What are the best campaigns or collaborations you've been part of?
I do some posts for the Woodland Trust that I enjoy because it's something I really believe and definitely want to do more charity work/collaborations in the future.
Do bloggers need their own industry association?
I think so. Something that encompasses freelance blogging and influence marketing possibly. There are a lot of brands/PRs who will pay a pittance but get a great return. An association that could advocate for bloggers would be beneficial and stop things like influencers and business owners going viral for disagreeing over rates or reviews.
What other blogs do you read?
I read a few (a lot). A Moment With Franca, LesBeMums, Meet The Wildes (they have amazing pictures). Daddy and Dad is a great blog and Lydia Schoch is a wonderful writer. I also like Babi a Fi. I could go on and on. I'm not big on visual content but I read a lot. Also, Mombian is a great resource for LGBTQ families.
Bread and Queer Little Family are both listed on the Vuelio Influencer Database along with thousands of other bloggers, vloggers, journalists and opportunities.
https://www.vuelio.com/uk/wp-content/uploads/2018/07/Queer-Little-Family.jpg
430
760
Jake O'Neill
https://www.vuelio.com/uk/wp-content/uploads/2019/09/vuelio-logo.png
Jake O'Neill
2018-07-16 12:19:21
2018-07-19 12:48:33
Exploring the LGBTQ blogging community with Bread Skalka