Fairer representations of disability in PR: starting the conversation with Mark Webb and Sudha Singh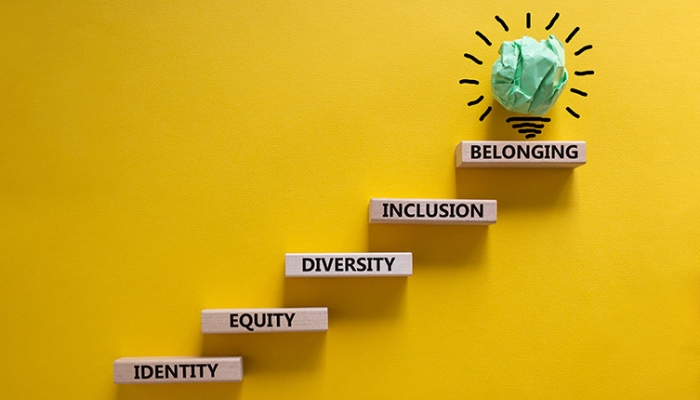 'It feels like disability is last to the table at any diversity discussion. If it gets there at all. And yet we're the biggest minority' – as the host of the PRCA's new podcast Disability@thetable, Mark Webb is making sure hidden and visible disability is part of the inclusion discussions happening across the industry.
Launched as part of the PRCA's recently-rebranded Equity & Inclusion Advisory Council's new initiatives, Disability@thetable shares stories and best practice advice to push conversations forward. 'It's some peoples' calling to chain themselves to railings to drive change. And there's a definite place for that, but I'm hoping to help push the story from another angle,' says Mark. 'A happy, positive, "look what you're missing" tone.'
Including everyone at the table
That PR and comms so often misses out consideration and representation of disability is a severe failing – not just of the audiences we seek to address and engage, but of our workforce and its future. As quoted in this 2016 piece from Ashley Phillips, PRCA's UK PR Census that year found that just 2% of the 83,000 practitioners working in PR were disabled people. This isn't representative of society at large and can be incredibly isolating, as InFusion Comms' founder and managing director Sara Hawthorn shared in an accessmatters session last year about her own experiences as a deaf person in the industry:
'I worked in the media on and off since I was 17. There was a point before starting InFusion Comms where I had never come across another media or PR professional with a disability or impairment at all, and I'd never spoken to anyone else in the industry who was going through anything similar. I thought; this must be something missing from our organisations. Who's missing?'
While visibility is slowly increasing in some areas of the media – Channel 4 has promised that disabled people will make up at least 70% of its presenting team for the Paralympics this year ('lovely,' says Mark, 'big, positive gestures can only help nudge the diversity and disability dials') – there's far to go.
'Things are getting better', says Mark. 'But way too slowly.'
Authenticity over tokenism
'The comms industry can only speak from a position of knowledge and authenticity if we stop being tokenistic and become more intentional about our journey to equity and inclusion,' believes Sudha Singh, co-chair of the PRCA Equity & Inclusion Advisory Council (EIAC).
Rebranded this year, the EIAC's new name reflects its new, more inclusive, purpose: 'For the longest time, organisations have been focusing on diversity as a way to correct institutional and historic inequalities,' says Sudha. 'Referring to people as diverse actually "others" those who don't belong to the dominant group/privileged groups. We deliberated on the name change – it now reflects our purpose – who we are and what we are trying to do.
'We want organisations to focus on the equity inspired designs for bringing about that change – to create equitable workplaces where talented people can thrive, no matter where they come from, what they look like. And this will require organisations to actually identify the problem areas and it is not helpful if you are determined to treat everyone equally. Inclusion of course is an outcome and has diversity at its core – do people feel valued, can they bring their true self to work? What is their experience of the workplace? Do they belong?'
Initiatives and progress
The work to ensure everyone can belong within our industry is well underway – the EIAC recently hosted its first ever #ChangeforGood Conference, supported by APCO, with over 20 speakers covering Gender, Social Mobility, Race and Disability, with more initiatives and partnerships to follow.
For Mark, the Disability@thetable podcast will be leading the charge:
'Dream guests that won't happen? Michael J Fox, the Back to the Future legend, now with Parkinson's and doing amazing advocacy and fundraising work. And – showing my age, here – Gloria Estefan. I worked with her briefly in the early 90s, just as my Multiple Sclerosis was about to start sneaking up on me. Her family has been impacted by MS too. Both great communicators!
'Aiming high but vaguely feasible? The likes of Dame Tanni Grey-Thompson, Rory Cellan-Jones, Frank Gardner. All of them living a good, positive, public eye life and not defined by their disability.
Booked in already? Talented, brilliant communicators and PR people either living with, or impacted by disability… And I'm hoping I can tease out others.'
While big brands are doing their own long-overdue work on inclusivity, it has to be done properly, something Mark acknowledges is likely to be difficult going for some:
'It's a horribly fine line for any brand to be treading,' says Mark. 'It's a strange kind of gold-rush going on in the desperate bid to be inclusive, "politically correct" and all too often, tick-box. I will single out Lego positively, for their work across pretty much all flavours of diversity. And I dine out on stories of how brilliant the senior team at Dixons Retail, then Dixons Carphone, were with me. But listen to our podcasts for that!'
The first thing organisations can do to be more inclusive of disability within their teams, their campaigns and their creative? Join the conversation that's happening now. 'Consult with us, engage with us', says Mark. 'Don't just assume job done by slapping a wheelchair into something you're up to.'
Find out more about the Disability@thetable podcast and more PRCA Equity & Inclusion Advisory Council initiatives here.
For more experiences from people working across the comms industry, catch up with our accessmatters sessions.
https://www.vuelio.com/uk/wp-content/uploads/2021/08/Inclusion-in-public-relations.jpg
430
760
Phoebe-Jane Boyd
https://www.vuelio.com/uk/wp-content/uploads/2023/09/vuelio-logo-200px.png
Phoebe-Jane Boyd
2021-08-05 14:29:11
2021-08-05 14:29:11
Fairer representations of disability in PR: starting the conversation with Mark Webb and Sudha Singh