Fashion Blogger Spotlight: Catherine Summers, Not Dressed As Lamb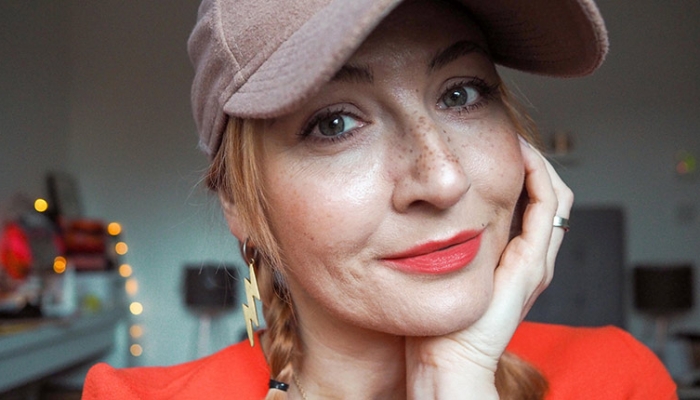 'I'm hoping that all bloggers will get on board with putting pressure on ALL brands to ensure they're doing everything they can to represent a diverse range of people,' says Not Dressed As Lamb's Catherine Summers, who made a pledge a year ago to only work with brands committed to inclusivity.
Read on for more on whether Catherine believes the fashion industry is making enough progress when it comes to representation, her thoughts on fast fashion and her tips for dressing up tired outfits (little spoiler: ACCESSORIES).
What initially drew you to blogging about fashion and what keeps your interest?
I'd been following fashion blogs for about a year before I decided to start one of my own – I studied photography for my degree in the early 90s and I'd originally thought about becoming a fashion photographer. I'd also loved writing since I was a kid so starting a blog seemed like the perfect way to combine (and utilise!) my three passions. I decided to document my style for a year in the run up to my 40th birthday but decided to carry on the blog after gaining a really loyal following. I've never, ever wanted to give up blogging at any time, and my desire to improve and grow has never waned. The fact that I've been lucky enough to have brands wanting to work with me and that I've made it my career has been a welcome side-effect and a massive bonus.
How have you had to change your approach to blogging, or your content, during the COVID-19 crisis?
I didn't put pressure on myself to do anything differently – in fact, I took a bit of a step back and reassessed what I was doing. In the end, the change I made was to the regimented schedule I had for producing content. I think in recent years I'd lost some of the love I had for the basic outfit posts of my early days of blogging (I started in 2011) and I got too caught up in getting everything out 'on time'. I thought I'd take advantage of everyone else's schedules also being turned upside down and be a lot less structured until such time as I'm/we're back to more of a routine.
Do you think the move away from 'fast fashion' will continue post-lockdown?
I really hope so. I think it's really disappointing that bloggers who are lucky enough to be able to afford, for example, Gucci belts and Chanel handbags still shop for fast fashion at H&M and Primark. I do understand that fast fashion is the only thing that can be afforded by some of the younger generation, but 'fast fashion hauls' or endless Primark pieces (by those who should know better) do tend to turn me off. I'm hoping followers will call out those who are unnecessarily shopping for fast fashion and make them more accountable. I'm much more interested in seeing more re-wears, vintage and charity shopping and 'shopping your own wardrobe' posts.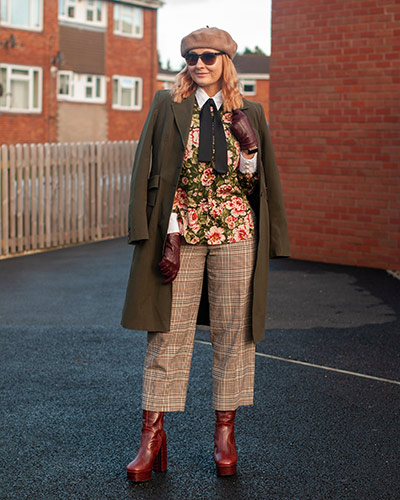 If you had to pick a character from film/TV/literature who embodies your style, who would it be?
It's not exactly a well-known film, but if you've seen Anne Hathaway in The Hustle (with Rebel Wilson) you'll know that her wardrobe was TO DIE FOR. The movie wasn't exactly the best but her outfits – all that tailoring, bold colours and incredible accessories – had me drooling. Her character was probably dressed the closest style-wise to my ideal self, that is, if I had the chance (or a reason) to dress up every single day. If you haven't seen The Hustle, watch it just for the clothes.
What's the least you've spent on an item of clothing/an accessory that you love?
Any number of bargain sale items I've bought – I rarely buy anything full price! I often end up with the things that most people wouldn't touch, like my Office coral brogues bought in the sale about ten years ago. So, not the least I've spent on one item by a long way, but £25 for real leather shoes I still wear often was a total bargain.
Top tips for updating/bringing new life to an old outfit?
Accessories, accessories, accessories! Adding bold accessories will brighten and modernise any classic or plain outfit. I like to have scarves, shoes, belts, jewellery, bags and hair accessories in every colour and pattern under the sun. They can make the plainest or most casual outfit more exciting.
Is the fashion industry doing enough to be more inclusive?
I think it's getting better, and some brands are great about addressing this. When I started blogging I was very much aware of the lack of representation of older women (being one myself in comparison to most other bloggers at the time) and, as time has gone on, I'm also now aware of the need for greater diversity in shape, size, colour, ability AND age. I made a pledge a year ago to only work with brands who could ensure me that their blogging and advertising campaigns are diverse and I pledged to only go to events that would have a diverse range of bloggers attending.
I'm hoping that all bloggers will get on board with putting pressure on ALL brands to ensure they're doing everything they can to represent a diverse range of people. We still have a long way to go but I'm hoping that the rise to prominence of the BLM movement this year has made it no longer acceptable to only show young, white, slim women in campaigns. Thankfully this is something that can be championed by bloggers and non-bloggers (as consumers) alike, and brands who aren't doing this need to be challenged.
How do you collaborate with brands and which kind of brands do you really like working with?
As already mentioned, I now only work with brands who are committed to being inclusive. I choose to work with those that understand that their product/service will appeal to my readership and who think I'm the right fit and personality for their brand. There's nothing worse than a glaring mismatch between a blogger's everyday content and what they've decided to promote on their channels. I only ever publish my own, original content for brands and very much prefer to produce blog content which is evergreen and searchable (I don't understand why so many brands only ever want the instant fix of Instagram)! I'm more than happy to produce IG content but always try and push for blog content as well because my readership is very loyal and engaged and ROI is much higher. Otherwise, I enjoy styling presentations or video and photo shoots with brands to produce their own content – it gets me out of the house and working face-to-face with a bunch of new and interesting people, which I love!
For PRs looking to work with you and your blog/website, how would you prefer they approach you and with what kind of content?
Email is definitely the way to go – Instagram DMs unfortunately get lost among personal messages. I always warm to a personalised proposal more than a blanket email, and if the brand is a good fit for my readership (as mentioned earlier) and they get straight to the point with what they're proposing, then I'm all ears. Oh, and be upfront about fees – say straight away whether there's budget or not. There's nothing worse than emails going backwards and forwards only to eventually find out you're being given a detailed brief with a huge list of demands and there's no intention of paying you.
What other blogs do you check out regularly (whether fashion-related or not)?
My 'measure' of the blogs I read regularly are those I subscribe to by email so I never miss a post. My favourites are Atlantic Pacific, Fashion Foie Gras, Grown and Curvy Woman and The Sequinist for fashion; Hayley Hall for beauty; Swoonworthy for interiors; Don't Go Bacon My Heart for (naughty!) food and Forever Amber for lifestyle and brilliant writing. Though there are many, many more – too many to list here. I'll always champion (and prefer) blogs over Instagram… they're so much more meaty and satisfying!
https://www.vuelio.com/uk/wp-content/uploads/2020/10/Catherine-Summers.jpg
430
760
Holly Hodges
https://www.vuelio.com/uk/wp-content/uploads/2019/09/vuelio-logo.png
Holly Hodges
2020-10-15 14:07:28
2020-10-15 14:09:32
Fashion Blogger Spotlight: Catherine Summers, Not Dressed As Lamb