Running Blogger Spotlight: Elle Linton, Keep it simpElle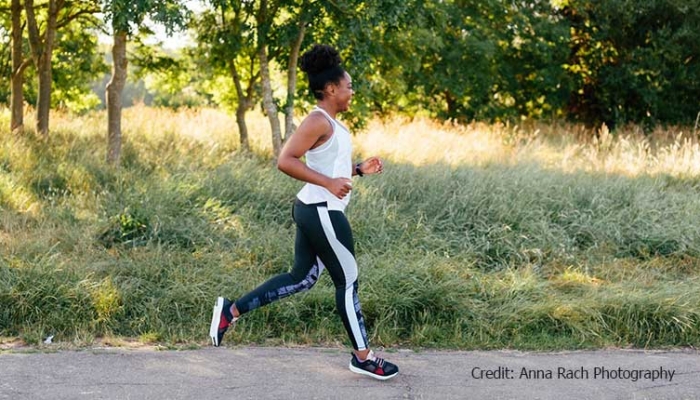 Running right into our 2020 UK Top Ten Running Blogs ranking, after also placing in our Fitness Top Ten earlier this year, is Elle Linton of Keep it simpElle, a multi-skilled fan of multi-format fitness.
This self-confessed running restarter shares realistic and relatable journeys, tips and tracks to try – read on for how to keep it simple and fun when out pounding the pavement.
What got you into running as a hobby and what keeps you passionate about it as a way to keep fit?
I got into running during my first job after my Undergrad degree when I met a colleague, now friend, who was an avid runner. I'd not run since childhood, when I was a talented sprinter. Running distances more than 400m seemed mad to me! But I started training for a 5km, then a 10km and even a half marathon, eventually. As a fitness professional, I've always known how beneficial running can be for health, but there is so much more to it – it's the community that has kept me passionate. I've met so many amazing people and had some great experiences all through running. The keep fit benefits have become a bonus to everything else!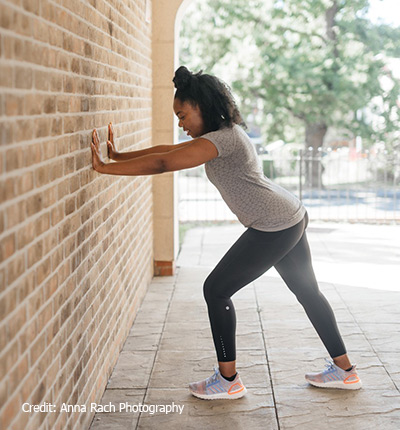 What's your favourite thing to post about and why?
I enjoy sharing my running journey as it's by no means linear. I'm a self-confessed restarter and I think a lot of people can relate to that. Sometimes life gets in the way and things don't go to plan; starting again with running can be difficult. Whenever I do share about my own journey, I also like to include as many practical tips for others as I can. Some of the most popular running posts on my blog include a 10k training plan for busy (or slack) runners, posts with tips on common running injuries such as plantar fasciitis (written in collaboration with my partner who is a Sports Therapist and MSc Osteopathy Student) and, most recently, posts on how to take part in virtual running challenges.
I do personally enjoy testing out technology like smart watches, the latest in footwear and other products that support a runner's lifestyle. After taking part in an immersion week with Red Bull where I got to train with Ultra Athlete Tom Evans, I really learned how much goes into being a professional athlete and how non-professional athletes like myself can implement ways to improve and enjoy the running journey even more.
Did you take part in the London Marathon this year?
I'm a massive fan of the London Marathon and usually you find me at about mile 23.6 searching for faces I recognise as well as cheering on strangers alike but to this date I've vowed not to run a marathon! I know I should never say never, but up to now, I know I would not have been able to commit to the training in order to enjoy the experience of running the full 26.2 miles. If or when the opportunity comes up that I can run an event, and have the support I would need in place to get through the training successfully… well, I might just consider it!
How did you change your approach and content during lockdown?
I saw lockdown as an opportunity to stop and re-evaluate, maybe even start again, which applied to my running journey and my blog itself. It gave me a chance to reflect on who I am, what I stand for and the kind of content I want to produce. With running, I personally started Couch to 5k and shared this journey to support the many others who were doing the same. I focused heavily on building my community – they were my support network when we weren't able take part in our usual routines.
During lockdown, I also went through a rebrand process, which will be launching very soon!
What's the best route you've ever taken for a run?
One of the best routes I've run was the Devil's Punch Bowl in Surrey. It was so beautiful being there and its beauty also translated to photographs taken on the day. Sometimes it's great to get off road, stop watching the clock and just take in the views.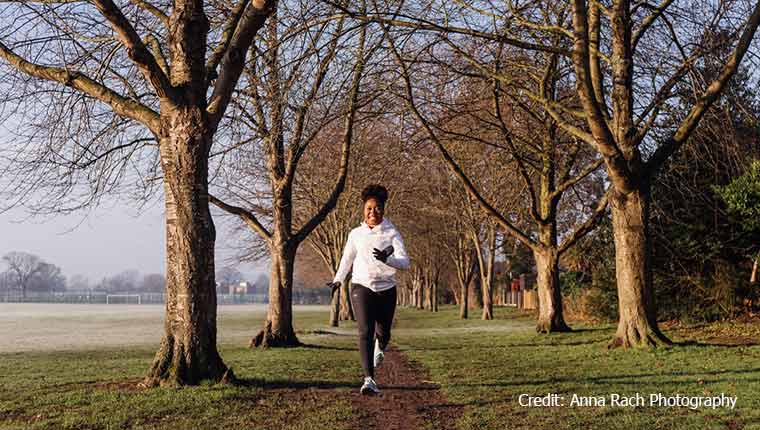 Best snacks/drinks to take along for a race?
I'm a huge fan of Shot Bloks… I kinda feel like I'm eating sweets! They have options with and without caffeine and work really well on the bike, too. Over the last few years, I've not run distances over 10km, so nutrition hasn't been a pressing thing to consider. I do enjoy raiding the goody bag after to see what snacks are in there!
What advice would you give to someone who's never been into running but would like to start?
I would advise them to just get stuck in! You don't have to run 10k from day one – something like the Couch to 5k app is a great way to get started with a plan that is designed to increase your fitness and reduce the risk of doing too much too soon and becoming injured. If you can rope in a friend to start with or support you with your running, even better! Running with other people can help to push you a little, especially if you're looking to improve your speed. Then check out your local parkrun route – although they're not currently running, the route will still be a good distance to try out and get you prepared for when the events do return. 5km is a good distance to test your fitness and work on.
How do you collaborate with brands, and which kind of brands do you really like working with?
I've been lucky enough to collaborate with various brands to create running content – from joining a run club to follow my journey back into running to train for a 10km race, doing IG takeovers sharing my fave routes, to testing out products. I've found longer term collaborations to be much more enjoyable and real. After everything that has gone on in 2020, I'm even more careful about the brands I collaborate with – I've always taken a stand for diversity and that won't change. If I work with a brand, I want to see that they are walking the walk.
I think I've also come to realise that with running, it's more of a lifestyle for me. I'm never going to be 100% a runner, but that still has a place, if not a bigger place, in the market.
For PRs looking to work with you and your blog/website, how would you prefer they approach you and with what kind of content?
Email is definitely the best option. And of course, I would expect the PR has done their homework and know enough about me to know if I'm a good fit for the brand. Content wise, I'm open to ideas. I, personally, enjoy creating content on my blog as it has more longevity, but I understand that social media is very popular right now. At the end of the day, I do like to create my own adventures and if a brand wants to come along for the journey, that's a bonus (I share my Editorial Calendar on my blog with monthly themes).
What other blogs do you check out regularly?
The Runner Beans by Charlie and Paddle Pedal Pace by Lucy.
https://www.vuelio.com/uk/wp-content/uploads/2020/10/Elle-Linton-Featured.jpg
430
760
Holly Hodges
https://www.vuelio.com/uk/wp-content/uploads/2023/09/vuelio-logo-200px.png
Holly Hodges
2020-10-16 14:18:31
2020-10-16 14:24:32
Running Blogger Spotlight: Elle Linton, Keep it simpElle