Fashion Blogger Spotlight: David Evans, Grey Fox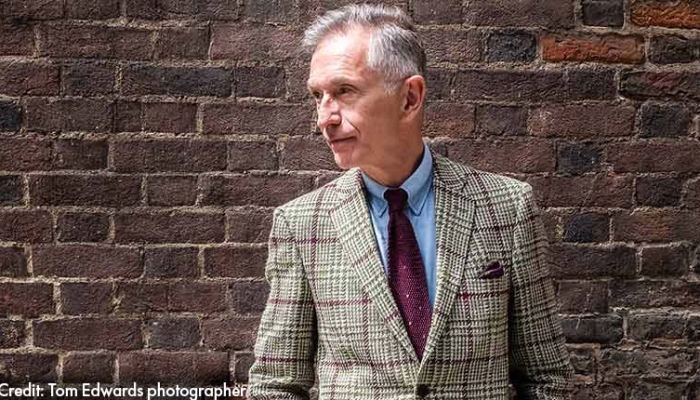 Writing about the challenges of finding fashionable fits as an older man, David Evans at Grey Fox knows what works when it comes to staying comfortable and casual while keeping things suave and stylish.
In today's Spotlight, we talk the evils of sneaker/suits combos, the move to sustainable fashion and what to wear for the steadily approaching Autumn/Winter season.
What keeps you passionate about fashion blogging?
The creativity of working with words and images to reflect my tastes and interests. I also love meeting people though my media – brands, PRs and, in particular, my audience with whom I share so many enthusiasms.
What originally got you into writing about it?
I wanted to write and thought a blog would be a good outlet for this. I hadn't a clue what to write about at first. After a few weeks thought, I decided to write, as an older man, about the difficulties and challenges of finding clothes, establishing a personal style and knowing what to buy. I thought I'd find something more interesting to write about eventually, but after nearly nine years of blogging, I'm still writing about a search for style.
How have you had to change your approach to blogging, or your content, during the COVID-19 crisis?
The lockdown encouraged me to focus on improving engagement with my audience. I was already working on this, but the common shared experience of COVID-19 encouraged communication and I worked hard on this aspect. I didn't change content particularly; although I still aim to improve the quality of my content, I'm not keen to do that at the expense of authenticity. Being too polished can look too promotional.
Best lockdown fits you can recommend?
Lockdown was all about combining comfort and style. This is hard to do in the era of ugly and shapeless athleisure wear, but classic casual styles came to the fore.
Worst fashion trend in men's fashion over the last few years?
Trainers and sneakers with suits. A few fashion journalists tried to make this something, but it was never going to work!
What trends can we watch out for in Autumn/Winter?
In menswear, quality knits with bright but natural colours, tailored trousers with pleats and higher waists, and a move towards a slightly vintage vibe.
What are some of the favourite pieces of clothing/accessories you own and why?
Tweed is always a favourite. I love its robustness, practicality, heritage and the kaleidoscope of colours that hide within the weave. Classic British-made footwear, such as brogues and suede derbies.
Do you think the move away from fast fashion to sustainable clothing/long-term wear will continue?
Without any doubt at all. Consumers are beginning to understand the link between cheap clothes and unethical and unsustainable manufacturing, and the related issues of waste and environmental damage. They see the advantages of buying fewer and better, and this trend is set to continue.
How do you collaborate with brands and which kind of brands do you really like working with?
I like to work with small and brands and those that make high quality products – often, but not exclusively manufacturing in the UK. I wear clothes from my favourite brands and only feature those I can try myself. I rarely do paid collaborations, but do so from time to time as I have to manage the costs of running the blog. I only collaborate with brands whose products I like or think will suit my audience.
For PRs looking to work with you and your blog/website, how would you prefer they approach you and with what kind of content?
I like to work with PRs who understand what Grey Fox stands for and have looked at my media before contacting me. I like to present well-made and sustainably produced and stylish products to my following in a way that is authentic. I do not take part in affiliate arrangements and do not expect payment or product in return for my work, although I appreciate it when brands and their PRs recognise that I have costs to cover in running my blog. I prefer personal contact and am rarely impressed with the impersonal 'Hi, How's your day been? Here are some cool products for you to feature on your blog' sort of approach.
What other blogs do you check out regularly (whether fashion-related or not)?
I don't have time to check out specific blogs but follow many menswear style influencers and creatives on Instagram.
https://www.vuelio.com/uk/wp-content/uploads/2020/09/Grey-fox.jpg
430
760
Christina Pirilla
https://www.vuelio.com/uk/wp-content/uploads/2019/09/vuelio-logo.png
Christina Pirilla
2020-09-10 15:28:10
2020-09-14 10:41:13
Fashion Blogger Spotlight: David Evans, Grey Fox