Fashion interview with Raindrops Of Sapphire's Lorna Burford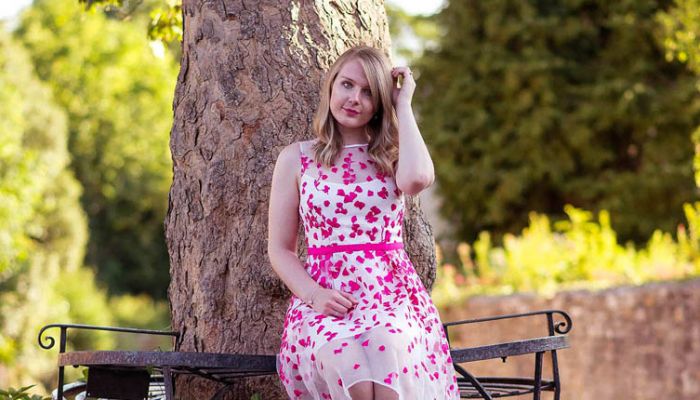 Lorna Burford is the fashion blogger extraordinaire behind Raindrops of Sapphire. Covering fashion tips, outfit posts and denim – of course denim! – Randrops of Sapphire was recently ranked in the Top 10 Women's Fashion Blogs. We spoke to Lorna about  the evolution of her blogging style, working around fashion weeks and collaborating with PRs and brands.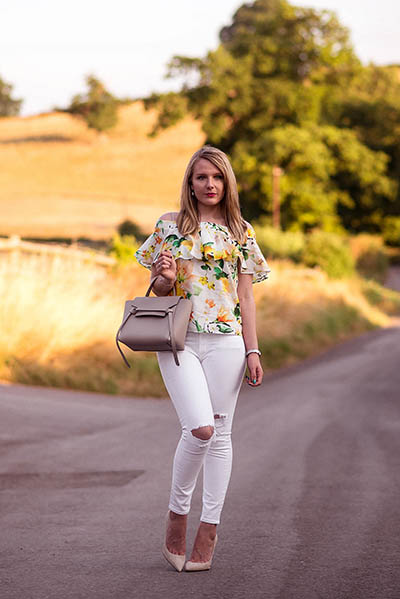 How has your blog changed over time?
It started out as just a place to share my loves and interests in fashion, as a hobby, then over time it grew into my full-time career and with a lot of hard work and effort, a place that I am really proud of. I've also been open and honest about health issues and everyone has been incredibly supportive, so I would say it's changed greatly. It's an extension of me and a community at the same time. I actually recently did a post looking back over the years to see how things have changed.
When do you start and finish conversations with brands/PRs about fashion weeks?
I would say the emails start rolling in for fashion week four to six weeks prior to it starting. There's usually a lot of things to cover and time is needed if you have to plan ahead for the shows. After the shows are done, it's probably a week or so until you receive the info/photos post show, and at that point it's usually finished.
How do autumn fashion weeks affect your blog?
I don't notice much of an increase or decrease in traffic, but I notice a lot more sales. Autumn fashion in general is huge and it's the biggest season for spending money, plus it's my favourite season, so it's always a good time of year for clothes in general. The AW season shows are far better than SS!
Who is your favourite designer?
That's a really tough question as I have different favourite designers for different areas of clothing. As jeans are a huge part of my life, Citizens of Humanity or FRAME take that lead. For bags it would be Celine or Mulberry. For shoes it's Stuart Weitzman and Louboutin etc. My go to brand for most things though would most likely be Gucci as an allrounder!
What are the main differences between men's and women's lifestyle blogs?
I would say men's are definitely more geared towards street and casual style, whereas women's are a lot more fashion forward. I think women tend to take a lot more risks compared to men when it comes to trends. I think the blogging industry has to be around 90% women though, so there's that as a difference too; the women have to stand out more to get noticed.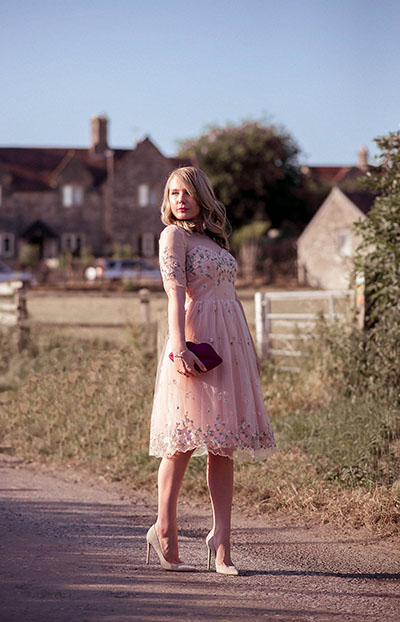 What one thing should PRs know about you?
I like to take pride in my work, so I'm incredibly picky about the content I put out. It has to fit with my voice/theme of my blog, and the photos have to be of a high standard too so we always shoot with a Nikon DSLR and I'm always using Light Room/Photoshop to edit my photos. I'm my own worst critic, but it means I only put out the content I am proud of. I'm always open to communication though, so never be afraid to email and get in touch. I don't often attend events that are far away anymore due to my health, but I haven't found that that hinders me or my blog in any way.
What are the best campaigns you've collaborated on recently?
Picking just one, this year would be House of Fraser, which was one of my best ones for 2018… so far.
Do bloggers need their own industry association?
I'm going to say 100% yes. As this industry is getting bigger and bigger, there's not enough support and protection for bloggers regarding the work and collaborations that occur. Often there's issues with people screwing you over, not paying, constantly chasing payments etc as it's still a relatively new industry, so I think there needs to be something more for sure.
What other blogs do you read?
I have three that I checkout often: Cupcakes & Cashmere, Fashion Jackson, and Brooklyn Blonde.
https://www.vuelio.com/uk/wp-content/uploads/2018/09/Lorna-Burford-Sep-2018-3.jpg
430
760
Holly Hodges
https://www.vuelio.com/uk/wp-content/uploads/2019/09/vuelio-logo.png
Holly Hodges
2018-09-19 08:00:01
2018-09-19 13:34:46
Fashion interview with Raindrops Of Sapphire's Lorna Burford