Feature Writer of the Year – David Jones, Daily Mail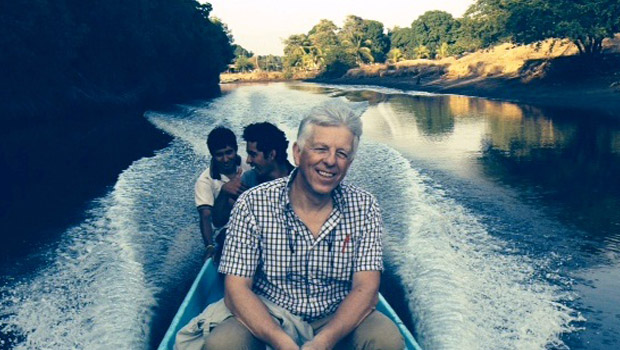 David Jones, chief foreign writer at the Daily Mail, was named Feature Writer of the Year at the annual Press Awards for 2013 which took place at the Marriott Grosvenor Square hotel in London this month. In an exclusive interview with Cision, David discussed the stories that won him the award, why the pace of breaking news online worries him and how comms people can be 'brilliant.'
Congratulations on being named the Feature Writer of the Year. How does it feel?
I'm Delighted. There are so many good writers out there so it's really an honour to be recognised. I'm not getting any younger too so it's great to know that there is still enthusiasm for my writing! I won the same award the year before last – I'm glad to be keeping up with people.
Also, journalism has received so much criticism these days but when you attend an event such as the Press Awards you know newspapers are still an honourable profession. There is talent and belief in good writing. The Press Awards were also a reminder that British newspapers investigate important social issues and change people's lives for the better.
Which one of your stories best contributed towards the win?
There are three pieces I wrote for which I won. The first was about a man from Iran who was burnt to death by vigilantes in Bristol. He was a harmless man but his neighbours accused him of being a paedophile. I went down to the Bristol estate where he was killed and spoke to people he knew and as it sadly turns out, he was just an oddball who was wrongly accused and killed for it.
The second set of stories were on Nelsen Mandela – the shambles of his memorial service (with politicians taking selfies and the sign-language interpreter that crashed the event, etc) and then the dignity of his funeral service.
The third was a highly personal report from Guantanamo Bay in which I argued forcefully that Obama must adhere to the promise he made on taking office and close the detention camp.
What does this award mean for The Daily Mail?
Our website is pitched to a difference audience from the main paper – it is more comprehensive and appeals to a more youthful global audience. It still carries the serious articles you find in the newspaper. However, they sometimes get more prominent projection in the paper. In fact, the feature articles in the Daily Mail paper are about 2,000 to 2,200 words, generally longer than those in supposedly more heavyweight papers such as The Times, Telegraph and Guardian. So winning this award goes to show that we can do the heavy stuff just as well too.
As a features writer, how do you keep up with breaking news on digital channels? How do you keep your story fresh?
I do find it really hard – it is very difficult to keep up with digital media and I don't know what to do about it. I just rely on the fact that I'll find something interesting to elaborate on. I'll write the story behind the news.
To give you an example, I recently wrote about the Mexican fisherman who drifted across the Pacific Ocean for 14-months. I was on my way to Mexico to write about him even as all the news was unravelling online. It's difficult to keep up as a features writer. The pace of breaking news is so much faster, and the news cycle so much quicker that there is sometimes not enough time for analysis and thorough investigation. My son is in PR and always tells me to tweet what I do but I'm very old school.
Mail Online uses the full range of social media and they push my stories out on their platforms but I don't – I go on TV if I have to.
How do you work with communications and PR professionals?
My first reaction to PR is always one of suspicion – 'why do they want me to put this in the paper?'
I get about 50-60 messages a day from PR and sometimes it gets quite ridiculous. I get emails on beauty products asking – 'Is this for you?' No it isn't.
But then again, there are some in communications that are brilliant. Ian Monk, an ex-journalist who is now in PR, is an example of someone who knows what will make the paper. Brilliant PRs, like Ian, have full knowledge of what will make a proper story and will only get in touch with you for that. It's about knowing your market and who to pitch what to, and when.
Is this the advice you would give to your son who is in PR?
Yes. He knows how to approach journalists and what they want. If they (journalists) happen to sell a product for your client then that's great but that should not be the aim of your pitch.
Take Five
What hobbies or interests do you have other than writing?
I go to the gym, swim and play golf, even though I'm not very good!
What would you super power be?
I just want my knees back.
Would you go forward or back in time?

Back in time. I love history and the future can wait, thank you.
Who would play you in a film?

Elliot Gould.
What are your weekends incomplete without?
A cuddle with my grandchildren.
https://www.vuelio.com/uk/wp-content/uploads/2014/05/davidjones.jpg
350
620
Priyanka Dayal
https://www.vuelio.com/uk/wp-content/uploads/2023/09/vuelio-logo-200px.png
Priyanka Dayal
2014-04-10 13:08:19
2014-04-10 13:08:19
Feature Writer of the Year - David Jones, Daily Mail