Speedy Spotlight: Charlie Watson's The Runner Beans
An interview with Charlie Watson, author of the health and fitness blog, The Runner Beans. Charlie spoke to us about the healthy mix of content that makes up her blog, how she works with brands and PRs and on finishing her third marathon in Paris this weekend.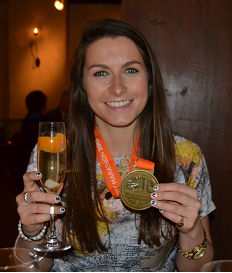 Why should people read your blog? What makes it different?
My goal is to pace the way to a healthier lifestyle, encouraging readers to make small changes to their own lives through exercise and healthy eating- without missing out on any of the fun! I share workouts, fitness product and class reviews and recipe ideas with the hope that there is something for everyone. Through my blog I try to show that anyone can adopt aspects of a healthy lifestyle- I myself signed up for a marathon before I could even run a mile, and have just finished my third marathon. 
How do you measure the success of your blog?
If I can inspire just one person to become more active, and take up running (or a sport that they enjoy) then I see that as a success.
What's your favourite blog and why? 
Fantastic Food  is one of my favourite American blogs. It shares a mixture of workouts, training, reviews, recipes and daily life. I definitely aspire to create something along similar lines but with a British twist on my blog. 
What advice would you give to someone who wants to start a blog?
Work out what you want to write about – it has to be something that you're passionate about otherwise it will seem like a chore. I spend a lot of time researching and creating content. It feels like having another job sometimes, and so writing about something I love makes it easier.
Who do you work with in marketing? PRs? SEOs? And how do you work with them?
I've worked with a few PRs and brands to review products and races, and am starting to work with a few food brands. I write all my own content, so I tend to try out products then review them honestly, making them part of a story on my blog.
What can marketers do better in liaising with you?
An understanding of what I write about (and my name) always helps! I'd love to create lasting relationships with brands going forward, working with them to cross promote each other.
What was your blogging highlight of 2013?
Running the New York Marathon and receiving such amazing support through readers and friends throughout my training and on race day!
What will be big in your blogosphere in 2014?
I'll be sharing more recipes on my blog, creating nutritious meals, healthy twists on baked goods, and simple suppers. Additionally, I'll be training for my fourth marathon, sharing my journey towards a Boston Qualification time.  
Editorial information on Charlie Watson, The Runner Beans and thousands of other media contacts and outlets, can be found in the CisionPoint Media Database.

Priyanka Dayal
https://www.vuelio.com/uk/wp-content/uploads/2019/09/vuelio-logo.png
Priyanka Dayal
2014-04-07 10:49:37
2014-04-07 10:49:37
Speedy Spotlight: Charlie Watson's The Runner Beans