London Marathon: Stephanie Nimmo runs for ShootingStar-Chase Children's Hospice
An interview with Stephanie Nimmo, mum-of-four, avid runner, special needs advocate and an official blogger for the London Marathon. Stephanie spoke to us about Daisy, her nine-year old daughter with a life-limiting condition for whom she runs and stays inspired, training for the upcoming London Marathon and fundraising for it, using a different approach.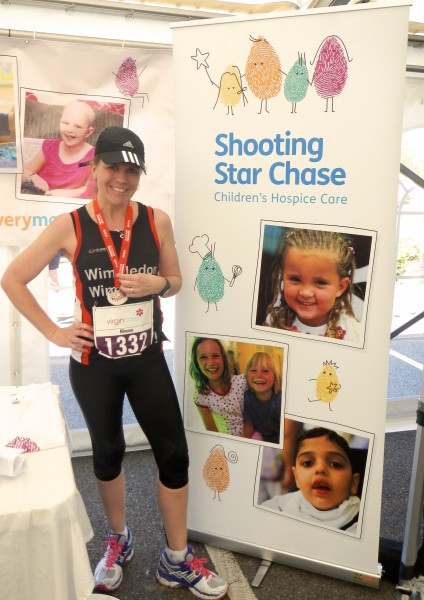 How many marathons have you run?
This year's London Marathon will be my fourth – I ran London last year and missed out on a sub four by 19 seconds, hence my return.  Prior to that I ran London with my dad in 1996, this was before I had my four children .  But even earlier than that, I ran the inaugural Cardiff Marathon at the age of 13
 What inspires you to take part in marathons?
Other runners, especially the older runners who are continuing to get better and better times. Age is not a limiting factor with running, it's just you against the clock and the level of training you are able to commit to. 
Most of all I am inspired to run by my youngest daughter – she has a rare, life limiting condition. She is wheelchair bound and can't run, so I run for her and when the running gets tough I remember how tough it is for her. She experiences a lot of pain and has had many surgeries over the years yet she is so determined to make the most of life and get on with things. She is my inspiration and she will be the one I will think of during the last few painful miles of the marathon.
How often do you train? 
I run with my local running club, the Wimbledon Windmilers.  I tend to train with them on a Tuesday evening as there's a great speed training session. I will often go out on a Thursday with the club for hill training and in between I like to fit a run on my own, often after the children have left for school. My favourite run of the week is my Sunday morning long run which is mainly along the Thames Towpath and into Richmond Park – sometimes if I'm pressed for time I leave early and go on my own but if I can make it, I meet with fellow club members at Wimbledon Windmill and we all run together, have a chat and catch up with each other's news, it makes the miles melt away and it's such a lovely start to the day.  I love Richmond Park for running, I never get tired of running there and always get a great buzz as soon as I enter the gates and hit the trails.
Does training for the London marathon change your daily work and life routines? 
Marathon training certainly takes up more time. I try and fit in some practice races in the weeks before the marathon so these eat into my schedule and there is more pressure to fit in 3 – 4 quality runs a week.  I have tried to fit running and training around my life because with four children and a husband who works full time, there is very limited free time. For example, I recently ran from Wimbledon to Great Ormond Street to pick up some meds my daughter needed then caught the tube back home!  My friends think I'm crazy although my family are used to it. If they can't find me in the house, they assume I'm out running even if I'm only in the next room!
Are your running for a particular charity/cause?
I am running for ShootingStar-Chase Children's Hospice.  I have my own place in the London Marathon (I won a competition to be an official Virgin London Marathon Blogger) but could not miss the chance to raise awareness and funds for our hospice.  They have supported us since Daisy, my daughter, was only a few month's old – she's 9 now.  The support and the respite they provide us has kept us going over some very difficult times.  Daisy is life limited and her condition has deteriorated over the years and we know that they will share our journey to the end. Running for them is a way of saying thank you for everything they do for us.
How are you going about sponsorship?
I think people are getting a bit jaded with all the online sponsorship links doing the rounds. Everyone seems to want money for something these days.  This year I decided to give people something that they would want to actually pay for in order to help me raise funds  so I ran a crafts, cakes and coffee afternoon at a local church hall.  I contacted lots of small business, people who make stuff and offered them a free table. I also got businesses to sponsor refreshments and raffle prizes and roped lots of friends in.  We asked for donations on the door and had about 10 craft stalls – everything from plants, scarves to personalised jewellery. We had a cake stall which would have given Mary Berry a run for her money. I also have a few friends who are beauty therapists who offered mini treatments. In all, I raised over £1,000 but also managed to raise a lot of awareness of the charity by talking to the visitors.  So much more value than a standard sponsorship email.
What media are you using to promote the sponsorship? What has worked best?
Mainly social media – like many mums – especially those who have children with additional needs, it's difficult to get out and about so social media is a lifeline. I'm a big user of Facebook , Twitter and Instagram and also use Pinterest and Google+.  A huge amount of awareness as been generated through Facebook and I've gained a lot of event sponsors through Twitter.  I also used word-of-mouth by contacting my network of friends and getting them to tell their friends.
What role can PRs play in helping sponsorships? 
I am lucky as prior to having to give up work to care for my youngest daughter, I had a successful marketing career but I think having a clear message, a story and some eye catching materials helps.  ShootingStar-Chase have produced some great templates I was able to download from their website to personalise and use to promote my event.  I could have done with some support in contacting local media – it's difficult juggling marathon training and looking after children while also trying to run a full-on PR campaign to generate sponsorship, so PRs can definitely help with that.
 Do you think you'll finish?
Barring any disasters – yes and hopefully in under 4 hours this year, that's my aim
Take Five
What is the one thing you're holding off until you finish the marathon?
Wine!  I can't wait to have a huge glass of red after finishing the marathon (well maybe after I shower and get home!)
Do you have any surprising hobbies or interests?
I love festivals and thanks to the respite we get from our hospice, I try to go to one major festival each year as well as fitting in a few gigs. This year it's Latitude, I have been before and have been to Glastonbury three times. We have a vintage camper van so there are plenty of home comforts.  Other than that my main interest has to be running. It is pretty all-consuming in my life these days along with juggling the diverse needs of my four children – in fact, running keeps me sane!
What would your super power be?
Not sure if it's a super power but I'd love to have Mary Poppins' ability to click her fingers and a child's bedroom is instantly tidy – I'm easily pleased!
Who would play you in a film?
Ashley Jensen – like me,she doesn't take herself too seriously.
What are your weekends incomplete without?
Running – of course! And time with my family.
Priyanka Dayal
https://www.vuelio.com/uk/wp-content/uploads/2023/09/vuelio-logo-200px.png
Priyanka Dayal
2014-04-03 12:54:14
2014-04-03 12:54:14
London Marathon: Stephanie Nimmo runs for ShootingStar-Chase Children's Hospice