Five Things: Vuelio acquires ResponseSource, Johnston Press for sale, Trump's celebs, Banksy and judgement day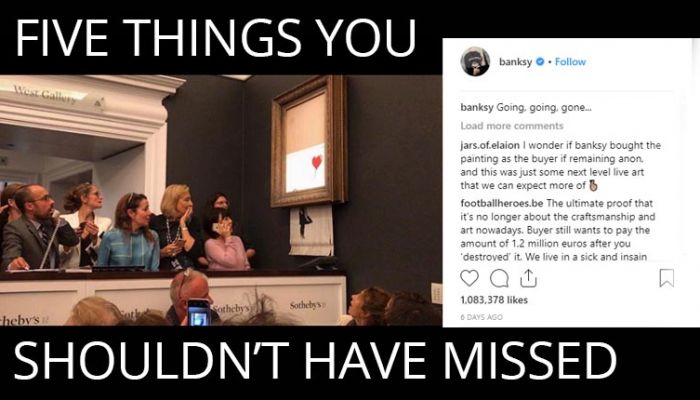 This week's Five Things You Shouldn't Have Missed includes Vuelio's acquisition of ResponseSource, Johnston Press putting itself up for sale, Trump and his celebs, Banksy's shredding and judgement day.
1. Vuelio acquires ResponseSource
Forgive us for blowing our own trumpet, but we are thrilled to have brought ResponseSource into the Vuelio family. ResponseSource is famous for its rich journalist database and the market-leading Journalist Enquiry Service. Clients of both companies are set to benefit with a massive portfolio of integrated communications software and services.
Joanna Arnold, CEO of Vuelio said: 'ResponseSource will from day one add significantly to the portfolio while accelerating our combined product development, particularly in journalist services.
'We plan to continue to invest in the ResponseSource brand, in its services, and in its people.'
ResponseSource founder Daryl Willcox will remain at the combined company and becomes Director of Audience Strategy for Access Intelligence. He said: 'I'm looking forward to continuing to grow this strategically important side of the business that benefits journalists and PR professionals alike.'
2. Johnston Press up for sale
Johnston Press, the publisher of some 200 titles, has put itself up for sale. Johnston Press owns a huge range of local and national brands, including the i newspaper and The Scotsman. It has reported debts of £220m, which has now become untenable.
David King, chief executive, said: 'This comes after a year-plus of working out various strategic options.
'In my view, we are obliged to find out what the market thinks about buying Johnston Press. We need to galvanise people, potential buyers, to make it clear if you wait, you might miss out.'
King would prefer to sell Johnston Press as a whole and believes there's a 'reasonable prospect' of keeping it intact.
3. Trump and the celebs
Supreme Court nomination got you down? How about one of the most devastating hurricanes in recent times making landfall? If you don't like the conversation, change it! Taylor Swift AND Kanye West have been filling the Trump-themed headlines this week, as the power of celebrity has possibly deflected from more serious issues.
First Swift broke her 'silence' over politics, coming out in support of the Democrats. This led to Trump saying, 'I like Taylor's music about 25% less now'. She's probably crushed.
The Swift headlines hadn't even finished when Kanye stormed in for his own Trump story. Ye, as he is now known, was filmed chatting in the White House with Trump. Yes, Ye's passcode is a bunch of 0s, and yes his appearance has drawn some serious criticism, but the most significant headlines focus on the long ranty speech Ye gave. Trump nodded and smiled but the whole thing was unquestionably odd. Check out The Independent's weirdest moments:
The most bizarre moments from Kanye West's meeting with Donald Trump at the White House pic.twitter.com/OTD3gNGAh6

— The Independent (@Independent) October 12, 2018
4. Banksy
Stunt of the year? Probably. More people than we realised in on it? Possibly. A great way to add value to rebel artwork? Definitely.
Banksy's half-shredded Girl With Balloon sold for £1m (inc fees) and the woman who bought it is happy with her purchase (even after it's "destroyed"). Some are suggesting the auction house and the buyers would have had to be in on it, but no one has admitted to being so as of yet.
Check out Banksy's version of events from his Instagram account below:
View this post on Instagram
5. Judgement day
The Vuelio Blog Awards were judged this week, with Anna Doble, digital editor at the BBC World Service English; Craig Landale, editor-in-chief of Menswear Style; Kate Hunter, head of B2B at Hotwire UK; Bella Angelova, head of brand & PR at Decathlon; and Vuelio's own Holly Hodges – senior researcher and blogger guru extraordinaire.
They've been sworn to #KeepTheSecrets and we can't say who's won – but you can find out on 30 November at the Bloomsbury Big Top.
https://www.vuelio.com/uk/wp-content/uploads/2018/10/12-Oct.jpg
430
760
Jake O'Neill
https://www.vuelio.com/uk/wp-content/uploads/2019/09/vuelio-logo.png
Jake O'Neill
2018-10-12 14:50:51
2018-10-12 14:50:51
Five Things: Vuelio acquires ResponseSource, Johnston Press for sale, Trump's celebs, Banksy and judgement day