Football Blog Spotlight: Paul Tomkins, The Tomkins Times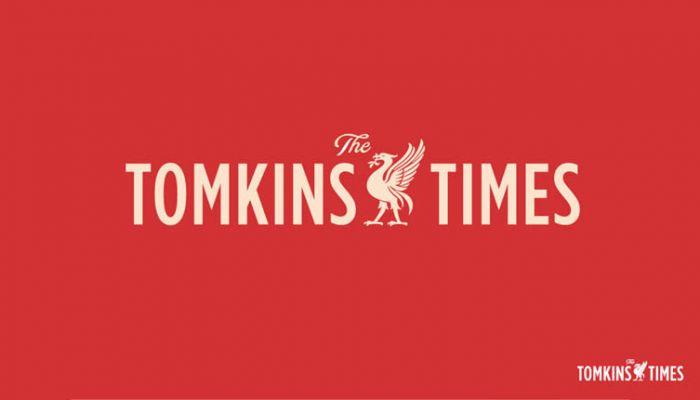 The Tomkins Times was recently included as a new entry in the Top 10 UK Football Blogs. Created by Paul Tomkins, The Tomkins Times has a team of editors covering Liverpool FC in a grown-up, intelligent way. We spoke to Paul about Liverpool's season, the importance of his community and paywall and the changing face of football fandom.
How do you describe what you do to other people?  
The Tomkins Times was originally set up in 2009 to be a platform for my football writing, which is almost entirely Liverpool FC-focused, with roughly half of the content paywalled to enable me to make a living from it – having had to give up my career as a designer years earlier due to being diagnosed with M.E.. So, it was just a small entity, hence the name.
In time the site has become a vehicle for other writers too, although we remain fairly niche. I pay no attention whatsoever to the number of hits the site gets, I just monitor the quality of work, and if we have enough subscribers to pay all the wages.
How important are the different social channels when they feed into your blog? 
I used to spend a lot of time on Twitter and built up a fairly big following, but I've barely used it for three years. It's too negative and stressful. I occasionally log in and post, and use it to promote my work, but more than a few minutes makes me anxious. I have my own Facebook and Instagram accounts, and a Facebook page for The Tomkins Times, and post stuff to that, too. But it's hard to run a site and various social media accounts, and with my health problems, it's hard to rely on too many other people.
The aim of the business is not to grow and make more money – it's to stay viable. This is our 10th year and it remains a viable business, even if it's usually a case of making a small profit, after paying all my bills and paying all the contributors.
Which team is going to win the Premier League on Sunday? 
I obviously want to say Liverpool, but it's in Manchester City's hands. I'll be at Anfield on Sunday, cheering the Reds on, but now Liverpool are also in the Champions League final, the league is not the only thing on the line.
Who's your player of the season?  
My player of the year is Virgil van Dijk, who is quite simply the best all-round defender I've ever seen. You sense he could play as a striker or a goalkeeper and still be this good.
How is football fandom changing the way we consume football content?  
As a middle-aged writer with an older than typical audience – mostly men aged 30-70 – it's perhaps hard for me to say. I started writing for various Liverpool FC blogs 20 years ago and now I'm one of the older guys. I was at the vanguard and an early pioneer of paywalls after someone suggested I try it, but I can't keep up with all the developments. As is the way, the next wave will always come along and find a new way to do things.
There's less patience in football in general and perhaps in society. And more football content seems to be about transfer speculation – living in the future, in terms of what some new signing will bring, rather than just enjoying the here and now and living in the moment. I love a bit of transfer speculation too, but it can become all some fans seem to care about; the actual football is secondary. So, we try to do some analysis of potential transfer targets using professional scouting tools, rather than just peddling speculation for hits.
What's your view on esports and the likes of teams having their own esports players/teams? 
I'm probably in the wrong age demographic to answer this! I play the PS4 with my teenage son, and I love Overwatch, but beyond that I don't really pay too much attention. I have enough difficulty finding the time and energy to follow everything about the 'proper' Liverpool team without any esports teams they have, but I did hear that they won the first ePremier League. Which is good, I guess!
As much as I love playing Overwatch, I still think of sport as being in the physical word, rather than online, but due to my poor health, and age, a bit of online team-based gaming can sometimes give me the feeling of when I used to play football! So, I can see how it all works, but it's not something I'd watch if I wasn't playing.
How important is the community to your blog? Do you accept press releases? 
The community has become everything. All comments are behind the paywall, even if articles are free, so a community was built up with a lack of trolls. The site became much bigger than initially intended, but equally, I don't want it to become much bigger than it is now, as it would become harder to manage, and more impersonal. We only run original content, and don't publish press releases, sponsored content or anything like that. We don't really do 'news' articles either, just analysis and opinion.
As you have a paywall, do you work with PRs? 
If I find something I like – such as the film Free Solo – which I can work into my writing, I'll do so, but nothing is ever sponsored. So sometimes I'll give 'shoutouts' to things I like, but never for anything in return. The same applies to other football blogs – if I find something I like, I'll reference it with a link to their site. The one exception is one of our regular freelance writers recently having the chance to meet an ex-Liverpool player for an interview, and it was 'in association with' a betting company he also does some writing for. I'd never choose to go down this route, but as it was offered to me as original content that would be written by one of our regulars, and would be of interest to our readers, I thought it was okay.
I've unfollowed a lot of people on social media for promoting stuff without admitting that they are being paid for promoting stuff. I don't mind if they make it clear, and don't do it too often, but I'm only really interested in following people who are open about such things – once they lose their integrity in my eyes they've lost me as a fan/follower/reader.
What other blogs do you read? 
I read a lot of other football blogs and websites, but too many to mention. I listen to quite a few podcasts, often because I do so much writing I like to rest my eyes, and listen to something with a sleep mask on! A lot of football podcasts, but also true crime, and anything on psychology or writing/creativity.
https://www.vuelio.com/uk/wp-content/uploads/2019/05/The-Tomkins-Times.jpg
430
760
Christina Pirilla
https://www.vuelio.com/uk/wp-content/uploads/2023/09/vuelio-logo-200px.png
Christina Pirilla
2019-05-09 11:22:55
2019-05-09 11:25:42
Football Blog Spotlight: Paul Tomkins, The Tomkins Times