Friday Feature: Custard Creams and London Dreams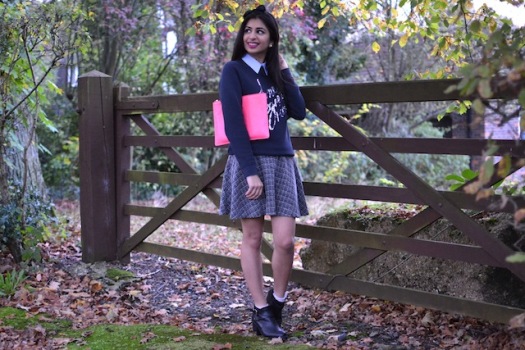 Blogger spotlight with Ashumi Kotecha, author of the food, fashion and lifestyle blog, Custard Creams and London Dreams. Ashumi spoke to us about the social media channels she uses to promote her blog, clinching the Highly Commended Best Lifestyle Blog by Cosmopolitan Magazine and foraying into YouTube. 
Why should people read your blog? What makes it different?  I blog about a variety of subjects – my life in London, baking ventures and outfit choices. Basically I talk to my readers as if they were my friends, telling them about what new restaurant I went to the other day or sharing a cool new recipe I found on Pinterest. 
How do you measure the success of your website? Many people would measure the success of a blog by numbers. The number of followers, the number on your stats page and whilst I do have a look at my stats, I try not to get too bogged down with it. At the end of the day, as long as I am still enjoying have my little corner or the Internet, writing and taking pictures I will continue to do it. So a successful blog is a happy author.
What's your favourite blog and why? I have lots of blogs I love on my Bloglovin' feed but to pick a few favourites: WishWishWish and What Olivia Did. Olivia and Carrie's blogs are amazing as their writing style is always engaging and witty and photography is incredible.
What advice would you give to someone who wants to start a blog? Don't give it too much thought and just go for it! Blogging is such a great hobby to have but don't get too stressed if your pictures don't turn out they way you want initially or your only reader is your mum for the first few months. Blog for yourself and you will love it.
How do you work with marketers and PRs? For me, email is the best way to get in contact with PRs, as I always have my phone in my left hand checking emails!
How do you use social media to promote/share content? What are the challenges? I love social media. Instagram, Twitter, Pinterest are great ways to share your content and connect with other like-minded bloggers. Challenges are not being able to switch off! I spend 90% of my day on the Internet and sometimes it can get a bit much, so I try and have some 'no techno' time every day. This can be switching my phone onto airplane mode whilst I have dinner or going for a walk without my phone.
What can PRs do in working better with you? Instead of sending generic emails to a list of bloggers on their PR list, personalised emails go a long way. I will be more likely to work with a PR that has read my blog and knows a bit about it.
What has been your blogging highlight? Winning the Highly Commended Best Lifestyle Blog for 2014 by Cosmopolitan Magazine. I still double take when I see my award!
What will be big in your blogosphere in the coming months? I am trying to get into YouTube more and exercise my creative editing skills.
Editorial information on Ashumi Kotecha, Custard Creams and London Dreams and thousands of other media/blogger contacts and outlets, can be found in the Cision Media Database.
https://www.vuelio.com/uk/wp-content/uploads/2015/06/Ashumi-Kotecha1.jpg
350
525
Priyanka Dayal and Julie Hermans
https://www.vuelio.com/uk/wp-content/uploads/2019/09/vuelio-logo.png
Priyanka Dayal and Julie Hermans
2015-06-26 10:23:08
2015-07-28 15:12:25
Friday Feature: Custard Creams and London Dreams