Hawaii missile alert due to drop-down menu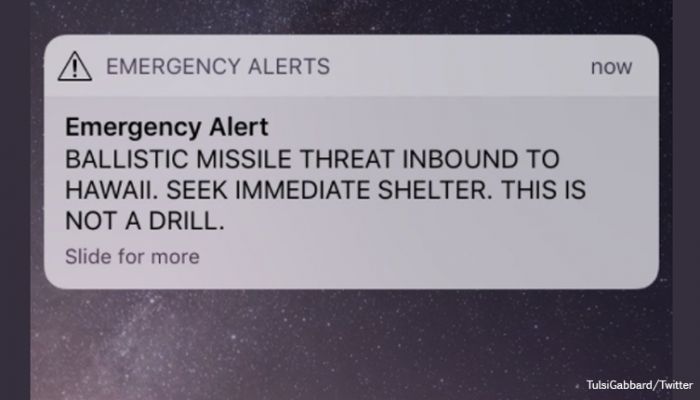 The Emergency Alert that was accidentally sent to Hawaiians on Saturday was caused by two options on a drop-down menu being too close.
As part of the morning routine at Hawaii Emergency Management Agency (HEMA), staff test the Emergency Alert system. As the Washington post reports, last Saturday's error was caused by a staff member selecting 'Missile alert' from the computer programme's drop down, rather than 'Test missile alert'.
We've all clicked the wrong things at work and even sent emails in error, but this mistake was catastrophic. An alert went out to citizens and tourists, which said: 'BALLISTIC MISSILE THREAT INBOUND TO HAWAII. SEEK IMMEDIATE SHELTER. THIS IS NOT A DRILL.'
Panic ensued, as thousands attempted to seek shelter and see loved ones. It wasn't until 38 minutes later that the error was corrected (President Trump should have managed three holes on the course in that time).
Investigations into the error are ongoing. The Post reports a statement from Federal Communications Commission Chairman Ajit Pai, who said: 'Based on the information we have collected so far, it appears that the government of Hawaii did not have reasonable safeguards or process controls in place to prevent the transmission of a false alert.'
There are now new safeguards in place to correct and avoid similar blunders in future, including a cancellation option that can be triggered within seconds of a mistake. HEMA has also suspended internal drills until the investigation is over, and put a 'two-person activation/verification rule' for tests and real alerts.
Any system that allows a simple mistake to have such a devastating – and public – impact, is clearly one that needs fixing. Communications professionals know the importance of checking, and double checking, comms before they go out but this is a timely reminder to check the whole system's set-up, something that can often be overlooked.
Of course, if HEMA had been using Vuelio, they could manage who in the team had permissions to send alerts and know, before any communications were sent, who was due to receive what.
Whether you work with the public or media professionals, find out how you can avoid system errors by using Vuelio.
https://www.vuelio.com/uk/wp-content/uploads/2018/01/Emergency-Alert.jpg
430
760
Jake O'Neill
https://www.vuelio.com/uk/wp-content/uploads/2019/09/vuelio-logo.png
Jake O'Neill
2018-01-15 15:12:35
2018-01-15 15:12:35
Hawaii missile alert due to drop-down menu