Cost of Living: How the top 6 British supermarkets are communicating inflation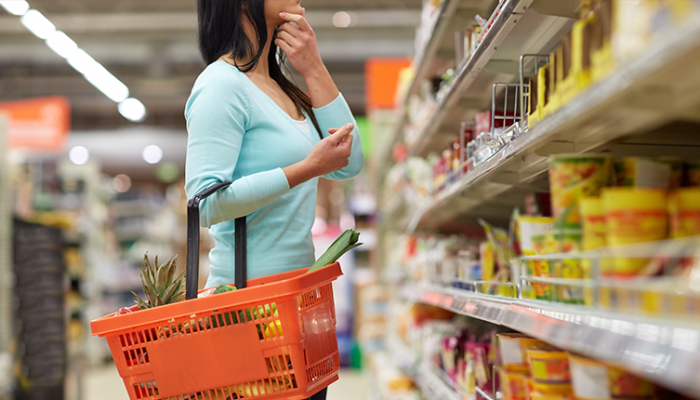 As costs continue to soar in energy, fuel and produce, the cost of groceries is a strong concern for 76% of the UK. According to the Food Standards Agency (FSA), the number of people skipping meals or using food banks has risen from around one in ten in March 2021, to nearly one in six this March — with a strong upsurge in middle class families needing support. Research suggests this uncertainty will remain for at least the next three years.
In a bid to maintain sales, supermarkets across the UK have had to rethink their internal and external communications, with value and support now at the forefront.
With inflation now at a 40-year high of 9.1%, the average shopper will spend £380 more on groceries in 2022. Prices are as much as 5.9% higher in April than a year ago, the biggest increase since December 2011. As a result, the volume of goods being sold in the UK is now falling — with food purchases the number one culprit.
For a second consecutive month the GfK consumer confidence barometer has set a record low, falling 41% in June. Consumer sentiment is dropping rapidly as a result of tighter budgets – for example, price limits are being set at checkouts and the switch to cheaper brands and stores is at an all-time high. Convenience stores are also performing far better than big stores, as consumers search for bargains and value.
Top speakers
Overall,  Sainsbury's CEO Simon Roberts had the most coverage across national print and online news in relation to cost of living commentary. Among the most popular topics was Roberts' statement that financial pressures 'will only intensify' this year, which was featured in 148 print and online publications related to national news, grocery sales, agriculture and stock market updates. Of this total, 84% featured both Roberts' name and quotation in the headline.
On the other hand, while ASDA's Lord Stuart Rose's volume was lower overall, his statements created stronger spikes in volume and a wider distribution rate. For example, he was quoted 341 times between 22-30 June for reporting that ASDA shoppers are 'setting £30 limits at the till' and 'asking staff to put shopping back' after that point.
Rose has also held a strong political voice in recent months, calling out Rishi Sunak's attempts to solve the crisis. Between May-July, he was quoted 55 times by national newspapers after calling Sunak's £15bn cost of living package 'not enough' in a Radio 4 interview.
Wage gap across UK supermarkets
Among the top speakers, all but Giles Hurley (Aldi) and Ryan McDonnell (Lidl) had negative coverage related to wage raises in their top-performing stories. On 6 June, Simon Roberts' raise of £3.8m was covered by The Guardian and later syndicated a further 214 times by local and national news sources.
Ken Murphy also received a negative salary-related spike on 13 May due to his 2.4% increased pay package of £4.74m — 224 times higher than Tesco staff. On the other hand, Clare Grainger, group people director at Morrisons, was quoted 29 times in retail and grocery-focused magazines as 'pleased to be maintaining our position as the highest paying UK national supermarket.' This lead to 19 headline mentions between 8-12 June referring to Morrisons as the best wage-related supermarket.
Negative sentiment towards Sainsbury's wages spiked for a second time between 27 June – 7 July when senior management rejected a call by ShareAction, HSBC and other investors to become a 'Real Living Wage' employer for all company staff. This topic was covered 179 times throughout July, during which ALDI received a peak in positive coverage for increasing staff pay a second time this year.
Since 1 May, all of Sainsbury's major competitors have received positive coverage tied to wage increases, which has fed into the rapidly growing trend of consumer-led price comparison reports. Overall, wage ratios contributed to overall share of sentiment:
UK supermarkets: national share of voice   (1 May – 1 Aug 2022)
In a comparison of the top six supermarkets most often used by Britons, Tesco had the strongest share of voice among UK-wide online news sources in response to the cost-of-living crisis. While the majority was neutral in sentiment, it also received the highest rates of positive and negative coverage. Whereas 86% of neutral coverage was a passing mention, 64% of positive coverage was a dedicated article towards free kids' meals over the summer period. This incentive has been a competitive theme over the July period,  with Tesco's move following Asda's £1 kids' meal charge earlier in July.
Aside from wage-related backlash, negative coverage has also had consistent ties to the increase of low-cost meal prices. The term 'shrinkflation' has been trending since 13 May – the term for charging the same or more for reduced-size products. For example, Tesco was accused over this period of 'secretly' shrinking the size of ready meals while keeping them the same price.
Similarly, Sainsbury's received controversial press for its commitment to banning 'HFSS' deals by October. Just one week after debates around this decision, Morrisons received a spike in national positive coverage for opting to delay the ban to support cost of living.
Key campaigns: cost of living
Media discussion around inflation has swiftly evolved since February, as the cost of living in the UK increases alongside Russia's invasion of Ukraine. Supermarkets and high-profile brands are rapidly changing their messaging to reflect value and support.
For example, John Lewis Partnership transition from its popular 'Never Knowingly Undersold' to a focus on 'Quality and Value' demonstrates a direct response to consumer needs given rising inflation.
For marketers and marketing to really demonstrate the value it can add, it must go beyond campaigns to the broader actions that sit behind the campaigns that make the difference.
This is evident in that while Aldi and Lidl have the lowest number of inflation-related campaigns, they benefited from a surge in new customers, with sales increasing at both retailers over the last 12 weeks. Clearly, consistently low prices have had a stronger focus than diverse marketing messages for consumers who prioritise value for money.
Similarly, Tesco has added 100 products to its Low Everyday Prices range over the past month. Ken Murphy was quoted 38 times in national online headlines in a statement around the brand's 'laser-focus on value' and plans to be the last of the big UK supermarkets to pass on inflation costs to customers.
Low-cost kids' meals
As part of the Government's Help for Households scheme, major retailers across the UK are offering discounts and support over the summer holidays to help families through the cost of living crisis. Tesco, ASDA and Sainsbury's have signed up  through the summer holidays, into the back-to-school season and through to Christmas. Tesco and ASDA received a strong ratio of high-reaching national coverage in relation to this scheme.
Aldi Price Match
The ever-popular Aldi price-match program has also been a strong and consistent theme over the past four months. Sainsbury's performed particularly well due to its 'doubling-down' campaign, which matched a further 250 high-volume fresh products to the same prices as its German competitor. This headline created a strong surge of positive sentiment for Sainsbury's in the middle of June. On the other hand, Tesco had a spike in negative sentiment in the middle of May following the decision to pull at least 18 products from its Aldi price-match programme.
As the heated competition to beat Aldi's low costs evolves in the media, ASDA reaped the benefits of introducing its new and tactful Home Bargains price-match programme. Not only was this ASDA's highest performing campaign, but it also set it apart from its competitors in the trending fight to make 'essentials' accessible to all families.
ASDA also introduced its 'Just Essentials' line and an Essential Living Hub, providing essential guidance and promotions to those who need it. Its press release was shared 57 times by local and regional media following the launch in early May, all of which provided a link directly to the hub in the body of the article.
 Changes and cuts to marketing
Despite warnings to the contrary, advertising budgets are often the first thing to get cut during an economic downturn. For example, while he did not indicate how much of this cost reduction would come out of marketing spend, Simon Roberts has said the retailer's focus at this moment is to get its messages to customers, which has involved increasing its use of digital channels and decrease in other areas of traditional messaging.
In an article with Marketing Week, Roberts said Sainsbury's was 'using digital way more extensively than we were before' and 'really using every channel to make sure we get our value, innovation and quality messages to customers'.
On the other hand, Tesco's CEO Ken Murphy also reported to Marketing Week that marketing is crucial 'now more than ever' and that it is not a cost 'but more as an investment' in prioritising crucial cost-of-living communications with customers.
Demonstrating value and empathy
As inflation continues to induce concern for families across the UK, it is evident that the highest-performing supermarkets in terms of sales and positive coverage are those that continue to drive value and empathy in their communications.
While Aldi and Lidl have the competitive edge of consistently low prices, reporter Chris Kelly commented that this won't be enough in the long-term and the need to continue driving value-focused messaging is imperative:
'Don't assume that your only response to this inflationary moment has to be to cut prices. Think about ways in which you can add value as well, and that will then help you over the long run', he said.
These doctrines apply to staff as much as customers — which was made evident when Sainsbury's took a nationwide hit in the media for rejecting to pay all staff the national living wage. Similarly, CEOs saw a spike in negative coverage that questioned their annual salaries against the rising cost of essential household items.
As for who will prevail in the financial crisis, it appears to be those who continue to make care, value and empathy the undercurrent of every decision — from price cuts and loyalty incentives to staff wellness and changes in overall brand voice.
Aldi's low-cost reputation means it can afford to run fewer campaigns and maintain a highly competitive status. However, other supermarkets that have previously been associated with luxury brands like Sainsbury's 'Taste the Difference' are seeing a clear upsurge in sales and positive media coverage when prioritising diverse loyalty campaigns and the accessibility of household essentials.
Want to know more about this data or how media insights can support your PR and communications? Find out more.
https://www.vuelio.com/uk/wp-content/uploads/2022/08/Vuelio-blog-image-template.png
430
760
Hollie Parry
https://www.vuelio.com/uk/wp-content/uploads/2023/09/vuelio-logo-200px.png
Hollie Parry
2022-08-03 16:10:31
2022-08-05 11:35:58
Cost of Living: How the top 6 British supermarkets are communicating inflation