How to get the best results with influencer marketing
Last week, Vuelio hosted influencer marketing expert Scott Guthrie for an exclusive webinar covering best practice and fraud in the industry. A lively Q&A showed that PR and comms is still finding its feet with influencer marketing and Scott has generously reproduced his expert answers from the session for this Monday PR Club post. 
Is it possible to work with influencers for free?
Yes, it is possible. It depends on how you approach the influencer and the value you can bring to the relationship. Perceived value will differ relationship to relationship. It might be the offer of giving an influencer advanced access to a new product, or a behind-the-scenes glimpse of the production process, for example. It might be free access to an event or the prospect of the influencer growing their authority with a new audience.
Sipsmith is a proponent of this influencer relations approach. The artisanal gin distiller has a policy not to pay influencers, instead they hold events for influencers that help these content creators create great content. The company is also willing to trust the influencers' approach to producing content that resonates with their joint audiences, handing over control of the content creation to the influencers.
If influencers buy followers, can their inflated size then attract organic growth? And would that be a good thing?
It is human nature to want to belong to something which is thought of as popular or successful. High follower counts do act as a signal of social authority. Some practitioners work with influencers knowing they have bought followers or engagement. They weight the spend to the influencer, reasoning that if, let's say, 30% of the audience is fake they'll reduce the payment structure by 30% or use incentive payment success criteria which includes impact metrics.
Ultimately, influencer fraud is an ethical issue. If the influencer is lying to their audience and brand partners about their follower count or engagement rate, what else are they lying about?
What about influencers with agents, are they more likely to be genuine?
There are good agents and bad ones – just as there are good and bad barristers and baristas. In the past, media agencies and agents have been known to game the system through buying followers and engagement for the influencers on their rosters. They've also 'amped' influencers via paid promotion in order achieve the impression numbers they've promised clients. A thorough vetting process will eliminate selecting an influencer who turns out to be a poor fit for you or your client.
What's the best way to vet new influencers?
When finding the most appropriate influencer to work with, always follow the 4S Filter of Search, Surface and Screen before you Select an influencer. The Select phase is at least as important as the Search and Surface phases; it is where you vet the prospective influencer and determine whether they are the best-fit for you or your client. This involves identifying nuances such as brand values and tone of voice as well as whether they have recently worked with competitors. These vetting skills rely heavily on the ability of the communicator, though there are tools, like Vuelio, to help at every stage of the process.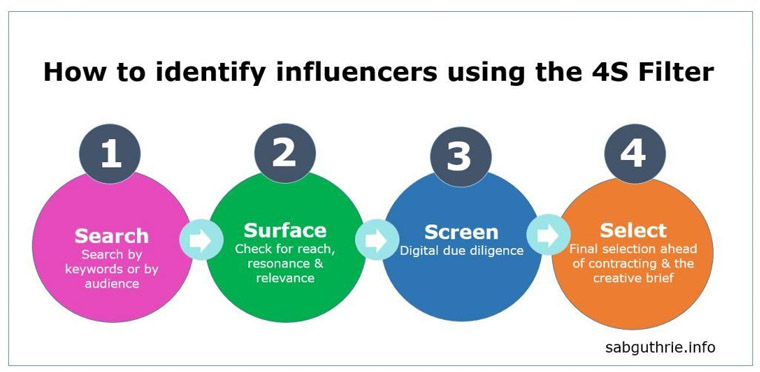 If we use smaller influencers we won't hit some metrics – how do we sell the benefits of micro influencers back to our clients?
This question tracks back to the communications and business objectives you identified during the planning phase, and the KPIs you set out to measure them by, along with the budget and time available. Proportionally, micro influencers offer higher engagement rates than influencers with large audience followings. Marshalling micro influencers at scale can be more cost-effective than using an influencer with a large audience – which usually comes with a large tariff attached.
One approach might be to extrapolate results to build a better business case for influencer marketing to your clients. You could argue that you've achieved X results working with three micro influencers. Scaling to nine influencers is forecast to more than triple the ROI.
However, effective influencer marketing campaign measurement should move beyond vanity metrics and include outcomes – and ultimately impact.
Ready to start your search for the brightest and best influencers? Vuelio lists thousands of bloggers, vloggers, Instagrammers, podcasters and content creators on the Vuelio Influencer Database.
https://www.vuelio.com/uk/wp-content/uploads/2018/10/Influencer-Marketing-laptop-megaphone.jpg
430
760
Jake O'Neill
https://www.vuelio.com/uk/wp-content/uploads/2019/09/vuelio-logo.png
Jake O'Neill
2018-10-29 12:24:20
2018-10-31 13:02:33
How to get the best results with influencer marketing